Autumn Fashion Special with Luke Stedman
Find inspiration from our fashion shoot with the former professional surfer and creator of the Insted We Smile fashion range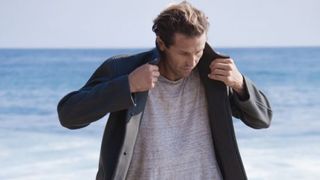 (Image credit: Unknown)
All the leaves are brown – and yes, the sky is grey. But don't just dream of California this autumn/winter: get outside and put it on, just like surfer and fashion entrepreneur Luke Stedman has for our fashion special.
Photography: Trevor O'Shana; Creative Direction: Gary Kingsnorth; Styling: Seth Footring; Grooming: David Cox
Tropical print shirt, £32, by Topman, topman.com; fine cord uniform shirt, £89, by Universal Works, buy on universalworks.co.uk; Scottish wool check jacket, £240, by Carrier Company, buy on carriercompany.co.uk
How did you find a style of fashion that worked for you?
Like anything, we're all influenced by certain genres, inspirational people, music, architecture, etc. I spend a lot of time around people in fashion and I pick up the trends and whatnot, but you form your own style by choosing bits and pieces that you like from different collections and inspirations, and mould them into your own.
Hat, model's own; uniform green flight jacket, £190, by Edwin, buy on edwin-europe.com; grey Seydou Keita T-shirt (just seen), £65, black trousers, £145, black-and-white plimsolls, £175, all agnès b, agnesb.co.uk; Aviator gradient sunglasses, £134, by Ray-Ban, buy on ray-ban.com
What are your major influences?
As a label, it's forever growing and morphing – although we always hold a particular DNA, we're still changing. That's what time does, it demands change, but I find inspiration when I'm in the ocean. That's where I feel most comfortable and it's the area where I think most freely.
Green cord jacket, £265, by Baracuta, baracuta.com; grey chunky sweater, £139.95, by samsoe & Samsoe, samsoe.com; blue jeans, £80, by Whistles, buy on whistles.com; medium brown Westmore Chukka shoes, £130, by Timberland, buy on timberland.co.uk
How did you get your foot in the door?
I didn't have any textiles experience – I came straight from riding waves for a living. I retired at 35 so I wasn't starting young in a game that is really difficult at times. Menswear is a market where you really have to hit the nail on the head with each collection and cover a large audience. I definitely made a lot of mistakes when I first started, and I was lucky that we grew organically.
Grey sweatpants, £45, by Saturdays Surf NYC, buy on oki-ni.com; chambray grandad shirt, £79, by Jigsaw Menswear, buy on jigsaw-online.com; checked donkey jacket, £350, by Whistles, whistles.com
How can other men find clothes that work for them?
Whatever makes you feel comfortable – you've got to feel good about yourself and that's what clothing, to me, does. Any garment needs to make you feel not only comfortable but also it's nice to feel a little bit uncomfortable – you want to be open to new experiences. Wearing a new outfit or item that you wouldn't normally wear is a new experience and that's what life's all about.
Flowers bomber jacket, £220, black trousers, £98, both by InSted We Smile, instedwesmile.com; brown leather belt, £85, by Upton Belts, uptonbelts.com; black sneakers, £250, by Common Projects, buy on mrporter.com
Is it important for men to develop their own individual style?
Absolutely, but it is difficult to venture out of your comfort zone and explore new territory. We do things over and over, become used to them and end up getting the same results, so if you do something different or feel a bit awkward doing something, you get a different result, which is fun. If you want to evolve you have to do that. I would recommend to every man to try different things, whether it be fashion, sport, lifestyle or career.
Hat, model's own; white stoke shirt, £85, by Universal Works, buy on universalworks.co.uk; blue wool check jacket, £180, by Scotch & Soda, buy on scotch-soda.com; even wash blue jeans ED-One, £170, by Edwin, buy on edwin-europe.com; off-white canvas lace-up sneakers, £115, by G-Star, g-star.com
How has your surfing background affected your fashion fingerprint?
With my label IWS, we're inspired by surf lifestyle and I spend so much time in the water. My father makes surfboards for a living and commentates at surfing events, so it's ingrained in our family and the one thing that brings us the most happiness. You can have a really bad surf and still come in and say "That was great!" The moment is never not enjoyable. I guess the ocean is the one place I need to be.
Thick wool coat, £405, by APC, apc.fr; grey melange T-shirt, £68, by Insted We Smile, buy on instedwesmile.com; Turner T flecked charcoal slim-fit suit trousers, £125, by Reiss, buy on reiss.com; brown Oxford lace-up shoes, £290, by APC, apc.fr
What's your biggest fashion crime?
I could probably go through a few old photos and pick out many, to tell you the truth. I think on my 21st birthday I made a pair of blue sequined pants with an Adidas tracksuit top. I look back on that night and it was a big leap – I won't do that again, I'm much more conservative now…
Tan shearling coat, £2,600, by Crombie, buy on crombie.co.uk; tropical print shirt, £32, by Topman, buy on topman.com; stone melange Donegal tweed trousers, £89, by COS, cosstores.com
Sign up for workout ideas, training advice, reviews of the latest gear and more.
Gary Kingsnorth was the fashion editor for Coach as well as Men's Fitness.