The Most Fashionable Christmas Gifts A Man Can Get
Gifts to elicit a delighted response from the men on your family tree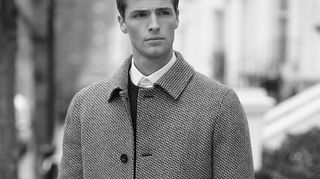 (Image credit: Unknown)
You have started to think about your Christmas shopping, haven't you? Perhaps not, so let us crack into that long list of nearest and dearest by first taking care of the guys in your life. The stylish guys. The guys that look great no matter what. That always look like they've carefully considered their outfits the night before, rather than just picking up whatever happens to be hanging out of the laundry basket at the time. That counts cousin Nick out of the equation, then. Just kidding, Nick! You're alright.
This page here is your starting line, your mouse-clicking finger the starting pistol. Scroll down to run head-first into a whole stack of superb options, as picked out by us, for the sartorially-savvy gents in your life. We've covered the full range of prices for you, from your £15-or-less Secret Santa (a fresh new washbag from Topman at £12), on to mid-rangers (a cracking bottle of Balblair single malt at £42, or perhaps a new pair of ace earphones from Urban Ears at £99) and then upwards to the big, main, splurging present stuff (an exceptionally tasty pair of wear-forever camo boots from Red Wing, for example). So what are you waiting for? Go on, get stuck in.
---
Marks and Spencer
Best Of British Step Texture Coat
£299, buy on marksandspencer.com
RECOMMENDED: Classic Men's Coats
---
Thom Sweeney Cashmere Beanie
---
Carand'Ache x Paul Smith Pen Box Set
---
Urban Outfitters X Columbia Performance Ski Jacket
£160, buy on urbanoutfitters.com
RECOMMENDED: Outdoor Sports Jackets
---
£99, buy on urbanears.com
---
£85, buy on penfield.com
RECOMMENDED: This Season's Best Sweatshirts
---
John Lobb Bordeaux Dune Calf Travel Care Kit
£740, buy on johnlobb.com
---
Oppermann London Bolton Briefcase
£310.50, buy on oppermann-london.com
RECOMMENDED: The Best Men's Briefcases
---
£12, available in store, topman.com
---
£90, available in store, urbanoutfitters.com
---
Balblair Highland Single Malt Scotch Whisky
---
Red Wing Mossy Oak Camoflage Boots
£249, buy on redwinglondon.com
RECOMMENDED: The Best Men's Workboots
---
Troubadour Leather Weekender Bag
£1,575, buy on troubadourgoods.com
Sign up for workout ideas, training advice, reviews of the latest gear and more.
Gary Kingsnorth was the fashion editor for Coach as well as Men's Fitness.