Why You Should Use An SPF Moisturiser
Spring is (sort of) here, so it's time to protect your skin with an SPF moisturiser, says grooming expert Chris Beastall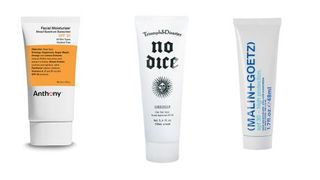 (Image credit: Unknown)
When warmer days roll around – as they eventually do, even in Britain – the conscientious gent will consider the effect this has on his skin. But this should mean more than a quick check of the forecast or a glance outside and slapping on a bit of sun cream if the sun's out. I recommend adding an SPF moisturiser to your skincare regime.
More than 100,000 new cases of skin cancer are diagnosed annually in the UK, and stats indicate that four out of five diagnosed cases could have been avoided with better protection, so the need for better protection from the sun's harmful ultraviolet rays is clear. And remember, those rays can damage your skin even on cloudy days in summer.
RECOMMENDED: How Much Time Should You Spend in the Sun to Get Vitamin D (and Avoid Skin Cancer)
An SPF moisturiser is a double win: it hydrates your skin like a regular moisturiser and also has a protective effect, which not only wards off the risk of skin cancer but also helps prevent signs of sun-related damage such as sunburn, dryness, brown spots and wrinkles. It's important to note that if you're spending a long time in direct sunlight somewhere hot, you need sun cream. But an SPF moisturiser will protect you during a walk or an al fresco lunch, so simply apply it in the morning for all-day skincare. Here are our top three picks.
RECOMMENDED: What No One Bothered to Tell You About Sunscreen
Anthony Facial Moisturiser SPF 30
Packed with vitamins, this moisturiser is specifically designed for those who suffer with oily skin, a condition that tends to get worse as the weather improves. It uses aloe vera extracts to bind moisture into the skin, and silk amino acids to stop the skin losing any more. All-round skin protection. £33 for 90ml, buy on brummellsoflondon.com (opens in new tab), check price on amazon.co.uk (opens in new tab)
Triumph & Disaster No Dice SPF 50
This triple attack moisturiser contains zinc oxide to act as a barrier between the skin and harmful UV rays, green tea extracts to protect the skin from free radicals and jojoba esters to keep skin hydrated and supple, even in the sun. At SPF 50 this product works wonders for those with fair skin who may get burnt at the slightest hint of sunlight. £36 for 100ml, buy on thegroomingclinic.com (opens in new tab)
Malin+Goetz SPF 30 high protection
Green tea antioxidants defend your skin from those rascally free radicals as well as environmental toxins, while also moisturising deeply to leave the skin smooth and fresh. Added sunblocks reflect UV rays, allowing the skin to breathe freely without risk of damage. £30 for 48ml, buy on spacenk.com (opens in new tab)
RECOMMENDED: Anti-Aging Skincare – Four Simple Steps To Follow
Chris Beastall is the co-founder of Niven & Joshua (opens in new tab) and editor of Ape To Gentleman (opens in new tab)
Sign up for workout ideas, training advice, reviews of the latest gear and more.
Chris Beastall is the managing director and former editor of Ape To Gentleman (opens in new tab), the online evolution of a traditional men's magazine, dedicated to timeless yet contemporary style, intelligent living, and value.