The Best Button-Down Shirts For Men
Lock down your smart-casual look with the timeless shirt staple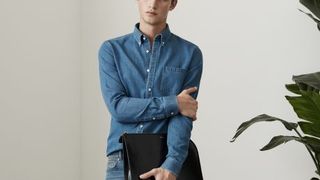 (Image credit: Unknown)
With a tie and without one. In the summer, winter, spring and autumn. Under a suit jacket and over a T-shirt. In the office and in the pub. Give us a couple more hours and maybe we'll find a time, place, event or outfit where the button-down shirt doesn't feel right at home. But maybe not.
Or we could all just take as read that it's a timeless, all-conditions classic. Its roots reach back to the polo fields of the 1890s, before US tailors Brooks Brothers correctly predicted it could make a killing in the mainstream menswear market. It's still going strong, as you'll be able to tell from our selection of winning button-downs – from tartan to corduroy, embroidered to overdyed – waiting for you just down there.
---
See that? That's a workhorse shirt, that is. Not only will gingham go with pretty much every pair of trousers you own, but the repeating pattern will hide the fact that you've had to rush out the door without ironing out those creases. It's a true sartorial sidekick and is more than worthy of a place on your rail.
Buy from Luke 1977 | £60
---
Carhartt Button Down Pocket
In a surprisingly delicate colourway from the king of oil-splattered American outerwear, Carhartt's "powdery" button-down proves the heritage brand can play nice as well as dirty.
Buy from Carhartt | £60
---
The question isn't whether you'll look good in a tartan shirt, it's which colourway will suit you best. If in doubt, keep the colours as natural as possible – this green and blue classic from Farah will easily see you through the tail end of winter and well into spring.
Buy from Farah | £65
---
Polo Ralph Lauren Slim-Fit
A quick tinker with our very scientific calculator and… yup, as we thought, there's a very strong chance that you own a Ralph Lauren shirt already, but we bet it's not this Ralph Lauren shirt. Subtly tapping into the not-going-anywhere tie-dye trend of last summer, its dip-dye turns up the dial on the hippie psychedelia without compromising on smart-casualness.
Buy from Mr Porter | £120
---
A bit like a DeLorean driving Doc Brown, this brand strives to bridge the gap between America's old and new, pulling from the archives to create exceptional and timeless shirts. It's why this solid offering looks as if it might have been plucked off the back of a soldier from a bygone era.
Buy from The Hipstore | £185
---
See related
Paul Smith Classic Fit With Embroidered Beetle
Trust Sir Smith to masterfully liven up smart staples. If you find you regularly run out of ice-breakers at stagnant work dos, this one's got your back.
Buy from Paul Smith | £185
---
Outta the way, blues and whites. There's a new go-to colour in town – Fred Perry's overdyed lavender. Let this light purple doozy meet your turned-up black denim or tailored chinos for an off-duty look that means business.
Buy from Fred Perry | £85
---
Orvis Flat Creek Tech Flannel
Any idea as to what this technical fishing shirt is made from? Whatever sprang to mind, you're wrong. It's crushed oyster shells and plastic bottles. Yep, what a time to be alive, when bivalve mollusc and old Lucozade vessels can come together with cotton and elastane to create soft, comfortable and moisture-wicking flannel shirts with hidden button-down collars.
Buy from Orvis | £89
---
J Crew Slub Cotton Wave Print
It's never too early to think about sipping cocktails by the pool in some far-flung, sun-kissed country. And with a wavy all-over pattern, this short-sleeve from smart-casual stalwart J Crew will help you enter that summer state of mind.
Buy from J Crew | £72
---
A corduroy shirt will usher you through the cold season into the warmer months without having to leave your back. Button it up when the temperature's slumping and leave it open over a plain white tee when we enter that tricky-to-navigate transitional period. You'll find us doing exactly that from the comfort of this Portuguese-made clay-coloured beaut.
Buy from End. Clothing | £89
Sign up for workout ideas, training advice, reviews of the latest gear and more.
Craft beer drinker, Devonian, fisherman and former content director of Coach online, Chris contributed style coverage and features between 2016 and 2019.