Best Teeth-Whitening Kits: Get A Brighter Smile At Home
Want a megawatt smile without a costly dental bill? Check out our favourite DIY products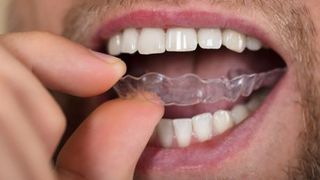 (Image credit: Unknown)
Teeth naturally become more yellow with age and if you drink coffee, tea and red wine they'll be even more susceptible to stains and discolouration. Of course, you could stop indulging in anything that might discolour your gnashers but as well as those enlivening beverages, that would mean saying goodbye to the healthy likes of blueberries, blackberries, tomato-based sauces and balsamic vinegar.
The other alternative if you want whiter teeth is to eat and drink all those things (in moderation) and invest in a home teeth-whitening kit to help restore your pearly whites. A bespoke dental treatment will get you the best results, but professional teeth whitening can cost £300 or more and there are plenty of DIY kits that can do a decent job for significantly less. It's unlikely you'll achieve a Hollywood grin at home, but most methods are pretty effective at shifting stains.
Here we break down the different ways you can whiten your teeth at home and what to look for when buying, and round up our favourite products to buy right now.
Teeth-Whitening Kit Buying Guide
There are a variety of types of whitening products on the market but most of them whiten in one of two ways. Bleach-based formulas remove stains on your teeth at both a deep and superficial level, whereas as non-bleach alternatives will only whiten your teeth at the surface.
Whitening toothpastes: The gentlest introduction to teeth whitening. These typically contain a mild abrasive agent or activated carbon and can be used in conjunction with other home kits.
Whitening strips: These are adhesive strips containing a whitening gel that you stick to the surface of your teeth, usually for around 30 minutes at a time. The process needs to be repeated daily, normally for between two and four weeks.
Home bleaching kits: Similar to what you'd get from a dentist but with a much weaker whitening formula. This is usually in the form of a tray that can be moulded to your teeth by dipping it in boiling water and a set of gels that you add to the tray every night.
Pre-made trays: These are cheaper than mouldable trays but obviously won't be as comfortable. Provided they wrap around the surface area of your teeth, though, they should do the trick.
LED gel kit: An LED light can speed up the whitening process and make gels more effective at breaking down tough stains, acting as a catalyst on carbamide peroxide, a common bleaching agent.
Teeth-whitening pens: A slim plastic whitening pen that contains gel to paint on your teeth for on-the-go stain removal. These are ideal for touch-ups and hard-to-reach areas.
Custom-made whitening kits: Most dentists recommend a custom-made tray and a set of peroxide gels as the most effective method of whitening. You'll usually have an initial appointment to assess your teeth, an appointment to create the mould and then an appointment to run through the process. You'll have to leave the trays in either overnight or for a set period each day, depending on the strength of the gel.
Are Home Teeth-Whitening Kits Safe To Use?
If you follow the instructions carefully and buy a whitening kit from a trusted source, yes. It's still advisable to consult with a dentist before embarking on a new treatment, especially if you have sensitive teeth.
Some home bleaching kits can increase teeth sensitivity so you might need to avoid hot and ice-cold drinks during the treatment process. And in some instances the whitening solution can leak from pre-made trays leading to gum and lip sensitivity, although these effects should only last a few days. Some kits state that they shouldn't be used in pregnancy or when breastfeeding and there's usually a minimum age of use.
To avoid damage to tooth enamel, avoid using teeth whitening kits too often.
See related
The Best Teeth-Whitening Kits To Buy
---
Spotlight Teeth White Strips
Best Strips
The process is ultra-simple: you just stick the strips to your top and bottom teeth, leave them on for an hour and then brush your teeth. Spotlight strips – created by dentist sisters Lisa and Vanessa Creaven – contain a low dose of hydrogen peroxide, which works to break down stains from the top layer of enamel. One box of strips is enough for a 14-day treatment and you should see some stains lift after the first few days, although given the gentle formula, it's unlikely you'll undergo a dramatic transformation. Because the formula is mild you also shouldn't experience much sensitivity.
Buy on Amazon | £26
---
Billion Dollar Smile
Best For Sensitive Teeth
This kit looks complicated when you get it out of the box, but thankfully the straightforward instructions make it easy to set up and use. The clinically tested non-peroxide gel is made with ingredients including aloe vera, pomegranate and chamomile, creating a naturally gentle formulation that also contains sodium fluoride. This means it's ideal if you have sensitive teeth – and it smells delightful too! The kit comes with a mini LED light to speed up the whitening process as well as a mouthguard and a shade guide. It's best used for 30 minutes at a time over six days, and you'll need to avoid tea, coffee, curry and the like during that time.
Buy from Superdrug | £39.99
---
Rapid White 1 Week
Best Budget Kit
Fast-acting and affordable, this charcoal-based system is a decent introduction to the world of teeth-whitening kits. You shouldn't expect major colour improvements, but the process can add a bit more dazzle to your gnashers without breaking the bank. After brushing with the charcoal toothpaste included, you rub the surface of each tooth with an accelerator pen, then add gel to the dental trays and leave them in your mouth for ten minutes. The trays can feel fairly loose, making it a little uncomfortable, but it's not for long – and the full price of the kit is cheaper than some tubes of toothpastes, so it's worth a try.
Buy from Boots | £12
---
iWhite Instant
Best Pre-Made Tray Kit
These pre-filled trays are ready to go straight out of the box and each kit comes with ten individual trays to use across five consecutive days. Because the trays are generic in design, you might find things a little messy and dribbly depending on the size of your teeth, but you only need to use them for 20 minutes a day. The non-hydrogen peroxide formula features white bio-active crystals and polymeric agents designed to stick to the surface of your teeth and create a whitening effect. iWhite also sells aftercare products including toothpaste and mouthwash that are meant to prolong the whitening results.
Buy on Amazon | £18.70
---
Luster Pro Light
Best LED Gel Kit
If you're looking for speedy results but don't want to commit to nightly whitening sessions, this kit offers more flexibility than most. It contains 20 treatments and gives you scope to use it when it best suits you: ten treatments a day over two days or a couple of treatments a day over the course of a week or so. After applying a whitening solution and brushing with a gel, you just apply the light for two minutes. It's a fairly straightforward process with no messy mouthguard, and it comes with a shade guide to track your progress.
Buy on Amazon | £28
---
Curaprox Black is White
Best Toothpaste
Billed as a safer alternative to toothpastes with abrasive elements and bleaching agents, this charcoal-based toothpaste contains activated carbon, which is effective at shifting the stain particles that discolour teeth. The paste is jet black in colour and creates a voluminous froth when you brush with it, which seems counterintuitive – but it leaves teeth feeling really clean and fresh. It comes with a soft toothbrush and is meant to be used in conjunction with your regular fluoride-based toothpaste.
Buy on Amazon | £17.55
---
Listerine Advanced White
Best Mouthwash
This won't do much on its own, but it's a smart buy to use alongside a whitening toothpaste or other at-home stain-removal product, or if you've recently had a professional whitening treatment and want to prolong the effects. You use it like any other mouthwash, simply swirling 20ml around your mouth for 30 seconds, and it contains hydrogen peroxide as an inactive ingredient so it's safe to use every day. It does contain alcohol, though, so it can produce a dry-mouth feeling.
Buy on Amazon | £6 for 1 litre
---
Procoal Activated Charcoal
Best Whitening Powder
If you want to keep things completely natural, this tub of activated charcoal powder has no synthetic additives or abrasive agents like baking soda and salt. It's vegan-friendly, cruelty-free and made with coconut charcoal, which is porous and naturally adhesive and can help remove stains from surface enamel. The jar should last around half a year with regular use so it offers good value at less than a tenner. Dabbing the powder on a brush can be a messy process and bits can get stuck between your teeth, so it's advisable to use a mouthwash and/or floss afterwards to remove traces. You won't get a blinding-white finish but it's effective at stain removal.
Buy on Amazon | £8.99 for 60ml
Sign up for workout ideas, training advice, reviews of the latest gear and more.