The Best Electric Toothbrushes 2020: Keep Your Teeth Clean And Protect Your Gums From £20
Keep your teeth in tip-top condition with our pick of the best electric toothbrushes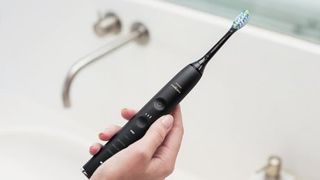 (Image credit: Unknown)
Shifting plaque, cleaning around the gum line and keeping cavities at bay are important elements in improving dental hygiene and an electric toothbrush can help with all of them. This is no flippant claim, either. A Cochrane Review, which gathers and assesses a wide range of scientific evidence around a topic, examined a range of studies in 2014 and found powered reduced both plaque and gingivitis (gum inflammation) over three months versus manual toothbrushes.
You can certainly keep your gnashers in good condition with a standard toothbrush, but many find electric toothbrushes to make it easier – particularly with two-minute timers making sure you're not cutting your cleaning short. And there's certainly plenty of new tech that attempts to help. That includes features such as rotating heads that focus on brushing one tooth at a time and sonic brushes that vibrate at high speeds and frequencies to buff the surface. We've rounded up a selection of the best buys to suit your budget and brushing style.
---
Oral-B Genius X
Best All-Round Electric Toothbrush:
This toothbrush has artificial intelligence, includes the word "genius" in its name and costs £340 (though it's currently reduced to £130 for an introductory offer). Those three things will make a lot of cynical people recoil (we did), but as soon as you stick it in your gob the Oral-B Genius X will win you over.
It has six different clean modes that take full advantage of the powerhouse brushing motors, but the truly remarkable feature is the way it recognises your brushing and lets you know if and how you're doing it wrong. And you probably are, because according to Oral-B 80% of adults are missing at least one area of their mouth regularly.
The Oral-B Genius recognises how long you spend in each area of your mouth, and points out the spots that aren't getting enough attention. It can do this live if you link it to the Oral-B app, which will guide you through your brushing session and assess how well you did afterwards with a brushing score. If you don't want to take your phone into the bathroom everyday, it will track your brushing over time and deliver feedback periodically to help you up your dental hygiene game.
Buy on Amazon | £339.99 (currently reduced to £170)
---
Ordo Sonic+
Best Electric Toothbrush For £50
Cheaper electric toothbrushes tend to look it. Not so with Ordo's smart-looking Sonic+ – the rose gold looks especially stylish, but there are attractive charcoal grey and white/silver colourways too, and the wide base means it stands up on its own without any trouble. It's got useful features too, like four modes including whiten and sensitive, and a silicone X in the middle of the head to gently polish your teeth. We were left with a feeling close to that of having seen a dental hygienist. The three-week battery life is impressive, too.
Another reason to go with Ordo is that it offers a subscription refill service for toothbrush heads, toothpaste, floss, mouthwash and interdental brushes. If you're as guilty as us of not replacing your toothbrush head as often as is recommended, it's a useful convenience and one less thing to think about.
Buy from Boots | £50
---
Foreo Issa 2
Best Electric Toothbrush For Battery Life
One downside of going electric is the possibility of your brush running out of juice halfway through a clean, leaving you with little option but to ineffectually rub the now static brush over the rest of your teeth. That fear is almost entirely banished with the Foreo Issa 2, which lasts 365 days on a single charge. So even if you have some extensive travel plans in mind once the COVID-19 pandemic is over, you'll have no need to take the USB charger with you.
The soft silicone outer bristles are designed to massage your gums, while the polymer inner ones are more effective in removing plaque. There are 16 cleaning modes so you can select the perfect intensity for you.
Buy from Foreo | £149
---
Waterpik Complete Care 9.5
Best Electric Toothbrush/Water Flosser Combo
Flossing is something that every dentist recommends doing daily, but it's also a real faff. So try using a water flosser, which shoots a thin stream of water at your teeth to remove plaque and chunks of food left from dinner in a gentler (and frankly far more exciting) manner than old-school flossing string or tape. Do make sure you use the water flosser over the sink, though, and check your angles carefully otherwise you, like us, might end up with water spraying all over the bathroom when you first turn it on. The flosser comes with five different tips, including options that work especially well for people with braces or orthodontics.
The toothbrush in the set is no less impressive than the flosser, with three settings available – high, low and massage – and a month-long battery life. Combining both in one bundle will save you space and a power socket in your bathroom, and rid you of the irritation and waste involved in string or plastic-pick flossing forever.
Buy on Amazon | £129.99
---
Oral B iO9
Best Luxury Electric Toothbrush
If you're wondering how an electric toothbrush can be described as "luxury", it starts with the colour – this brush is not merely black but "black onyx" – and finishes with the astonishing £500 price (although you'll rarely, if ever, actually have to pay more than half that in reality). Between the colour and price, there are unique and useful features.
The toothbrush contains a pressure sensor and will show a red or green light to tell you if you're brushing too hard, while a timer on the colour display helps you stick it out for the full two minutes with each brush, if only for the smiley face that's displayed if you do. There are seven brushing modes to choose from, including one for sensitive and another for super-sensitive teeth, plus a whitening option.
It's the Oral B iO9's brushing action that really sets it apart, even from other high-end picks. The vibrations are more subtle and friendly to your gums, but still effective in giving your teeth a good clean. The only downside is that the iO uses a different kind of head from most other Oral B brushes, and those heads are not cheap to replace at £15 for a pack of two.
Buy from Boots | £500 (currently reduced to £250)
---
See related
Colgate ProClinical 250+
Best Electric Toothbrush For Travellers
It might not look as sleek as some of our other picks but this bargain brush is lightweight, compact and comes with a handy snap-on lid so you can sling it in a wash bag to freshen up on the road. The battery life is impressive given the price (you'll get 40 brushes out of a charge) and it runs quietly. There's only one sonic speed setting and no rotation so it's not as effective at shifting plaque as it could be, but it's an affordable option for frequent travellers.
Buy on Amazon | £49.99 (currently reduced to £19.99)
---
Oral-B Pro 2 2500N
Best Budget Oral-B Pro Brush
The cheapest of Oral-B's CrossAction models delivers the same 40,000 pulses and 8,000 oscillations per minute as the more expensive editions, and is compatible with the range's 3D White, Sensitive, Precision and FlossAction heads. You won't have as many brushing modes to pick from, but the daily clean and gum care settings should be sufficient, and the round brush heads do a great job of cleaning teeth and getting into the gaps. It feels sturdy and scores points for including a travel case.
Buy on Amazon | £79.99 (currently reduced to £33)
Sign up for workout ideas, training advice, reviews of the latest gear and more.