The Best Fake Tan For Looking Sunkissed Without The UV Damage
Stay bronzed while taking care of your skin by using these excellent products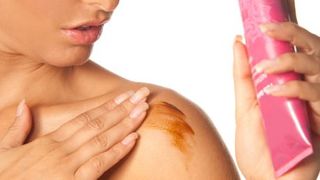 (Image credit: Unknown)
Many of us like to spend time lying in the sun to achieve a golden tan on holiday, or even in the garden when there's a heatwave, but it's hard to shift the nagging feeling that we're not doing out skin any favours.
The problem with the sun's rays – as you're probably aware – is the ultraviolet (UV) radiation they contain, which is harmful to the skin's cells and can cause cancer. According to Cancer Research UK (opens in new tab), 90% of cases of melanoma (skin cancer) could be prevented by people avoiding sunbeds and enjoying the sunshine safely, which means using effective sun creams and not spending hours in the sun, especially during the hottest part of the day.
Fortunately, it's easy to achieve the same look without the skin damage as there are plenty of tanning products that can give you that bronzed look even in the dead of winter.
Most fake tanners use dihydroxyacetone, a type of carbohydrate (usually derived from sugar plants) that reacts with the amino acids in your skin. This reaction causes the skin's colour to change gradually as the skin cells are naturally shed.
In the early days of fake tan there was a general perception that they just made you look orange – but that's certainly not the case now. Manufacturers have tweaked their formulas over the years to ensure your tan looks completely natural and not bottle-born.
Fake tans come in various forms: liquid, mousse and spray; gradual and instant. Our selection of the best ones covers all of these, so you can find the one that suits you.
---
1. James Read
Sleep Mask Tan
(opens in new tab)
Traditionally, fake tan products were more about aesthetics than skincare benefits, but many are now combining the effects of moisturising creams with tanning properties. One such product is the James Read Sleep Mask Tan, which hydrates and soothes overnight while also giving you a glow. Over time this turns into a natural-looking tan that won't rub off, and you can just apply it like any other cream before bed. It smells great too.
Buy on Amazon (opens in new tab) | £25 for 50ml
---
2. He-Shi
Express Liquid Tan
(opens in new tab)
Not one for fake tan novices, the He-Shi Express Liquid Tan is best used with a tanning mitt rather than bare hands and requires slightly more care than the more gradual tanners on this list, but it's worth it. The results aren't subtle but they never veer towards tangerine, and it's ideal if you decide on a whim that you want a look that says "just back from a lengthy holiday somewhere with blazing sunshine". You need to leave the solution to develop for around eight hours, but the results are fantastic from the get-go.
Buy on Amazon (opens in new tab) | £21 for 150ml
---
3. Sally Hansen
Airbrush Legs
(opens in new tab)
If you've ever found yourself struggling to apply a liquid tanner without leaving unsightly streaks or gaps, then know your struggle is both real and over. The Sally Hansen Airbrush Legs spray eliminates this problem with its fine mist, which you can wash off as soon as you no longer need sunkissed pins. It's ultra-easy to apply (though we recommend not using it near anything you can't wipe clean), and you can choose from the brand's four shades depending on your skin tone and desired strength.
Buy on Amazon (opens in new tab) | £6.72 for 75ml
See related
Why you can trust Coach Our expert reviewers spend hours testing and comparing products and services so you can choose the best for you. Find out more about how we test.
---
4. St Tropez
Self Tan Classic Bronzing Mousse
(opens in new tab)
Traditional liquid tanners can be a bit messy, but a mousse like this is a neater alternative and it also dries faster. You'll only need a small amount, around two pumps, to cover each part of the body so it doesn't take long to achieve a drip-free all-over tan. Our test didn't reveal any problems with transference to sheets or clothing either, and even though the resulting colour can be rather deep at first, it looks great once allowed to fade a little over time.
Buy on Amazon (opens in new tab) | £19.77 for 240ml
---
(opens in new tab)
With its six essential oils, Tan-Luxe Sleep Oil is our top choice for anyone who wants to wake up with skin that's not just tanned, but also hydrated. It's the priciest product here but it's genuinely worth it because it produces brilliant results with very little effort. Just apply a few drops to your skin before bed and let its combination of raspberry seed oil, vitamin E, aloe vera, argan and jojoba get to work.
Buy from Cult Beauty (opens in new tab) | £34 for 20ml
---
6. Garnier
Summer Body Moisturising Lotion Light
(opens in new tab)
We rate Garnier's Summer Body Moisturising Lotion as the best high-street gradual tanner. This lotion has won a lot of fans over the years thanks to its ability to build up a natural-looking tan when applied regularly – the resulting glow is definitely subtle rather than garish. The guidelines suggest using it twice a week, applying it as you would any moisturiser, and the "gradual" part is key so be patient and give it time to reach the desired effect.
Buy on Amazon (opens in new tab) | £6.49 for 500ml
Sign up for workout ideas, training advice, reviews of the latest gear and more.
Caroline Preece worked as a central e-commerce writer at Coach's former publisher, Dennis Publishing, between 2019 and 2020, contributing buying guides and product recommendations.