A Gym Lover's Guide To Looking After Your Skin
Expert advice on keeping your skin flawless, no matter how much you sweat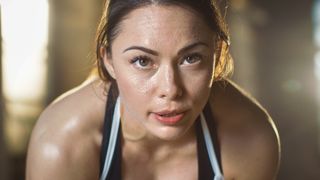 (Image credit: gorodenkoff / iStock / Getty Images Plus)
Although hitting the gym for a workout can be great for body and mind, your skin might not always reap the same benefits. All the sweat that builds up over your body can block pores, cause clothes to chafe against your skin and lead to spots, rashes and frustrating breakouts. It's one of the few downsides to being a gym-goer. But there are ways to care for skin to keep it clear, smooth and glowing.
So, what exactly is happening to our skin as we exercise? Consultant dermatologist Dr Eva Melegh explains that when we exercise, blood rushes to the surface of the skin due to increased circulation and heat. This can trigger skin flares such as rosacea and heat rash.
"The excess of sweat can also cause sebum and external bacteria to pool in the skin pores and lead to break-outs, especially if mixed with cosmetics on the skin while exercising," says Melegh. Sebum is an oily substance that is made by our sebaceous glands, located all over our body.
"After exercise, the skin quickly cools down and sweat dries on the surface of the skin, which can trigger itchy skin conditions such as eczema and dermatitis," Melegh adds.
It's the high-intensity workouts such as HIIT, circuit training and Spinning that can cause the most problems with skin, according to Melegh. "These cause sudden raised temperatures due to the high-intensity exertion combined with an indoor environment. Often HIIT and circuit training workouts are partly done on exercise mats which can add to the sweat and bacteria build up. So, these types of high-intensity indoor workouts are most likely to trigger a skin flare and also cause the most amount of sweating in a short period."
Ready to start making some changes to your gym-skin routine? Give these tips a try.
Remove Make-up Before Exercise
You've probably heard it before, but Amish Patel, an esthetics practitioner and skincare expert at Intrigue Cosmetic Clinic, reiterates that it's important to cleanse your face before the gym.
"Your body temperature rises as you exercise, and your skin needs to breathe as pores begin to open. If you have layers of make-up, bacteria and dirt on your face, this will affect your skin's natural functioning, so cleanse your skin, apply a light serum and head to the gym make-up free."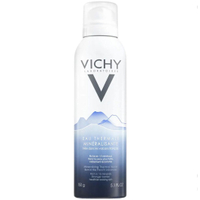 VICHY Mineralizing Thermal Spa Water
Spritz this on your face after taking make-up off to soothe, protect and refresh your skin before exercise.
Clean Your Mat
"Yoga mats are a hive of bacteria," says Dr Sophie Shotter, esthetic specialist and medical director of Illuminate Skin Clinic. "Even if you have your own, it's still harboring a lot of dead skin cells and sweat." Use a spray to clean off gym mats and equipment before and after use.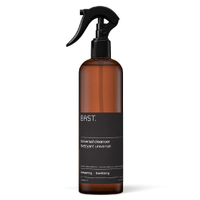 Bast Paris' Universal Cleaner
Use this alcohol-free formula to sanitize and clean your yoga mat and other gym equipment.
Wash Your Face Properly
Whether you're straight in the shower after your workout or lingering in your kit for a while, it's vital to clean your face.
"Exfoliation with a gentle exfoliant is the best way to clean the face after exercise as it quickly gets the build-up of sweat and oil out of the skin pores," says Melegh.
She adds that a toner is a great way to get rid of traces of sweat and excess oil while balancing skin tone, which can often be blotchy after exercise.
"A toner also helps to close up open pores which may be more open due to increased heat and sweating."
There are also some spot-busting ingredients to look out for in your post-gym face wash, like salicylic acid, an ingredient shown by research to help with acne.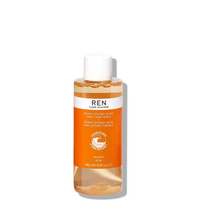 Ren Clean Skincare Glow Daily AHA Tonic
This tonic contains alpha hydroxy acid, which helps to exfoliate dead skin cells and make skin appear smoother.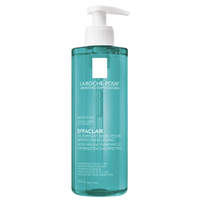 La Roche-Posay Effaclar Micro-Peeling Purifying Gel Wash
A cleansing face wash containing salicylic acid, which can help with acne.
Protect Your Skin In Your Post-gym Shower
If you're hopping straight into the shower after your gym workout, that's when skin may be highly sensitive due to the heat and exertion from your session.
"When showering after exercise it's a good idea to avoid highly perfumed shower gels or washes as it's the most likely time that you will get a skin reaction," says Melegh. "If you want to smell nice after exercising, spray perfumes or body sprays on clothing after washing, not on post-workout skin.
"Skin may also have small areas of microdamage from chafing and rubbing during exercise making it even more vulnerable, so it's important to use a product that is not only free from perfumes but is also moisturizing rather than stripping the skin of its natural oils."
Your shampoo choice can also affect your skin. Melegh says that many shampoos contain harsh detergents. If you find that your skin is sensitive post-workout, try using a perfume and detergent-free shampoo.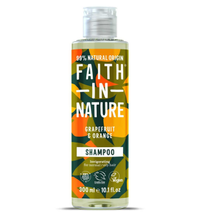 Faith In Nature Shampoo Grapefruit & Orange
Try this fresh-smelling shampoo that's paraben-free and gentle on hair.
Beat Bacne
"Back acne or 'bacne' is more common among gym-goers due to the combination of sweat build up and friction on the back area," says Melegh.
"Bacne is caused by excess sebum during sweating as it reaches the skin's surface, mixed with external dirt and bacteria plus friction from gym equipment and clothing."
Try to limit the time you spend in your workout gear after exercising because bacteria can linger on skin. Sports bras, which sit tight against the skin, can be particularly irritating to skin.
When showering, look for ingredients in your cleanser such as salicylic acid and benzoyl peroxide, which aren't useful just for facial acne but acne anywhere on the body. Wash as normal, but let the lather from your cleanser sit on your back for a minute or two, rather than rinsing it off immediately.
You could also try exfoliating your back once a week with an exfoliating brush.
Stop The Chafe
Sudocrem is a staple product in many bathrooms and it's great for helping with chafing. Apply a thin layer to areas where you experience friction such as inner thighs or under the armpits where your sports bra might rub.
Ingredients such as anhydrous hypoallergenic lanolin soothe skin, while benzyl alcohol has local anesthetic properties that help to reduce discomfort.
Avoid Swim-skin Dryness
Shotter says that swimming in salted or chlorinated water can be very drying for the skin, and can be a trigger for those with dry skin conditions like eczema.
"Prior to swimming I would suggest using a lipid-rich barrier cream to help reduce how much impact the water has on your skin. Afterwards make sure you shower thoroughly and cleanse your face to remove any residue of chlorine or salt. Then apply hydrating products like a lightweight hyaluronic acid serum and a moisturizer."
About Our Experts
Amish Patel is a qualified pharmacist who has specialized in medical esthetics and skincare since 2016. He has also won multiple awards and is founder of one of south-east England's leading cosmetic clinics, Intrigue Cosmetic Clinic.
Dr Sophie Shotter is an award-winning esthetic doctor and hormone specialist who has been working in the field of esthetics and skin for 11 years. She is the founder and medical director of Illuminate Skin Clinic in Kent, England. Shotter is also trained in BHRT (plant-based hormone replacement therapy).
Dr Eva Melegh M.D., Dermatologist and Cosmetologist, is a member of the Belgian Society of Dermatology & Venereology. She trained as a dermatologist at Semmelweis University in Budapest and has since worked in both public and private health care as a consultant dermatologist as well as working in research for over 20 years.
Sign up for workout ideas, training advice, reviews of the latest gear and more.
Lucy is an experienced health and fitness journalist, and was formerly health editor for TI Media's portfolio of women's titles. Lucy qualified as a level 3 personal trainer with Train Fitness in 2016, and also holds qualifications in pre- and post-natal fitness, as well as in nutrition for exercise.