Ross Pearson total-body UFC workout
Ross Pearson is taking on American Top Team standout Cole Miller at UFC Fight Night 22 tonight. Here are some of the moves he's been using to prepare for the bout.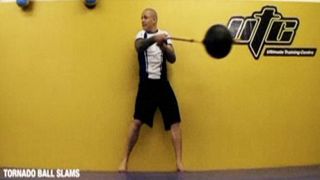 (Image credit: unknown)
Lightweight striking expert Ross Pearson is 3-0 in the UFC. His first victory was a hard-fought decision over fellow Ultimate Fighter finalist Andre Winner at The Ultimate Finale 9, which he followed with an impressive TKO of skilled American grappler Aaron Riley at UFC 105 - thanks to a spectacular flying knee, no less - and, most recently, a unanimous decision over hard-kicking German Dennis Siver at UFC Fight Night 21. Next up he's facing well-rounded American fighter Cole Miller (5-2 in the UFC) at UFC Fight Night 22, which should provide the biggest test of the Sunderland man's burgeoning UFC career.

During the past 12 months, Pearson's watched several British fighters get beaten in the UFC due to their limited wrestling abilities so, as well as powering his way through intense conditioning programmes here in the UK, he's been working on his grappling skills in New Jersey with currently UFC lightweight champ Frankie Edgar. 'What I have to do is get out there and train against wrestlers,' he told the Daily Telegraph's Gareth A. Davies (opens in new tab) this week. 'We've [the British fighters] got to immerse ourselves in US training camps and pick up the skills. I have a wrestlers build so it comes naturally to me.'
We've created a total-body conditioning circuit for you from some of the many exercises Pearson's been doing as part of his Fight Night 22 prep. To give you a flavour of just how fit Pearson is - this is about a third of the moves he does during one in one of his more intense sessions. If Miller is anything like as conditioned, determined and disciplined as Pearson, their UFC Fight Nigh 22 fight should be a jaw-dropping spectacle of violence.
For the next six-months we'll be running a new Pearson workout in every issue of the magazine so subscribe today (opens in new tab) to make sure you don't miss any of them.
This workout was shot at UTC, Birmingham (opens in new tab).
Sign up for workout ideas, training advice, reviews of the latest gear and more.
Nick Hutchings worked for Men's Fitness UK, which predated, and then shared a website with, Coach. Nick worked as digital editor from 2008 to 2011, head of content until 2014, and finally editor-in-chief until 2015.