Why Ashley Roberts is the fittest Pussycat Doll
Find out why former Pussycat Doll Ashley Roberts is so serious about her training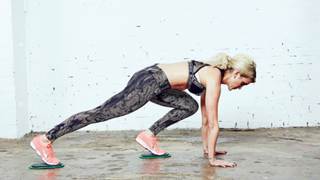 (Image credit: Unknown)
It was a bold move to leave the chart-topping, 15 million-selling Pussycat Dolls in 2010 – but there's no doubt it has paid off for the multi-talented Ashley Roberts. With a long career as a dancer and choreographer already behind her, Roberts has moved seamlessly into acting and TV presenting, as well as appearing on some of TV's most high-profile celebrity reality shows including Dancing On Ice and I'm A Celebrity… Get Me Out Of Here! Whether dancing or surviving bushtucker trials, she's been helped by her lifelong dedication to fitness, as she tells MF.
The Pussycat Dolls were renowned for energetic dance routines. What level of fitness did that demand?
Some people don't think of dancers as athletes but that's garbage. All-day sessions in the studio are hardcore total-body workouts. I did ballet, tap, modern and lyrical – all different styles that tested my fitness and worked my muscles in different ways. Having said that, my mom taught aerobics and we had a Pilates machine at home that I loved using. So while I didn't need to do any extra work, ever since high school I've been hitting the gym and doing additional mobility drills, which prepared me well for dancing professionally.
You moved from LA to London, are there different attitudes to fitness in each place?
Everyone seems to train in LA. Everyone. Training shoes and clothes are standard wear, and every gym has a smoothie bar opposite – it's built into the city's infrastructure as well as its culture. London isn't quite there yet, but I've noticed lots more gyms popping up so it's certainly moving in that direction. Apart from that, the main difference is how hardcore some of the classes are in LA compared with here. I used to go to Soul Cycle spin class over there and even though they've introduced them in the UK, they're not as intense. I got some funny looks for adding extra hill sprints to the sessions while everyone else was chilling out.
Do you think your fitness has suffered as a result of that lack of intensity?
Not at all. Instead of going to classes I've started strength training and now my fitness is better than ever. I go to a gym called W10 and the trainers there are more hardcore than any class instructor, which I love. As far as I'm concerned, anything that doesn't challenge you doesn't change you. I need someone to really push me to motivate me. If I go to the gym by myself it's impossible to train as hard.
Does lifting weights take up the majority of your training now?
I still do a lot of yoga. Not only is it good for mobility and injury prevention, it de-stresses me too. You need to have a balance of hardcore stuff and things that centre you, plus your body needs time to recover after doing heavy deadlifts and squats.
What is it about strength training that appeals to you?
Lifting gets my heart rate up and makes me look amazing, but more importantly it makes me feel strong. Scrap that, I don't just feel strong – I am strong, and I think it's important for women to feel that way. The only thing I don't like about it are the callused hands. They suck. I went back to LA recently and didn't do any weight training for a while and it was the first time in ages that I didn't have hands that looked like I'd been working in construction.
Have you become a fan of any British sports since you've been living in London?
I've never been a sports fan, apart from boxing because it's so visceral. I did go to a Welsh rugby game recently though, which was much more fun than I thought it would be. I liked the fast pace, especially compared with the constant stopping and starting in American football.
Did your bushtucker trials on I'm A Celebrity… Get Me Out Of Here! affect your approach to nutrition?
Well, I'll never eat kangaroo penis again if that's what you're asking. I'm pretty much a vegan now, but I don't think having to eat that informed my decision – not consciously at least. I try to have a good diet. Every now and then I'll have a treat, but I love most healthy foods so it's not as if I'm depriving myself. My trainer sometimes worries I'm not getting enough protein, but I have vegan protein smoothies to make up for the lack of meat and fish.
Get more protein shake recipes here
What's in your favourite vegan smoothie?
Most mornings I blend up a bunch of organic greens, such as kale and spinach, add some raw fruit such as banana, avocado and blueberries, then finish it off with some almond milk and maybe some agave if my sweet tooth needs satisfying. Finally, I add some vegan protein powder to ensure I hit my quota for the day. Try it. Even if you're not vegan I guarantee you'll love it.
Sign up for workout ideas, training advice, reviews of the latest gear and more.
Khaliha Hawkins worked as an intern for Men's Fitness UK in the summer of 2015, while studying for a bachelor's degree in journalism from Klein College of Media and Communication at Temple University. Khaliha went on to work at Glamour magazine in New York.