How American Gods Lead Ricky Whittle Built Shadow Moon's Intimidating Physique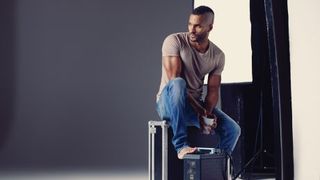 (Image credit: Unknown)
Photography: Glen Burrows; Grooming: Gia Mills. Whittle wears T-shirt by H&M, jeans by Tiger of Sweden
Ricky Whittle is a man who knows when to step it up. After a solid, 238-episode run on teen soap Hollyoaks and an impressively athletic turn on Strictly Come Dancing (he came second), he could have easily slipped into the kind of TV turns that open up when you're the handsome housewives' favourite with barely any homegrown competition.
Instead, he decided to go all-in, moving to the US and slugging it out for parts on the likes of NCIS until he landed a regular role on cult post-apocalyptic drama The 100. Three seasons in that gave him a hefty US following, but now he's shifting gears again with the lead role of Shadow Moon in American Gods, the years-in-the-making TV show based on Neil Gaiman's best-selling novel. And that meant upsizing.
"Shadow's an ex-con and in the book, he's described as big enough and don't-F-with-him enough to not have to worry about surviving prison," says the Oldham-born Whittle. "So I wanted to bring a kind of… intimidation factor." After The 100, for which the 1.88m Whittle weighed in at an ultra-lean 80kg, that meant packing on mass – and making it functional. So he went to one of the toughest gyms in America.
Unbreakable Performance Center in Hollywood is where the pros go to train. Dwayne Johnson and MMA legend Randy Couture are frequent visitors, and the NFL off-season sees dozens of multimillion-dollar athletes descend on a sweatbox space the size of a four-car garage, looking for fight-based drills that'll give them the edge on the field. Linebackers and left tackles learn wrestling, hand-fighting and boxing to make them tougher to tackle – and generally tougher.
"It's full of these 300lb beasts, UFC and muay Thai fighters," says Whittle, 35, who represented England and the UK at football, athletics and American football himself at youth level, and until relatively recently played running back for the Manchester Titans. "Just a great environment to train. We didn't want Shadow to be a bodybuilder. He's been in prison, so he's been on three square meals a day, training in the prison yard, no access to a real gym. He's a functional, powerful being – someone who can intimidate, not just someone who looks good on a magazine cover."
Whittle wears Porsche Design hoodie by Adidas
Real-world strength
Strength and conditioning coach Brett Bartholomew (bartholomewstrength.com) was the chief architect of Whittle's transformation. "Based on Shadow's background and appearance, Ricky needed a programme based on a balance of athletic performance principles and bodybuilding principles," Bartholomew says.
"It wasn't enough for Ricky to look the part – he had to perform the part, and become someone who both had an imposing presence and could move with precision and purpose. So we had a three-way strategy: multi-joint movements, ground-based movements that mimicked real life and sport, and multi-planar training that included rotational, side-to-side and front-to-back movements."
That meant moves with bands and balls, slamming sandbags and a lot of lateral lunges – but also lifting hard and heavy.
"I'd do weighted pull-ups with a vest," says Whittle. "I was doing lunges with 50kg weights, where even though you're supposed to be working out your legs, you're working out your arms and traps. When you do deadlifts and squats and lunges it makes everything else grow kind of naturally – you just pack that size on."
And, he discovered, it helps you get lean too. "People think you've got to do cardio to get definition, but your body burns calories naturally because you're lifting so much weight and it's making you so muscular. I was training four hours a day – I'd take a break halfway through the workout, smash a protein shake and some BCAAs, and just carry on."
All you can eat
Of course, spending half your day in the gym doesn't mean much if you aren't prepared to hit the fridge with equal intensity. "I'd eat all day. Food became a chore," says Whittle. "I didn't eat because I was hungry, I ate because it was time. At the start it was great – pizza, sweets, burgers – but once you have to cut out all the crap and the carbs it becomes tough. You're eating dry chicken, brown rice and broccoli, five, six times a day. It's real mental discipline."
The end of the regime meant mixing long days on set with stripping back fat to reveal lean muscle – no easy feat. "We focused on a mix of classic strength and metabolic-focused training to keep Ricky's work capacity high, alongside a lower body fat percentage – and nutrition is king when it comes to reducing body fat," says Bartholomew.
Exercise and diet weren't the only battles Whittle had to fight. American Gods is a sprawling blend of epic fantasy and mythology, tackling every subject from religion to immigration – but it also doesn't shy away from the occasional (well, frequent) bloody punch-up. And Whittle, evidently, is not a man who likes letting other people do his punching.
"I had to fight Mad Sweeney, this giant alcoholic leprechaun, played by an incredible actor, Pablo Schreiber," says Whittle (Schreiber plays Orange Is The New Black's abusive prison guard George "Pornstache" Mendez). "We're both big guys, and we both had stunt doubles we didn't want to use. We take pride in our work and it helps the director in cutting and shooting. So… you're not really going all-out, but you're still hitting each other, throwing each other over tables, smashing bottles over each other's heads – it's sugar glass, but it hurts. Little nicks in the head – it happens."
The results are exhilarating. Gods' fight scenes feel raw and real, with a touch of the brutality not seen since Spartacus (also from the Starz TV channel). There's also a fair splash of sex, and several mouthfuls of the sort of profanity you'll rarely see on even post-watershed British TV.
With a cast that includes the always-menacing Ian McShane, Gaiman himself attached as writer and a first season that only takes in the first third of the book, American Gods has the distinct vibe of a show poised to take a run at… the Iron Throne?
Whittle smiles at the comparison. "There's a line in the show, 'a storm's coming', and it does feel like it's gathering pace," he says. "There's pressure to produce something that fans have imagined for 16 years. But there's been huge support. Neil Gaiman's been attached from the beginning, and if he's happy the fans have to be happy."
Whittle wears T-shirt by M&S Autograph by David Gandy, jeans by Tiger of Sweden
Leading man
Whittle must be happy too. A few years ago, he was winning Rear Of The Year against boy-band members and Strictly dancers; now he's stepped it up, he's auditioning against the sort of men you know by one name – Diesel, Statham, Rock. And he's not fazed.
"Hollywood's quick to pigeonhole you, so I fall into that action-man character slot," he says. "So yeah, now I'm up against Dwayne Johnson, Vin Diesel, the physical elite. It's an honour, but there's an intimidation factor because they've got great CVs and you're the new kid on the block."
How does he get past that? "You have to believe in yourself. I believed in myself when I moved to the States six years ago, believed that's where I deserved to be. You've got to switch the mindset to 'Well, maybe they're intimidated by me'. Just like when I played sports – I never worried about what other people were doing. You have to focus on your own game and do the best you can. Then you're unstoppable. I'm coming with a lot of thunder."
American Gods is on Amazon Prime Video in the UK now
Ricky Whittle's Three Training Phases
Looking to sculpt leading-man muscle in a couple of months? It's simple, but not easy. "We didn't have much time so Ricky's plan was done in three cycles of two to three weeks," says coach Brett Bartholomew. Use the template below to create your own pre-shoot plan
1. Foundation
"Here we emphasised movement quality over load," says Bartholomew. "That meant higher-volume training – around three to four sets of eight to ten reps – at a relatively low intensity, in terms of the amount of weight lifted. It's hard to train at peak levels if you can't move adequately or are always in pain."
As Bartholomew says, "Engineers and construction workers on skyscrapers will tell you that the smart money always goes into the ground." In practice, that meant starting with the fundamentals: push and pull.
"Ricky adhered to what I call a mixed split format for this. Days one and three were upper-body pushing exercises paired with lower-body pulling moves, and days two and four were upper-body pulling movements paired with lower-body pushing exercises. Each session only comprised about four to six exercises, all done with tremendous focus and intent. This helped enhance movement quality and add muscle mass."
RECOMMENDED: The Push/Pull Workout Plan For Big Muscles
2. Intensification
"Once a foundation was set, it was time to work on maximal characteristics," says Bartholomew. "I increased the weight Ricky was lifting and reduced the repetitions to the two-to-five range, but kept many of the exercises the same. This helped reduce difficulty and maximised his proficiency in each lift so Ricky could focus on getting stronger and truly learning how to work hard, rather than focusing on some new fancy exercise.
Novelty is overrated – the body is already getting a different stimulus through increased load so there is no need to throw out what has already gotten us great results."
Aside from set and rep variants, the only major change Bartholomew made was from the mixed split to an upper/lower focused routine. "This meant that days one and three were now upper body-focused while days two and four were lower body-focused. This gave Ricky's body more time to recover between sessions."
Simplicity is the watchword. "People often think everything has to be complex in order to work, but there's a reason that nobody has reinvented the wheel. Do the simple things savagely well and focus on consistency."
3. Competition
"Usually this is the phase where intensity – or the weight lifted – is the greatest and volume continues to drop off. That may work in the world of sport, but in this instance Ricky still had to put on a significant amount of muscle mass, so we kept the volume fairly high."
The format changed again to reflect the new goals. "Ricky now followed a split where he would continue to lift moderately heavy loads within the four-to-six rep range on days one and three, while days two and four would focus on methods such as barbell complexes, modified strongman training and medicine ball circuits. This not only served to refresh him psychologically after several weeks of heavy training, but also provided a much needed physiological shake-up since his body had to respond to a variety of stimuli."
Bartholomew notes that none of these workouts were in any way random. "Despite this current craze for what people keep referring to as 'muscle confusion', each training session was planned and adjusted accordingly based on Ricky's travel schedule and sleep quality as well as how well he recovered between sessions."
Brett Bartholomew's book Conscious Coaching is available now from amazon.co.uk
Sign up for workout ideas, training advice, reviews of the latest gear and more.
From 2008 to 2018, Joel worked for Men's Fitness, which predated, and then shared a website with, Coach. Though he spent years running the hills of Bath, he's since ditched his trainers for a succession of Converse high-tops, since they're better suited to his love of pulling vans, lifting cars, and hefting logs in a succession of strongman competitions.