Switch Up Your Abs Routine And Build A Seriously Strong Core
Get off the floor and use a power tower, or your gym's captain's chair and pull-up bar, to light up your core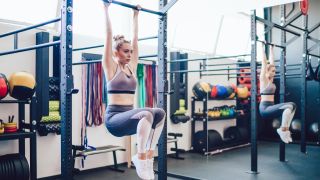 (Image credit: iStock / Getty Images Plus)
When you think of abs workouts, you probably think about crunches and other mat-based bodyweight exercises. These will certainly help build a strong core, but if you're frequently training your abs it's a good idea to vary how you challenge those muscles.
We've got this standing abs workout, this lower abs workout and this abs exercises on a pull-up bar to help, and to that selection we'd add this advanced abs workout from Ella-Mae Rayner (opens in new tab), a qualified PT and online coach. It uses a power tower, which combines a pull-up bar with a captain's chair machine, for a seriously effective core workout.
A small study by the University of San Diego (opens in new tab) found the captain's chair was one of the most effective ways to engage your abdominal muscles and develop core strength. To our minds, it's one of the lesser-known pieces of equipment in the gym, so it's great to see it featured in Rayner's routine.
Rayner demonstrated each exercise with the correct form in an Instagram post:
The session combines hanging leg raises and hanging knee raises, performed using both the bar and arm rests, plus a 10-second hold of each movement, and finishing with hanging knee twists to work your obliques.
When doing these exercises it's crucial you keep your core engaged. Also, try not to swing your hips because this will remove tension from your abdominal muscles so you miss out on the intended stimulus.
Make sure you warm up before attempting this workout because it requires good mobility. We recommend this simple but effective gym warm-up routine, which will prepare you for any kind of session.
The exercises that involve hanging off the bar require good grip strength. They will also engage your forearms and upper-back muscles. As a result, you might struggle to complete these movements if you're lacking in upper-body strength. If that's the case, supplement this workout with our beginner upper-body workout.
Sign up for workout ideas, training advice, reviews of the latest gear and more.
Alice Porter is a journalist who covers health, fitness and wellbeing, among other topics, for titles including Stylist, Fit & Well, Glamour, Cosmopolitan, Grazia, VICE and Refinery29. When she's not writing about these topics, you can probably find her at her local CrossFit box.