Running 5K with Kevin Hart: "This Isn't a Race – Unless I Win"
After leading group runs and workouts in the US, the American actor and comedian has brought his enthusiasm to the UK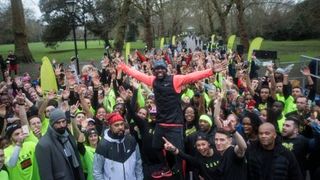 (Image credit: Unknown)
Getting up at 6.45am on a Sunday in January isn't usually MF's idea of fun, but today is different. We've been invited to join Kevin Hart, star of Get Hard and the new Ride Along 2, on the first leg of his challenge to run 5K in 15 countries in 2016. He greets us, smiling and laughing, and any early morning grumbles soon evaporate.
Tell us about Move With Hart.
Of course, people know me for being an incredible actor and hilarious comedian, but I also love to train and I wanted to share that with people too. It's only right to take things to another level and engage my fans to train with me. It was a spontaneous thing when I started inviting fans to do 5Ks while I was in their cities performing. That spontaneous thing just grew and grew, and then grew some more.
And Nike's involvement?
They saw what I was doing and wanted a slice of the action! We developed a partnership, which was simply about motivating people to come out and better themselves. Through social media it's grown into a global…
Phenomenon?
I was going to say collaboration, but yeah, let's go with phenomenon.
And that relationship with Nike has grown too…
Yeah, I've been a supporter of theirs for a long time. I'm a sneakerhead, man! And what respectable sneaker-loving guy wouldn't want to work with them? Just think of all the free shoes I'll get now.
RECOMMENDED: Best Road Running Shoes for 2016
You've got your own shoe, right?
That's right – the Hustle Hart is coming to a store near you this April.
How much of an input did you have in its creation?
A lot, man. They allowed me to bring my ideas to this thing we wanted to do, which was to design a shoe for fitness, not style. It looks awesome, and it's not a celebrity shoe designed to be exclusive, limited edition or anything like that. It's a multi-purpose shoe. It fits all my needs, and I do a bunch of stuff: running, jumping, lifting. You name it, I do it.
Sounds great…
It is, and what's really exciting is that because of Move With Hart, other people are going to be able to start this physical fitness journey at the same pace I do, in the same shoe I'm wearing.
RECOMMENDED: Running Events to Sign Up To
Did you get to go to Nike HQ?
Yes. I've been there. I've been in the TOP SECRET headquarters, and no, I can't discuss what I saw. They blindfold you, put a hood over your head, spin you around 20 times, then put you in the door. That's what happens.
You told US talk show host Jimmy Fallon you want to "inspire people to become the best versions of themselves through physical fitness". How is Move With Hart making that happen?
It's happening at every event with the people showing up. We're not getting world-class athletes, we're getting everyday individuals who need a kick-start. The beauty is that it genuinely brings people together. Physical fitness, and especially running, is something we can all dive into. It grabs all races, ethnicities, shapes and sizes. As a unit you all achieve greatness, no matter how fast or slow you are. There's an athlete in all of us. You just gotta discover it.
RECOMMENDED: Running Tips for Beginners
What kicked off the discovery for you?
Being in movies meant being in a position to be seen, and I thought it was only fair that I maximise my potential for the people who pay money to see me on a big screen. I thought, if I can look the part then I'll really be the part. It started off as just getting into shape for a role but eventually it became a lifestyle.
Your latest movie, Ride Along 2, is an action comedy. Do you want to make the jump to fully fledged action hero?
I'm slowly jumping into that realm. As I get older I'm going to do different things. Comedy will eventually give way to action, the action will move to drama and then I'll come back to comedy… then I'll do animation! I have a lot of different doors that I could open. Right now I'm toying with which doors to walk through.
You've played comedy shows to tens of thousands of people. How do you psych yourself up to stand out there, just you and a microphone?
There's no routine at all. I think that's what people would love the most if they actually saw what I do before a show. I make people laugh for a living and I love it – why be nervous about it?
Surely your first stand–up set was a bit nerve-wracking?
I was never nervous. Awful, but never nervous – there's a difference. The first time I did it, I was in love with the lights and the fact that people were listening to what I was saying. Granted I didn't give them much to listen to, but it didn't matter.
So even if the people in the audience are not laughing, it's fine?
Yeah, because they're here and they're listening to me. But of course that's the end goal. Laughing is like fitness – one of those things we all share as people. I don't care where you're from, I don't care who you are. I don't care what race you are. Everybody laughs. If you can bring laughter on a universal level, you have separated yourself from the pack. This is my calling: to bring people closer together, to bring joy to people. I see my audiences as people I'm about to bring joy to, like what we're doing here today. A shared experience that everyone comes away from happier.
The run is about to start, so we head to the heart of Battersea Park. Hart makes a speech in which he jokingly threatens to elbow the foreheads of any children who are thinking of giving up mid-event, before getting serious and encouraging people to help if they see anyone struggling. It's genuinely funny and motivating, and after he's finished speaking, there isn't a single person here who regrets getting up so early on a Sunday morning. I line up alongside Hart, with just time for another quick chat before the start.
What's your 5K time look like?
My best or today?
Today. Just wondering if we'll be able to keep up?
This morning's going to be slower, probably around 21-22 minutes. Besides, this isn't a race. Unless I win, obviously.
Everyone sets off and there's a palpable buzz of energy as runners clamour to jog alongside a Hollywood star, or just gawp for a few seconds as Hart's ever-growing entourage goes past. Once he's finished, Hart high fives everyone who crosses the line after him and gives the last person a hug. Another great speech and a group selfie later, Hart disappears into the grey London morning flanked by security. It's barely 10am, but the day has already been way better than any Sunday has a right to be.
Find out more about the NRC community's weekly run clubs and the Nike+ Running App at nike.com/london.
RECOMMENDED: Common Running Injuries for the Park Runner and What to Do About Them
Sign up for workout ideas, training advice, reviews of the latest gear and more.
Max was the head of digital content for Men's Fitness which worked alongside Coach between 2015 and 2019.