The Eagle who Dared: The Real Story Behind the Eddie The Eagle Movie
No one epitomises the sporting underdog more than Eddie "the Eagle" Edwards. Here is how some of those who were there remember it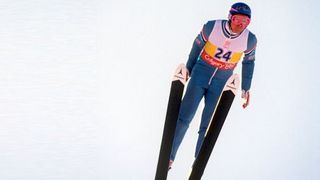 (Image credit: Unknown)
Calgary, Valentine's Day, 1988. Michael "Eddie" Edwards, a 24-year-old plasterer from Cheltenham, squats into position at the top of a 70-metre ice ramp ready for his Winter Olympics debut. He pulls his electric-pink goggles over a pair of thick spectacles, pushes off, and gathers speed down the runway. The noise of the crowd intensifies.
He leaps, sort of, then almost immediately touches down. In doing so, he becomes one of the worst Olympic ski-jumpers in history – and perhaps the most famous. But no one expects the madness that is about to erupt…
Chuck Berghorn, one of Edwards's first ski jump coaches When Eddie came to sign the waiver forms in my office in Lake Placid in 1986, I couldn't believe what I was seeing. He was old, chunky, had never jumped before, and was wearing the thickest glasses I had ever seen. I remember thinking, "Why is he here?" I couldn't take him seriously. He didn't have a single item of equipment. I had to give him an old helmet that didn't have a strap, which he fastened with a bit of string, and some ski boots that were so big he had to wear them with five pairs of socks. I won't lie. There was not a single second when I thought he was capable of making it to the Olympics.
Neil Wilson, journalist, Independent To get to the Games, Eddie had to prove that he wasn't a complete joke. The British Ski Federation told him that if he jumped 70m in a World Cup event he could go to Calgary. In December 1987 he hit 69.5m. He was in.
Caroline Searle, press officer, British Olympic Association I joined the BOA in late 1987, so there was barely any time to prepare for Calgary. I had the team handbook to write, so I trooped off to the British Ski Federation, who filled me in about Graham and Martin Bell, their biathletes and that kind of thing. Then, just as I was leaving, their administrator piped up. "Ooh, you haven't told Caroline about our ski jumper." I remember going, "Ski jumper? We have a ski jumper?" "Yes, a plasterer from Cheltenham who is horribly short-sighted." I thought to myself: there's a story here.
Neil Wilson In those days, the best British athlete in each discipline usually got selected for the Olympics, and Britain didn't have any recognised ski jumpers. It proved to be a very smart move. Edwards heard he had been selected in Finland while living in the cheapest place he could find – a mental hospital. He then flew to Canada to complete his training before heading to Calgary.
Simon Clegg, team quartermaster and Eddie's roommate No-one had thought to get Eddie from Calgary Airport, so I had to rush to get him. In those days you could meet someone right off the plane, and I got an immediate taste of what he was like when he told one reporter, "I've just been staying in this fantastic place in Finland. I got bed and full board for the equivalent of £10 a day. The only downside was it was a mental institution. But I've got some very good friends there and I've promised to send them all postcards."
Neil Wilson The small British press pack had been tipped off about Eddie, but he was still largely under the radar. That was about to change very quickly.
Simon Clegg We then headed for the carousel where a stewardess told us there had been a terrible mistake and Eddie's skis had been put on the wrong flight and were now in Los Angeles. The rest of his kit wasn't there either. It was late and everyone else had picked up their luggage and disappeared. And the carousel is going round with nothing on it. Eddie is looking at me. And I'm looking at him. Then through the curtains I saw an empty and battered British team suitcase. And – honestly you could not have stage-managed this any better – out comes this train of dirty, smelly clothing. Between us we stuck it back in his broken suitcase which we tied up with string. This was the man I was going to be living with for the next two-and-a-half weeks.
Caroline Searle I had told the Brits Eddie was coming, so the next day they all dutifully gathered in the press centre to interview him but no one else was interested. But Eddie being Eddie, he forgot his accreditation, which meant he didn't arrive for ages. The international media starting asking the Brits what they were waiting for and all of a sudden there was a big audience – and an opportunity.
Patrick Collins, chief sports writer, Mail On Sunday Eddie was terrific because he was so clearly not trying to be funny. And he was so unnervingly honest. I remember asking him: "Are they NHS spectacles you're wearing?" And he replied, "Of course they are!" I really liked him. If someone says they are a character that's usually the last thing they are. But he was. It was wonderful.
Caroline Searle From that moment everything began to escalate. My colleague Jan Paterson and I were working 18-hour days to keep up. Not that Eddie was fussed. On the first day he jumped I was in the warm-up zone with him. I remember the world number one [Finland's] Matti Nykänen was doing his visualisation exercises, stretching, and looking really serious. But Eddie was just focused on writing "Eddie" in gold letters on his helmet.
Nykanen won the men's 70m with 229.1 points from his two jumps. Edwards finished 58th and last with just 69.2 points. But the TV pictures of his jumps – the best of which was more than 12 metres shorter than the worst of any other competitor – went around the world. In the space of a few seconds he had become a global star.
A full-page piece in French newspaper Libération lionised "le Benny Hill du ski" with the manner of Stan Laurel, and rejoiced that because of his fogged-up goggles, Eddie sometimes couldn't see where he was supposed to land. Not everyone was impressed though. "We have thousands of Eddie Edwardses in Norway," fumed Torbjørn Yggeseth, the technical director of the FIS, the world governing body of skiing, "but we never let them jump. When you cheer Eddie Edwards, it means you don't have the base to really appreciate ski jumping. I think he should stop now before there is tragedy."
Patrick Collins A week beforehand my editors had had no interest in Eddie or the Olympics. Suddenly it was front-page news.
Caroline Searle Within the British team, opinion was really divided because he hadn't met perhaps as stringent qualifying standards as some of the others and he wasn't at their elite level. But he had, nonetheless, qualified under the rules of the Games. But in Calgary everyone loved him. Probably the craziest moment was when I had the David Letterman show and the Johnny Carson show on different phones both in a bidding war to get Eddie on first. Both were offering to fly out Eddie on a private jet.
Behind the scenes, Yggeseth was trying to ban Edwards from competing in the more dangerous 90-metre jump because of high winds, which forced the men's large hill competition to be postponed four times. Not that Edwards was worried. When Libération asked him about wind, the paper quoted him replying: "I loathe all sorts of wind. Particularly when it comes from the rear." Again Nykanen took gold, this time with 224.0 points. And again Edwards was stone last in 55th place with 57.5 – 53.3 points behind the next worst competitor.
Torbjørn Yggeseth Under Olympic rules we did not have the power to ban him from making the first of his two jumps. But yes, we did go to the British delegation and asked them to withdraw him. Evidently they decided he could manage.
Caroline Searle There was a huge sense of relief when he did his final jump. We had to whisk him onto a ski lift to get up the top to talk to the BBC and go off and do a whole raft of interviews. [BBC commentator] Mike Ingham was the first person to interview him for radio and had to do it on a ski lift because we had programmed him so tightly. And Mike is scared of heights. And Eddie really loved that, because of course he started swinging the thing!
Ian Wooldridge, columnist, Daily Mail Eddie Edwards isn't a fraud. No man with the guts to switch back off a 90-metre ski jump, which is nearly the height of St Paul's, is a fraud. Nor is he a loser. No man who comes hopelessly last and yet wins more attention from the world's media than any sports star at the Olympics can conceivably be a loser. The sheer bravery of any man hurtling headlong down a ski jump insulates him from criticism. Eddie did what none of us writing about him would do for a million pounds.
Matti Nykänen, triple ski jump gold medallist, 1988 He was a tenacious guy, brave and positive. Although his results were not at the peak, Eddie was an Olympic-level athlete.
Neil Wilson Such was Edwards's notoriety even Ronald Reagan, the President of the United States, wanted to watch this eccentric Englishman jump. That says it all really.
In the few months after Calgary, Edwards made the most of his fame, launching himself from a man-made ramp in the financial district of New York, racing monster trucks, parachuting on to a golf course to greet Arnold Palmer, and even recording "Mun Nimeni on Eetu", a song about himself in Finnish, that reached number two on the charts in Finland (another song, "Fly Eddie Fly", reached the UK top 50).
However, new rules were quickly brought in place which stipulated that to reach the Olympics a ski jumper had to be in the world's top 50, or to have finished in the top third of a World Cup event. As far as future Winter Olympics were concerned, the Eagle had been permanently grounded – although he did try to make the British team over the course of the next decade. A year later, he landed badly in Innsbruck in Austria, fracturing his skull and breaking two ribs. Then, in 1991, he went bankrupt because of poor management of a trust, although he was later able to recover £200,000 after suing the managers.
Simon Clegg I have so many memories of Calgary and Eddie, but the final night summed it up. We went downtown to the Bank discotheque, which was the place to be. Chaos ensued when Eddie arrived, and we rushed straight to the front of the queue and up to the balcony, which was full of flashing lights and people gyrating. Then, suddenly, all the lights went up and the DJ said, "Ladies and gentlemen, we would like to announce that Eddie the Eagle has landed in the Bank this evening." When the spotlight went on him, Eddie took this massive bow and everyone went wild.
Patrick Collins Eddie was wonderful. He was an Olympic virgin who revelled in every new experience. He was a funny man who never became a cheap laugh. He was by far the biggest story of those Winter Olympics. And, looking back, what a fantastic story it was.
READ NEXT: Eddie the Eagle Interview
Sign up for workout ideas, training advice, reviews of the latest gear and more.