Eddie "the Eagle" Edwards: "I was Exemplifying that Whole Olympic Spirit"
As the movie about his Olympic journey hits cinemas, Britain's underdog ski jumper reveals the people who made the legend possible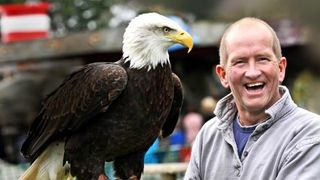 (Image credit: unknown)
A key theme of the movie is the constant discouragement. Did anyone actually help?
My very first coach was a lovely Italian New Yorker called John Viscome. He was about 75 even then, and he saw me on my own jumping in Lake Placid. He used to drive up next to the 40-metre jump, stick his head out the window of his pick-up truck and shout "Get your fanny up", and I would be "What?"
People must have been genuinely concerned for your safety…
The trainers were fine because they knew that I could land OK, it was people in authority like the Norwegian and Swedish Ski Federations. They were saying, "Huh – we've got 50,000 Eddie the Eagles. You shouldn't be sending him to the Olympic Games."
You had to wear six pairs of socks because your boots were too big and your helmet was tied on with string…
Once on the 90m jump, the string snapped as I was flying through the air and my helmet fell off. I've always said I was upset because I jumped 37 metres and my helmet did 98!
Meanwhile, in the film, we see the British Olympic establishment being particularly obstructive. Did they ever provide any assistance?
Not really, but they didn't do too much to obstruct me either. The British Ski Federation [BSF] set a criteria that I had to jump something like 70 metres in a World Cup competition and I did 69 and a half, in St Moritz. I sent the results to the BSF and they said, "That's good enough" and put my name forward for selection. At the time, the British Olympic Association [BOA] had an inclusive policy so if there was a guy doing a particular kind of winter sport for Great Britain then they wanted them to go to the Olympic Games because it was a good promotion for winter sports in general. It was after Calgary when they said, "It's not right that a guy who comes 58th should get more attention than the guy who wins the event". They thought I was making a mockery of the sport so they banned me from international competition and that was it.
Taron Egerton and Hugh Jackman filming the movie Eddie The Eagle
The film shows how you overcame tremendous odds. Whose comments meant the most to you?
There were 80,000 people at the Closing Ceremony and the Olympic president said, "People have set new records and one has even flown like an eagle," and the whole crowd started shouting "Eddie! Eddie!" Even now thinking about it makes the hairs on my neck stand on end. But a lot of people understood that I was exemplifying that whole Olympic spirit; that I had no money, training facilities, equipment, trainer, snow, or ski jumps, and yet I still managed to compete at the Olympic Games for my country. And I just did the best I could with what I had.
Who do you look back on with most warmth for their part in your story?
My dad – he gave me the best piece of advice. He said: "When you're away, make friends with the chef and you'll never go hungry." In Kandersteg [Switzerland] I made friends with two brothers, one was the hotelier and one was the chef. They'd give me a meal or throw me tins of beans out of the window. It didn't seem like I was listening to my dad, but I always took it in.
READ NEXT: The Inside Story of Eddie the Eagle
Eddie The Eagle is in cinemas nationwide from 1st April
Sign up for workout ideas, training advice, reviews of the latest gear and more.
Ed Needham was the founder and editor-in-chief of Coach magazine, a free health and fitness magazine published between 2015 and 2016. He now edits the magazine Strong Words.