Caver Robbie Shone on Going Beyond the Known Limits of Exploration
To find an unexplored part of Earth, you have to go underground. Caver Robbie Shone explains what lies beneath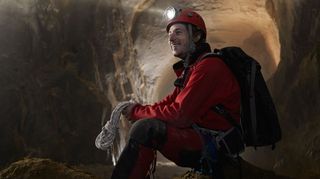 (Image credit: Unknown)
Image 1 of 9
Life is tough for modern explorers who hope to go where no-one has gone before. There are very few areas on the surface of the Earth that are truly unexplored, but there are still undiscovered spaces underground as we discovered when we spoke with cave explorer and photographer Robbie Shone.
Shone is part of San Miguel's Rich List (rich as in "life experiences") and took the time to talk to Coach about how he got started, his most memorable expedition and where beginners can make their first foray underground in the UK.
How did you get into caving?
When I went to university in Sheffield in 1999 to study fine art I had aspirations to become a rock climber, but a friend persuaded me to go up to the Yorkshire Dales with the university's caving club – I really didn't want to go, to be honest. But I went into the cave and was immediately blown away by the environment of a cave, how alive it was. This particular cave had a river running through it so we had to watch our step to not get washed away by the currents.
There was a short abseil to get into this room with a big circular pool of water and then we had to make our way on our own around the edge to wait for the rest of the team. I just sat there watching the lights of my friends coming down absolutely in awe of the space.
Through the club I met people out in the Peak District who had devoted their life to exploring caves, influential characters who pushed me in the right direction of caving in the UK and then going abroad on bigger international expeditions.
Now I'm now a cave explorer and photographer, primarily with National Geographic magazine in Washington DC. My girlfriend is a cave scientist and answers questions about climate change through caves. If you were to come round and have a cup of coffee with us all we'd talk about is caves, but I guess some people have to be devoted to weird things.
Did you feel any pressure not to make cave photography your career?
Yes and no. My parents have always been very supportive. Both of them led a very regular lifestyle with a nine-to-five job and my sister went down that road as well. When I was focusing my attention on art, then photography and then cave photography I was aware that this could cause a few… interesting conversations. But that never came about. As long as I was happy they were fine.
The only pressure that I put upon myself was about making it work. I'm well aware that it's very niche and there's not a huge market for cave photographs. But people are following their passion these days – which is great.
Did you have to make sacrifices to make caving work?
I wouldn't say they're sacrifices. Sacrifices are things that you want to do but you put to one side to do something else. I've always wanted to do this. I know most people have a family lifestyle that myself and my girlfriend don't have, but it's not something that we're sacrificing.
Caves are really beautiful spaces and I get a lot of satisfaction bringing these pictures back to the surface and showing the public what lies underground.
What's your favourite caving experience?
Back in 2006 National Geographic sponsored and wrote an article about our expedition to a tiny island called New Britain, just off the north-east coast of Papua New Guinea. It's heavily vegetated with primary rainforest, mostly limestone and gets lots of monsoon rain, all of which sinks and forms these huge caves and giant borehole-like rivers with monstrous amounts of fast-flowing white water.
We were there for three months, camping in the rainforest in hammocks in a small base camp made out of bamboo and sticks. I was about 26 years old and on my first really big, very remote, potentially very dangerous expedition.
The caves we were discovering were at the limits of what you can explore. The rivers were so powerful that you couldn't communicate when you were in the cave – we wore ear plugs because the noise was so loud. The river would have just swept you away to your death so we were constantly traversing the water on tension lines wearing buoyancy aids. It was a very intense three-month expedition and one that I often look back on and think wow, that was pretty epic.
Are there unexplored caves in the UK?
We don't really know because they're hidden away. Certain areas of the UK have lots of known caves, so chances are there will be more unexplored caves, but we don't know for sure because nobody's been there. The only way is to go beyond the limits of known exploration and try to discover new passageways.
Where can you go caving in the UK?
The four main places are the Yorkshire Dales, Derbyshire, South Wales and the Mendip Hills just south of Bristol.
In the Mendip Hills you'll mostly experience relatively small, wet caves with rivers running through them where you're sort of arching your back or you're crawling.
In South Wales the caves are bigger but they're mostly horizontal. Because of the nature of the limestone and the way the rock's been shaped they're generally in dipping beds of limestone. You're walking along a passageway slowly downhill, or slowly uphill as you're coming back out.
RECOMMENDED: Canyoning, caving and climbing in South Wales
Derbyshire has a mixture of those types of caves as well as big vertical shafts and pits, the largest of which is called Titan – about 145 metres from top to bottom in one straight drop. You have to be an experienced caver to do that.
The Yorkshire Dales are famous for clean, washed limestone caves that have active streams and riverways going through them and they're more like pots, so you get caves where you're immediately on a rope, abseiling down through lots and lots of shafts with streams and waterfalls rushing straight past. You get down to the bottom then come back out.
How can people start caving?
In the UK we have a council, the British Caving Association (BCA) and all the smaller caving clubs will be affiliated. To learn how to go caving get in touch with the BCA and they will put you in contact with the necessary people.
How dangerous is caving for a beginner?
If you're a complete beginner I would definitely not recommend going into a cave on your own – there will be dangers to that inexperienced person. Even at my level it can still be dangerous because there are elements of uncertainty – a rock can fall out of the ceiling. It's been lodged there for tens of thousands of years but on the day you happen to go in there it falls out and lands on your head. This has happened.
But caving is relatively safe if you take all the necessary precautions – wear a helmet, take a spare light, don't rush through the cave. There's no reason at all why you can't have a completely safe experience and come back out and want to do it again – just like I did.
Robbie Shone is on the San Miguel Rich List of 20 individuals who are rich in life experience. See who else is on the list at sanmiguel.co.uk/richlist
Sign up for workout ideas, training advice, reviews of the latest gear and more.
Jonathan Shannon has been the editor of the Coach website since 2016, developing a wide-ranging experience of health and fitness. Jonathan took up running while editing Coach and has run a sub-40min 10K and 1hr 28min half marathon. His next ambition is to complete a marathon. He's an advocate of cycling to work and is Coach's e-bike reviewer, and not just because he lives up a bit of a hill. He also reviews fitness trackers and other workout gear.