The Celebrity Punisher Says You Can Do an Endurance Challenge
Yes, you. Greg Whyte explains the rules for success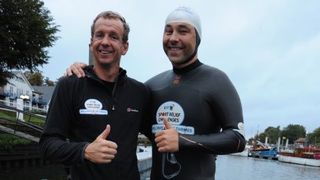 (Image credit: Unknown)
Through his involvement in Comic Relief, former modern pentathlete Greg Whyte has trained everyone from David Walliams and Cheryl Cole to Eddie Izzard and Gary Barlow to complete seemingly impossible endurance challenges, from swimming across the English Channel (Walliams) to running 43 marathons in 51 days (Izzard).
Having mentored celebrities in 23 Comic Relief and Sport Relief challenges, Whyte has seen it all – and he insists that all of us have it in us to complete endurance challenges. We just can't go from the couch to Everest in a day.
What do you tell clients?
To take it one step at a time. Don't think about the big challenge, think about the next short-term goal. It all comes down to planning. You're not suddenly going to wake up one morning and achieve something great if you haven't planned for it. You have to be physically prepared, but you also have to be psychologically prepared. You have to consider nutrition, biomechanics, logistics… the lucky thing for the celebrities is that they have me to coordinate all of that.
Why do you think the Comic Relief challenges are so watchable?
Each and every Comic Relief challenge is gargantuan. Sometimes we get lost in the challenge itself, but what's much more important is the journey. It's where people start, and where they're trying to get to that matters. The fact that David swam the Channel is utterly amazing. But Jo Brand walked for 150 miles. For Jo, where she came from, it's an amazing achievement.
Is there anything we don't realise about this sort of endurance challenge?
What people should remember is that rather than getting sucked into the belief that the only challenges that matter are climbing Everest, swimming the English Channel or running the Marathon des Sables, you have to start somewhere. You also have to believe that you can complete it. The worrying thing is that people watch the London Marathon, see 40,000 people taking part and think, "Oh, it must be easy." But nothing good comes easy.
What rules should people follow, then?
You have to commit yourself to the hard work, time and effort. If you do believe and you do commit, as long as you structure training appropriately, and set short, medium and long-term goals, you can bring about success. Success builds motivation, because you start to believe you can achieve this incredible goal. Without belief, commitment and motivation, you're lost.
You've also been a mentor for celebrities doing these challenges. Is that an important factor?
The question is often, "Why do Olympic gold medallists need someone?" But we all need somebody. A mentor or a team is critical if you're going to be successful.
Does having the added motivation of raising funds for worthy causes really help inspire people?
All the work I do for charity is for free. My central motivator is the fact that we raise amazing amounts of money. We've now topped £35million on the challenges. I've seen where that money is spent and it truly does change people's lives.
RECOMMENDED: The Best Endurance Races
Sign up for workout ideas, training advice, reviews of the latest gear and more.
Deborah has been a journalist since 2014 and contributed to the print edition of Coach. She has written for a range of titles, including Women's Health, Good to Know, Stylist and many others.