The 10 Best Cars for Adventure
In the quest for outdoor thrills, you often need the right vehicle to get you there properly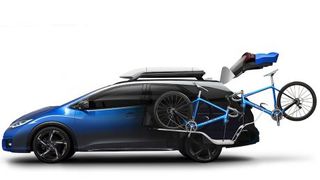 (Image credit: Unknown)
Best for Cycling: Cycling Honda Active Tourer
Aimed at Tour de France teams, this Honda Civic estate has a central fuel tank that frees up plenty of space for two bikes and a rotating rack. Other rouleur-pleasing innovations include an integrated pump, retractable workbench and a toolbox.
Pop the tailgate and there's even an overhead light so your mechanic can work late into the night. Expect to see it on the road next year, but in the meantime, you can pick up the standard Civic Tourer – it has the same, class-leading 1,668-litre boot-space (with the rear seats down), hence why cyclists rave about it. From £18,585, honda.com
RECOMMENDED: Five Gruelling Tour de France Ascents that You Can Ride
Best for Weekend Camping: Weekend camping Nissan X-Trail
Promising a "mountain of attitude, without the steep price tag", Nissan's ultra-rugged 4x4 is already a proven hit with adventurous types. Looks-wise, it's on the reliable side of intrepid, but it boasts peerless safety features and the option of a seven-seat set-up.
Fold the five rear-most seats down and you'll find that there's plenty of room for an air bed. The gearbox sends power to the wheels 30 times faster than the blink of an eye, allowing you to blast through snow drifts and scramble across bogs as you make your way back to civilisation with total confidence. From £21,995, nissan.co.uk
Best for Roadtrips: Renault Kadjar
Wondering what "Kadjar" means? Apparently, "Kad" references "quad" – as in the four-wheeled bikes owned by thrill-seeking farmers – while "Jar" is a nod to the word "agile". But, despite the exotic name, the Kadjar is actually a very sensible car. Essentially, it's a bigger, cheaper Nissan Qashqai and is as comfortable as a large sofa – and thus makes for supremely pleasurable road trips.
Features include acres of leg-room, an optional "Explore" pack with bike carrier and a stunning panoramic glass roof that affords an excellent view of central London's very own "big sky". From £18,495, renault.co.uk
Best for Climbing: Mini Clubman Cooper S ALL4 Scrambler
Inspired by a scrambler motorbike, this badass Mini Cooper looks like it could drive straight up the north face of the Eiger. Features include raised suspension, a Phileas Fogg-style luggage rack and dual fog lights. Sadly, Mini is yet to confirm its launch date, but the standard Cooper S Clubman All4 offers much the same gear.
The five-seater has the iconic split rear door for easy loading, thrives in adverse weather and boasts a four-wheel drive system that delivers excellent handling on loose surfaces. It'll get you to the cliff face at a clip, too: it does 0-60 in under seven seconds. £24,285, mini.co.uk
RECOMMENDED: Where to Start Rock Climbing Outdoors
Best for Wild Swimming: Fiat 500X Off-Road Look
If you're a fan of the exhilarating pastime that is wild swimming (ie jumping into freezing rivers) then here are three words that will put the colour back into your cheeks: heated steering wheel. That little gem aside, the "Off-Road Look" 500X model is a plucky little 4x4 SUV crossover with a 350-litre boot space: not massive, but plenty of space for a heap of wetsuits and some handmade Scotch eggs.
Naturally, you get Bluetooth DAB radio, but it's worth upgrading to the Beats Audio nine-speaker system. That'll blow the cobwebs away – even if the swim doesn't. From £19,065, fiat.co.uk
RECOMMENDED: Great Open-Water Swimming Challenges
Best for Globe Trotting: VW California Ocean
The VW Camper became a symbol of independence and freedom in the '60s, when American drivers stuck it to the man by taking off for the sunshine coast armed with surfboards and suspicious cigarettes. The sixth-generation Camper embodies the spirit of the original but feels more like a "vansion" than a van. Mod cons include a fully-fitted kitchen, space to sleep four, remote-controlled heaters, fresh water tanks, a driver's seat that swivels around 180 degrees and a pop-up roof to ensure you don't swear every time you get up to fry an egg. £48,547, volkswagen.co.uk
Best for Watersports: Land Rover Discovery Sport
If you're into sailing, jet-skiing, kayaking or wake boarding, chances are you'll need a vehicle capable of towing a trailer. Well, look no further than the "Tow Car of the Year 2016". In addition to a fancy, "electrically-deployed" tow bar, this premium SUV features Trailer Stability Assist tech to ensure that you never get a shock when looking in the rear-view mirror.
Pulling power – 2,500kg – is impressive, but what's better is that towing stuff doesn't blunt the performance. And if you back it a bit far into the water, sensors on the door mirrors let you know you've hit the maximum wading depth. From £44,000, landrover.co.uk
Best for Extreme Adventures: Audi Q2
This mid-size luxury SUV might resemble a beefy rugby player, but thanks to Audi's legendary Quattro all-wheel drive technology, it performs like a principal ballerina. Whether you're crawling up snowy peaks or ripping through dusty canyons, the Q2 delivers optimal grip with surprising sportiness. Its super-swanky interior feels more like a penthouse suite than a car, with a Bang & Olufsen stereo, LED mood lighting and wireless phone charger. You can even hitch up the optional Heimplanet tent (£1,105) to the boot lid and turn it into a camper. Haus sweet haus, as the Germans say. From £22,000, audi.co.uk
Best for Snowboarding: Jeep Cherokee
This SUV conquers snowy mountain passes with ease. The 4x4 tech is simple and doesn't require driver intervention or feedback. After a hard day's powder-chasing, hop in, flick the Selec-Terrain dial into "Snow" mode and away you go. The car tailors the torque to the slippery surface. If you do get caught in a blizzard, the Cherokee's a nice place to be, with an optional Jeep tent (£395) and a Cargo Management storage area for your wet kit. You also get a first-aid kit and a big button on the 8.4-inch HD touchscreen system that says "Emergency". Press it and everything will be fine. From £33,295, jeep.co.uk
Best for Surfing: Ford Ranger
You might think that double pick-up trucks are the most 'Murican thing ever, and you'd be right. But Britain is finally starting to "get some", too. The Ford Ranger 4x4 is a real alternative to an SUV, has a flat-bed that's the perfect size for surfboards and an exterior that's tougher than the Eddie Aikau Big Wave Invitational on Hawaii. Inside, the kit's premium, with an 8-inch touchscreen display blessed with voice recognition. The only downside to owning a truck is that when you go to Wickes, people will ask you for a quote on a loft extension. £20,975, ford.co.uk
RECOMMENDED: The Full-Body Surfing Workout
Sign up for workout ideas, training advice, reviews of the latest gear and more.