Four Adventurous Activities in the UK
On a new list of the world's 20 most extreme adventures, almost a quarter are here in Britain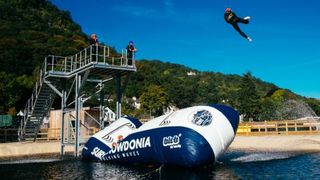 (Image credit: Unknown)
If you're looking for your next adventure, you may not need to look too far. Travel Supermarket compiled a list of what its says are the world's top 20 extreme adventures and four are in the UK, with two of them in one – obviously very extreme – corner of Wales. And while we may not have any volcanoes to dive into or tornadoes to chase, there's definitely some great fun to be had without needing to dig out the passport or quite so much cash. Here are some more details on the extreme sports-of-sorts, followed by Travel Supermarket's full list in case you get itchy feet.
RECOMMENDED: Activity Holidays
The World's Fastest Zipline, north Wales
Zoom 150m above Penrhyn Quarry, once the world's largest slate quarry, reaching speeds of up to 160km/h. Not only is it the world's fastest zipline, it's also the longest in Europe. Trips include a warm-up ride on the Little Zipper before you're trucked up to the big 'un. £60, zipworld.co.uk
Horseboarding, UK-wide
This was a new one on us. Think of wakeboarding, but replace with boat with a horse, the wakeboard with an all-terrain skateboard and the water with land. If you're unconvinced this counts as extreme, here's a video of crashes from the 2015 National Championships.
There are horseboarding teams across the country, with competitions held on some of the UK's most prestigious country estates. If you want to get involved (they don't offer one-off "experiences"), start by contacting Horseboarding UK, which offers regular training days in ten locations. As part of the day you'll be assessed to see if it's safe for you to enter a competition as a novice. horseboardinguk.org
RECOMMENDED: 10 Active Stag Do Ideas in the UK and Europe
The Ramsay Round, Scotland
One of the toughest running challenges in the world. Participants in the Ramsay Round have just 24 hours to run 100km across all of the 23 Munros (mountains over 3,000ft or 915m) that encircle Ben Nevis. Charlie Ramsay first completed it in July 1978 and only 74 people have matched his feat. This one isn't to be taken lightly, but the Ramsay Round website helpfully includes alternative challenges. ramsaysround.com
The Blob at Surf Snowdonia Adventure Park, north Wales
Dubbed "lake bombing" by Travel Supermarket, the blob is the pièce de résistance of the Crash and Splash watery assault course. The 10m x4m inflatable lies on a lake and acts like an catapult. You sit on one end and someone else jumps onto the other end from a 4.5m-high tower, throwing you through the air. The current record for the highest bounce is 22m. £15-£25/hr, surfsnowdonia.co.uk/crash-and-splash
Sign up for workout ideas, training advice, reviews of the latest gear and more.
Pennie is the founder of fitness magazine Oh My Quad and has a decade's experience working as a freelance journalist for various magazines on- and offline. She is also a personal trainer based in North London and the GoodGym Barnet trainer, so spends a lot of time running around and picking things up.