The Best Running Holidays In The UK And Abroad
Explore the world on two feet with these organised getaways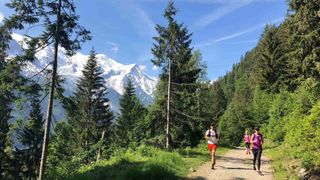 (Image credit: Run The Wild)
There are three main types of running holiday. The most arduous are the training camps pros use to get in shape ahead of a busy season of racing, and the most common is when pros and amateurs alike jet off for a long weekend somewhere to take part in an event.
The third kind is the most fun. These are the running holidays where you visit somewhere beautiful and explore it by running, usually on trails. You can book a flight, buy a load of OS maps and do this all yourself, but the smart bet is to sign up with a running holiday organiser for this kind of trip. Why? We'll let Simon James, founder of running holiday company Run The Wild, explain.
"Planning your own adventure can be a big task and time-consuming," says James. "We take the hassle out of arranging your own trip, which can be daunting, particularly if you're dealing with a foreign language.
"It's not just that, though –we add much more to your experience. It's fun running in a group, and our guides know the best routes and the best places to stay, and that only comes from being a local.
"Along the way we teach you about the environment you are running through, from the edible flowers to the wildlife and names of the mountain tops. We keep you safe on the trails, book your accommodation, move your bags and meet you with luxury picnics on route."
Assuming you're convinced, here are some of the best running holidays companies to book with, starting with Run The Wild themselves. Obviously, the global pandemic makes holidays problematic, but all the companies below are still operating. Where possible, we've linked to each company's COVID-19 statement or policy for you to read and digest before booking.
Run The Wild
James's company puts on trips in the UK and Europe, with its most popular trips being short jaunts to the Chilterns and the Alps.
"Our Introduction To The Alps trip involves two mornings of trail runs beneath glaciated peaks and through pine forests," says James. "For those who want to push themselves further, we have a two-day run in the Chilterns, which covers just under 60km and is perfect for runners thinking about multi-day trail events, ultraruns and marathons."
Run The Wild also put on longer trips to the Alps, including a seven-day trip in the area around Mont Blanc.
"Running in the Alps is like no other running you have ever experienced before," says James. "The mountains are big, the paths exhilarating and the views spectacular. The sense of freedom and adventure is unparalleled." runthewild.co.uk (opens in new tab) (COVID-19 response (opens in new tab))
Contours
If you're happy to navigate yourself along a multi-day route, but would rather someone else set the route for you and transported your luggage from point to point, Contours is a great option. Its trips cover some of the UK's best long-distance trails like the length of Hadrian's Wall, and itineraries are designed to take your fitness into account so you can make the daily distance covered manageable. Contours provides maps and guidebooks for the route, books your accommodation, sorts breakfast each day, and transports you to and from the trail. As a result it's cheaper than other holiday options and you can go any time you like, though you won't get the benefit of a guide or the fun of a group run. contoursrun.co.uk (opens in new tab) (COVID-19 response (opens in new tab))
Nomadic Running Company
This trail-running holiday company offers a vast range of locations for its trips, ranging from quick three-day jaunts in the Cairngorms or Brecon Beacons, to epic journeys through Kyrgyzstan or Oman's Al-Hajar mountains. If you're looking for adventure, you'll certainly find it here, and each trip is given a detailed grading so you can decide whether you have the fitness and trail-running chops to handle it.
These gradings range from moderate, where you're expected to cover 20-30km over two days and climb as much as 500m in one day, to demanding, where you might climb as much as 1,500m in one day and cover 45-55km over two. There is something for most people, and you can also arrange private trips with the company built around its existing itineraries or get an entire holiday designed around your running dreams. nomadicrunningcompany.com (opens in new tab) (COVID-19 response (opens in new tab))
The Way Of The Runner
Organised by Adhanarand Finn, author of some of our favourite running books, these running retreats are mostly set in Dartmoor, with the odd excursion further afield such as Chamonix in September 2022. There are several trail runs to take part in across the weekend, and the last retreat was joined by ultramarathon pro Damian Hall. Along with the Chamonix trip you can currently book a place on a day trip running 35 miles (56.3km) across Dartmoor in April, with another Dartmoor retreat to be confirmed. thewayoftherunner.com (opens in new tab)
The Adventure Running Company
Have you ever considered climbing Mount Kilimanjaro? How about running up it? The Adventure Running Company lives up to its name by offering a ten-day trip up and down Africa's highest mountain. There are also trips set in Morocco's Atlas mountains, along with the French and Italian Alps – including Chamonix, the spiritual home of trail running in Europe. While most of the trips are aimed at experienced runners, the Chamonix itinerary and one closer to home in Wales cater to all abilities. theadventurerunningcompany.com (opens in new tab)
Destination Sport Experiences
Unlike other companies on this list, which organise the runs you'll be doing on your holiday, Destination Sport Experience (DSE) organises trips to some of the world's biggest running events. That includes World Marathon Majors like Berlin and Chicago, where the guaranteed entry on offer from DSE means that even runners who strike out in the ballot for those events can still run them. Along with sorting entry DSE will organise your accommodation at hotels ideally placed for the event, as well as activities like shake-out runs and pasta parties.
For those who prefer something more exotic than the Majors, you can also take part in events like the Polar Circle Marathon in Greenland and the Marathon du Médoc in the south of France, which features wine-tasting stops on the route. destinationsportexperiences.com (opens in new tab)
Train In Kenya
If you have ever wondered how Kenyan athletes get so fast then this trip to Iten, the high-altitude region where many of the best runners in the world go to train, might be one to try. Famous runners hit the trails around Iten every day and are by all accounts perfectly amenable to running with average Joes – as long as you can keep up, that is. Bookings are being taken for two-week camps in March, August and December 2022. The company also offers a 12-month transfer policy (opens in new tab), so if you can't travel for any reason, either because of COVID-19 or an injury, or if the camps are cancelled, your booking can be switched to another date in the next 12 months. traininkenya.com (opens in new tab)
---
More Running Holiday Ideas
Sign up for workout ideas, training advice, reviews of the latest gear and more.