Olympian Jo Pavey Recommends Five Amazing Coastal Runs In Devon
It's always good to listen to a local's recommendations, especially if that local is a long-distance runner and five-time Olympian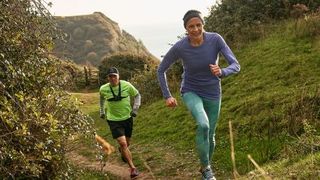 (Image credit: Unknown)
Photograph: James Carnegie
When we took a trip down to Devon to run with former European 10,000m champion Jo Pavey, she took us through a track session but also for a run along the clifftops near her home. It was frankly stunning, so we jumped at the chance to share Pavey's favourite coastal runs.
If you're heading to that part of the country for any reason, pack a pair of trail running shoes and give one (or all) of these routes a try. You won't regret it, and who knows? You may end up bumping into Pavey. If you do, make sure to say hello – she's as down-to-earth and friendly as elite athletes come.
Jo Pavey's Five Favourite Coastal Runs In Devon
Near my home in east Devon is a large Area of Outstanding Natural Beauty which is crisscrossed by tracks. I'm also just a few miles inland from the Jurassic Coast World Heritage Site and the beautiful South West Coast Path (SWCP), a 630-mile-long path that stretches from Minehead in Somerset right the way around the south west peninsula to Poole Harbour in Dorset, with some fabulous sections for running. As a teenager I used to love running back and forth along sandy beaches, and I think this helped to start a lifelong love of coastal running. I've run hundreds of miles along the path over the past 30 or so years.
Here are five stand-out routes I have run in Devon, although it was very hard to keep the list so short – there are so many other nice sections. During these runs you'll get to enjoy wonderful views of dramatic cliffs, pebble or sandy beaches and tumbling surf, while inland there's rolling Devonshire farmland, woodland, and areas of upland heathland and moorland. Hillsides are dotted with farmsteads and nestled in the valleys are pretty little hamlets and villages.
The coast path has some rocky and very uneven sections, so you will need some decent trail running shoes with plenty of grip. But you'll also be running along some level firm trails and even some short sections of country lanes, and because of this I prefer a more flexible trail running shoe – the Saucony Peregrine is my go-to. I hate stiff, rigid shoes and the Peregrine is one of the few shoes that feels at home on both the uneven rocky trails and paved paths.
Don't be disappointed if the weather isn't all blue skies. Although I love sunny days some of these coastal routes are amazing in the midst of winter with raging surf and bracing winds. It feels like the landscape really comes to life in poor weather. The sounds of the crashing surf and strong winds make you feel exposed to the full force of the elements and it's invigorating.
You need to plan ahead carefully if you want to avoid out and back running – check bus times or arrange a drop-off and pick-up. A nice pub with an open fire is always a bonus! Make sure you take a camera and stop from time to time to enjoy the beautiful views. Remember, running isn't just about trying to run fast!
Sidmouth To Beer (9 Miles/14.5km)
Photograph: James Carnegie
This is my local stretch of coastline and is one of the most spectacular areas of the Jurassic Coast. It's also one of the more severe sections because the climbs are tough but the views are well worth the effort! You'll need a good head for heights – the cliffs tower hundreds of feet above the pebble beaches below. My husband, Gav, and some of his friends run to Beer every year on their Run To Beer For Beer. It's not an organised event, it's just something he and his friends in our village do for a bit of fun.
You have the option to start your run on the esplanade in Sidmouth, which has a wonderful mix of Georgian and Regency buildings, and from there you have to run straight up the very steep Salcombe Hill to join the coast path. This is a lung-buster of a climb to tackle at the start of a run and so I normally drive and park opposite the Norman Lockyer Observatory. From here you head east along the coast path towards Beer.
There are options to follow inland paths and you can avoid some of the more extreme climbs but this takes away some of the fun! There is a bus that you can take back to Sidmouth, or alternatively you could take an inland route on your return. There are a network of inland paths and country lanes to choose from but without local knowledge, or a decent map or navigation app, you can quickly lose your way.
Hope Cove To Salcombe South Sands Beach (7 Miles/11km)
With its high cliffs towering above remote coves and some spectacular headlands, this is one of my favourite sections of coast path. Rugged rocky outcrops, bracken and heather give this area a wild feel, similar to the moors, especially when windswept in winter. The estuary at Salcombe is beautiful and if you fancy cooling off it has some sandy beaches – in fact there are places for a dip in the small coves if you need a rest during this run. Hope Cove gets pretty busy in the summer, but I've only run this in midwinter when it's much easier to park and you have much of the path to yourself.
The start point is near the lifeboat station in Inner Hope, where you'll see some steps that lead you up a steep climb to Bolt Tail. Follow the path and you'll cross Bolberry Down and then on to Soar Mill Cove. This little beach is a great spot for a quick dip in the sea. From the beach, cross the small bridge and follow the signs for Bolt Head or Salcombe – along the way you might see a wild pony or two! Beyond Bolt Head you'll eventually hit the road leading down to South Sands Beach. It's an extra mile to Salcombe town centre.
Croyde To Woolacombe (5 Miles/8km)
We often visit north Devon as a family for beach trips or short camping breaks, and I'll often make a beeline for the Baggy Point footpath. This area is a Site of Special Scientific Interest because of its geological significance. You can run this as a circular loop and I add in the beach from Putsborough to Woolacombe, although you will have to time your run with an ebb or low tide to do this.
If you're staying in Croyde you can start there, or park in the National Trust car park at the start of the path. Not far beyond the houses near the car park, you'll come across some huge whale bones beside the path! The path starts out very moderately, but as you climb and head towards the spectacular Baggy Point it gets very narrow and steep, so be extra careful because it's a long way down to the base of the cliffs! Out to sea, if it's a clear day, you'll see Lundy Island and the Welsh coastline. If you get very lucky, you might spot a grey seal below the cliffs .
During the run you'll have the option to head down to the beach and run along it from Putsborough, or take the SWCP path through the dunes behind the beach. Another option is Marina Drive above the dunes which is a scenic place to park stretching along the hillside. If the tide is out I always take to the beach here! I normally run right at the water's edge where the sand is firmer. A good plan is to run a loop using two of the above combinations.
See related
Lynton To Combe Martin (14 Miles/22.5km)
Not only does Devon have two coastlines, but it also has two upland moorland national parks, Dartmoor and Exmoor. Most of Exmoor lies in Somerset but the western side including a coastal strip is in Devon. The coast path from Lynton takes you through a spectacular mix of moorland and coastal scenery, and you'll probably see Exmoor ponies along the way. I've included this run because I think the views over the Valley of the Rocks and Heddon's Mouth are amazing.
It's best to run this section of path then get a bus or lift back to your start point. Great Hangman, where Exmoor meets the sea, has far-reaching views over the Bristol Channel and is the highest sea cliff in England with a cliff face of 800ft [244m] and the actual summit is just over 1,000ft [305m] above the surf. Overall you will climb around 3,000ft [915m] during this run and it has some pretty steep climbs. Take care because there is a short section of road after Castle Rock, in the Valley of the Rocks, which can be a bit busy in the summer months.
Salcombe To Torcross (9 Miles/14.5km)
I've come back to Salcombe for this final run. For a long run you could combine this with the Hope Cove route, although the start point lies on the opposite side of the Salcombe estuary. I've included this section for those who really enjoy exposed clifftop running. Starting at the Salcombe estuary, you head east towards Torcross. The start point and the lighthouse are a highlight for me on this next section, which has dramatic views. Far below you'll see lots of sandy coves. As with all the routes, there are lots of great country pubs in the area for post-run refuelling.
Buy the Peregrine 11 from Saucony | £115-£135
Sign up for workout ideas, training advice, reviews of the latest gear and more.
Jonathan Shannon has been the editor of the Coach website since 2016, developing a wide-ranging experience of health and fitness. Jonathan took up running while editing Coach and has run a sub-40min 10K and 1hr 28min half marathon. His next ambition is to complete a marathon. He's an advocate of cycling to work and is Coach's e-bike reviewer, and not just because he lives up a bit of a hill. He also reviews fitness trackers and other workout gear.