Hiking the Hebrides with Ardbeg Whisky
Coach takes to the Scottish Highlands to visit Loch Uigeadil, the source of Ardbeg's whisky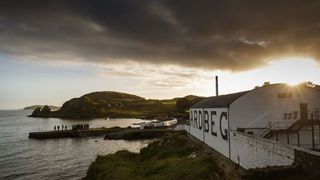 (Image credit: Unknown)
Rural Scotland loves a legend, its brooding landscapes proving fertile territory for tales of hags and celebrity water beasts. So it would come as no surprise if on Islay – "The Queen of the Hebrides" – the following myth had been handed down to children. "To ensure the prosperity of the island," some crotchety old seer may once have muttered, "a potion must be distilled. Water ye have in abundance, but it must mysteriously capture the essence of burnt plants. And local soil. Yet be distinctive enough to lure followers from afar, way beyond England even, to experience its wonders…"
These days, storms permitting, the 30-odd seater plane to Islay from Glasgow takes little more than 20 minutes – still plenty of time to leap to some conclusions about the place. "Not much going on down there," I thought, examining the treeless brown moorland where I'd be hiking. "A breeze to walk on. A stroll." As usual, quite wrong. I was on Islay as the guest of the legendary Ardbeg whisky distillery, to see how they make their world-famous spirit, much garlanded for the intensity of its smoky, peaty kick. To show just how the humble mountain-top raindrop makes its way to barrel, bottle and premium whisky market, Ardbeg had laid on an "ARDventure", in which former Royal Marines would lead members of the press corps into the wilderness.
Coach soaks up some fresh and largely water-based Scottish weather
Ardbeg's water comes from Loch Uigeadail in the hills a few hours above the distillery, so our party set off to find it. Long before we located the source of the great single malt, though, two other revelations made themselves known. One, that Islay is not short of water – in fact it's a vast, saturated sponge. The other is that the terrain I had assumed would be a walk in the park is bursting with plant life, and the dense, tick-laden grasses disguise streams, bogs and great clumps of vegetation (called "babies' heads") that make every step a) an effort and b) a mystery as to what sort of impact awaits the ankle.
It's a thing of wonder to see how these treeless moors (trees have no appetite for sea spray) are as dementedly fertile as a rainforest. It's a thing of less wonder to discover that some steps can take you up to your thigh in black water.
The symbolic returning of the whiskey to Loch Uigeadail for good luck
Loch located, and the ceremony of pouring in "a dram" to ensure good fortune duly performed, it was time to erect the tents. To my horror, no smooth, dry, de-creatured patch of ground had been made ready for our arrival.
(Re: creatures. Assurances that we needn't worry about adders were in tatters 15 minutes into the hike, and the midge, held responsible for restricting Scottish tourism to 50% of its potential, was also hard at work.)
Site selection involved finding a patch of ground that was less soggy than the next person's. The tents, though, were miraculous – delivering warmth and dryness. And with a fire going, a superb venison stew and whisky being passed around, morale soared as mist and drizzle descended.
Throwing another peat log on the fire keeps the night drizzle at bay
The following day brought more slogging across the mountainside (deer stalkers have to crawl through the slop, often for hours on end, where they learn what the saying "waterproof is relative" means), various challenges such as flagpole construction and raft building, views to lift even the most wooden heart and at the end of it all another confident performance by the tent, this time showing a torrential downpour who was boss.
One of several challenges: building a raft and finding out if it floats
Day three brought a last sore-ankled push back to the distillery and civilisation, followed by one bonus summoning of effort in a rowing race of skiffs around the bay, the local oarsmen and women in their shorts and T-shirts, the press corps done up to the nines in waterproofs, as if in anticipation of trawling for cod in the north Atlantic. And then the hot water, the most delicious liquid of all.
So what to conclude from all that? First, that there are few pleasures more exquisite than being drained of all energy by a beautiful island. Second, that a Wild Country Zephyros 1 tent is one of the few places where waterproof is not relative. And third, that for all its history, experience, sherry casks, secret recipes, charming staff, immense vats in which a man would have less than two breaths to escape suffocation, odd tools and folkloric traditions, the real alchemy of Ardbeg begins on the magical, energetic, unpredictable water-sluice of an island and only finishes at the distillery, perched on its edge.
Burn Thousands of Calories Hiking
Hiking with a backpack is an absolute calorie furnace. With many variables (your weight, weight of pack, duration, elevation, pace etc), there is no simple calculation as to how many you'll incinerate, but the sparkpeople.com calculator says a 13-stone man hiking for eight hours in hills with a 10-20lb pack would burn 4,848 calories, while outdoor.org quotes the Mayo Clinic as saying a 160lb person would burn 511 calories per hour and a 200lb person 637 per hour. Whatever your variables, it's a lot.
RECOMMENDED: Walking Holidays in the UK and Abroad
Go On An ARDventure
Those looking to book their own ARDventurer trip through Ardbeg Distillery, call 01496 302244. Prices will be on application for a totally bespoke experience. ardbeg.com
Coach flew to Islay on British Airways (ba.com) and Flybe (flybe.com) and stayed in the Islay Hotel in Port Ellen (theislayhotel.com). For more information about walking in Scotland, go to visitscotland.com.
Sign up for workout ideas, training advice, reviews of the latest gear and more.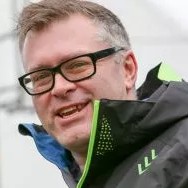 Ed Needham was the founder and editor-in-chief of Coach magazine, a free health and fitness magazine published between 2015 and 2016. He now edits the magazine Strong Words.