Adam Peaty's Fitness Challenge Is Laughably Hard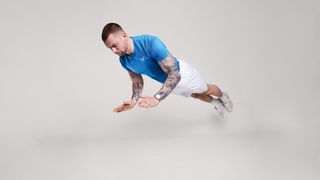 (Image credit: Unknown)
Adam Peaty, as we all know by now, is a phenomenal swimmer and seems a stand-up guy, but the fitness challenge he set for three other athletes participating in a friendly bit of Alpro marketing seems downright mean.
That's three clap press-ups (with everything leaving the floor), three lizard press-ups, three more press-ups and a 10-second frog hold (which yogis may know as crow pose).
Not a sequence that's easily done but England footballer Tyrone Mings, Olympic boxing gold medallist Nicola Adams and tennis player Heather Watson had a crack anyway, with varying degrees of success.
Peaty and the other athletes are setting each other challenges over the coming weeks, with the aim of persuading the public to try more sports – and more plant-based foods.
It is not always easy to successfully add more plant-based foods to your diet and still get the right nutrition when you're active. Even gold medallists don't get it right first time. "I tried to rush into a plant-based diet and found myself lacking in protein," says Peaty, "but once I took a step back and did some research, I found protein was easy to get from the right plant-based sources."
Soy protein, which is used in Alpro's milk and yogurt alternatives, is a good place to start. As sports dietitian Linia Patel told Coach last year, "soy, including products made from it like edamame, tempeh and tofu, is one of the few complete plant-based proteins."
See related
There are also advantages to be had from eating more plant-based foods, as Anita Bean, author of The Vegan Athlete's Cookbook (opens in new tab) told Coach this week. Part of it comes down to the health benefits you get from eating more plant nutrients, and part of it comes down to improving your gut microbiome. "A diverse microbiota has numerous health benefits," says Bean. "For example, it helps to reduce inflammation, increase immunity and reduce oxidative stress. And all these things are necessary for peak performance and muscle recovery after exercise."
Plant-based foods will not, however, make a significant difference to your ability to perform clap press-ups. That's a long hard road, but Peaty has some advice there too: consistency is key. "Something I learned pretty quickly when I began my career is that nothing is more important than consistency in training. Period. People always ask me how I got to where I am today, and truly, the answer is that I consistently turn up, without exception, and push as far and hard as I can. Ninety per cent of success is just showing up!"
Adam Peaty was speaking on behalf of Alpro (opens in new tab)
Sign up for workout ideas, training advice, reviews of the latest gear and more.
Jonathan Shannon has been the editor of the Coach website since 2016, developing a wide-ranging experience of health and fitness. Jonathan took up running while editing Coach and has run a sub-40min 10K and 1hr 28min half marathon. His next ambition is to complete a marathon. He's an advocate of cycling to work and is Coach's e-bike reviewer, and not just because he lives up a bit of a hill. He also reviews fitness trackers and other workout gear.