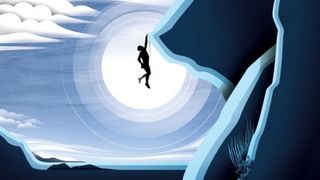 (Image credit: Unknown)
Rock climbing inside and outside works both explosive power and muscular endurance, all while developing your flexibility and grip strength. When it comes to building core strength, it puts sit-ups to shame. Hans Florine, who together with Britain's Alex Honnold holds the speed climb record for fastest ascent of Yosemite's El Capitan – one of the most difficult climbs in the world – explains what you need to know about scaling the outdoor rock.
Get hooked
'Gripping with your hands can wear your forearms out quickly,' says Florine. 'Rather than using your index and middle fingers (your power fingers), give them a rest by using your third and fourth fingers or by hooking the heel of your hand (between your palm and wrist) over holds.'
Do the twist
'Roll your shoulders and twist your hips into the wall as you climb. First-time climbers will tend to keep their chest facing the wall at all times and rely on the power of their arms to pull them up. If you twist your body so you're side-on to the wall, you can get closer to it, reach higher and drive up with your legs, not your arms.'
6 moves to strengthen your legs
Hold true
'Endurance, both for strength and cardio, is vital for climbing. Develop yours in the gym by doing an isometric pull-up called "The Frenchy". Do a pull-up and hold the top position for five seconds before lowering. Then do another pull-up and, as you lower, stop at the midpoint for five seconds. Finally, do another pull-up, lower and pause just before a dead hang for five seconds. Repeat this pattern as many times as you can before failure. Rest five minutes, then repeat.'
Fall for it
'A bouldering fall from a height of just one metre creates enough force to break a limb, which means it's essential that you know – and practise – how to fall properly. Always try to hit the ground with an open body system – with your arms and legs bent rather than straight – because this gives your joints room to flex.'
Learn the ropes
Drop knee: For reaching high handholds
Drop your knee inwards by turning your foot parallel to the rock. Now reach up for your next hold on the side closest to the wall. Your hips should be perpendicular to the wall. With less distance between your body and the rock, you can reach higher, effort-free.
Heel hook: For conserving energy
Hook your heel onto a high hold, such as a nook or outcrop, and use it as a base. This makes it easier to reach for smaller holds because you're pulling less weight up. Bonus: you'll also save energy in your arms by passing the strain on to the bigger muscles of your legs.
Flagging: For stabilising yourself
As you step up to reach for a hold, extend your inactive leg and rest it gently on the rock face, bringing it behind your supported leg if needed. Your hips should remain parallel to the rock. This counterbalances your movement by preventing you from swinging and wasting energy trying to hold yourself still.
Prime climbs
MF top pick: Cheddar Gorge, Somerset
The 137m-deep limestone gorge offers dizzying views and over 1,000 spectacular climbing routes from beginners to experts. Sunset Wall on the south side offers multi-pitch classics for experienced climbers.
Watson's Dodd Fell, Lake District
The imposing crag known as Castle Rock is a magnet for climbers, with over 60 named routes in a picturesque setting.
Mournes, County Down
Ideal for multi-pitch beginners, these granite mountains boast nearly 1,000 climbs but the longest (the 162m 'FM') is also one of the easiest.
Stone Farm, East Sussex
An abundance of sandstone slabs offer attractive bouldering spots that are only an hour and a half from the capital.
Sign up for workout ideas, training advice, reviews of the latest gear and more.
Sam Razvi wrote for Men's Fitness UK (which predated and then shared a website with Coach) between 2011 and 2016.