The UK's Best Budget Bikes Starting At £175
We've assessed budget bikes from the UK's major retailers and brands, and selected the ones under £675 that are worth your money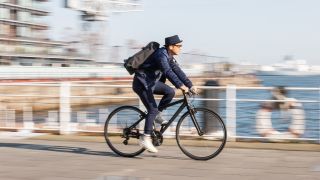 (Image credit: Getty Images / Susumu Yoshioka)
Cycling might be one of the most affordable modes of transport around, but it requires an initial investment that, on occasion, can rival the cost of a car. There are top-end road bikes that easily break the five-figure mark, while even entry-level models from some brands will set you back more than £1,000.
Not all bikes are eye-wateringly expensive, though. If you're just after a cheap bike to get around your local area, it's possible to pick one up for less than the price of a couple of tanks of petrol—and cycling can often be a quicker way of getting from A to B than driving, not to mention easier to park.
Not all budget bikes are equal, so it's important to choose wisely, otherwise you'll end up with something that will sit in the garden rather than being ridden. So we've rounded up the best budget bikes from major UK retailers as well as a few entry-level models from established, big-name brands. Most are available for less than £500, and they're ideal for leisure riding and starting your active travel journey.
If you're looking for a commuter bike, it may be worth investing more and getting something that can handle the daily grind. The Cycle to Work scheme can make this a more manageable and affordable experience.
The Best Budget Bikes
To help find a bike that fits your budget we've ordered this list by price, from least to most expensive.
1. Apollo Transfer
Great build quality at an affordable price
Reasons to buy
+
Good value
+
Solid construction
+
18-speed gearing set
Reasons to avoid
-
Limited features
-
Real entry-level model
At £175, it's hard to find a cheaper model than this hybrid bike from Halfords' in-house brand, Apollo. A steel frame makes for a strong and durable bike, and its upright position, swept-back handlebars and wide tyres provide a comfortable ride on roads and paths. An 18-speed Shimano-branded gearing set-up is a highlight at this price. It's available in two sizes (18in and 21in) and should fit anyone from 1.6m to 1.9m (5ft3in to 6ft 3in) tall.
---
2. Riverside 120
An everyday road-and-trail bike that loves to climb
Specifications
Weight:
14.7kg (in size M)
Reasons to buy
+
Ideal for daily rides
+
Good value
+
Main parts' lifetime guarantee
Reasons to avoid
-
Limited gear set
-
Not ideal for longer rides
Decathlon is renowned for making high-quality bikes at budget prices and the French firm's Riverside line is aimed at leisure riders tackling everyday terrain. Although the range starts with the £199.99 Riverside 100, the cheapest model with stock in all sizes is the 120. For the extra £50, you get better wheels, a slightly reduced weight, and an eight-speed Microshift drivetrain that should be able to handle all but the most extreme inclines. The frame, fork, stem and handlebar have a lifetime guarantee, while the rest of the parts come with a two-year warranty.
---
3. Triban RC100
Entry-level road bike from retail behemoth
Reasons to buy
+
Great price
+
Lifetime guarantee on frame and fork
Reasons to avoid
-
Limited gear range
-
Drop handlebars may be too advanced for beginners
While the Riverside is Decathlon's hybrid range, the Triban is its road-focused design. Topping out at the £4,300 Van Rysel FCR, the brand knows a thing about creating fast, fun road bikes, and although the RC100 is a small fraction of the price, it has some of that same racing bike's DNA. Centered around a lightweight aluminum frame and featuring a Shimano Tourney 7-speed drivetrain, this is a solid bike for less than £300, although the gears might lack the range required if you live somewhere hilly.
---
4. Pinnacle Lithium 1
Off-road bike with flashy features and a solid reputation
Specifications
Weight:
Not currently available
Reasons to buy
+
Range of sizes
+
Vee Speedster tyres
+
Off-road-friendly
Evans Cycles' Pinnacle range has been going since 2006, so you're in safe hands when saddling up on its entry-level Lithium 1. It's the most off-road-friendly budget bike in our round-up, in large part thanks to its grippy 40c Vee Speedster tyres, and has room for chunky 2.2in MTB tyres if you really want to venture off the paved surfaces. Evans is part of the Fraser group, so you can also try one for size in branches of Sports Direct and House of Fraser.
---
5. 6KU single speed
This low-maintenance bike is ideal for city riding
Reasons to buy
+
Low maintenance
+
Great choice of colors
Reasons to avoid
-
One gear has its limits
-
Cheaper options available with better tech
Single-speed bikes or "fixies" have a certain reputation, but this style of bike is more than a hipster accessory. On the flat, or even slightly undulating terrain, only having one gear to choose from isn't that big an issue. In fact, it has benefits, including less to go wrong and fewer parts to replace when they do. The 6KU single-speed bike is made from durable and pot hole-dampening steel, and features the narrow flat bars that have become fashionable on most modern fixie designs. It's available in a variety of colours from cayenne to concrete so there's sure to be one to match your style.
---
6. Vitus Mach 1 Seven
Disc brake-equipped hybrid bike
Reasons to buy
+
Disc brakes improve stopping in all conditions
+
Relatively lightweight at this price point
Reasons to avoid
-
Off-road-leaning tyres may be sluggish on asphalt
-
Limited gearing
Wiggle's in-house brand Vitus is another great pick if you're looking for value. The Mach 1 is its hybrid range and starts with the £399 RRP single-speed model, but we'd recommend stretching to the Seven if you can—especially considering it's currently reduced to £220. It's packing the same 7-speed Shimano Tourney drivetrain as the Triban RC100, but the key difference is the brakes. The Vitus's disc brakes are something of a steal at this price point. Its flat bars may also be better suited to a beginner, since they make it possible to change gear and control your speed without having to move your hands on the handlebars.
---
7. Voodoo Marasa
Hydraulic disc brakes and a wide range of gears
Reasons to buy
+
Superior hydraulic disc brakes
+
Lightweight frame
+
Chunky tyres work well on or off the road
Reasons to avoid
-
Not as durable as others
-
Alloy fork makes off-road riding hard on arms
Another in-house brand from Halfords, Voodoo cut its teeth making mountain bikes. The Marasa is its entry-level off-road-leaning hybrid and combines a lightweight aluminum frame and fork with an 18-speed Shimano drivetrain and 38mm Maxxis tyres. The highlight is hydraulic disc brakes, which are more accurate than the mechanical version and a steal at this price. The only downsides are that, while lighter, its aluminum parts are less hardy than some of the steel parts found on other bikes featured. Also, its rigid alloy fork won't dampen vibrations off-road as much as a suspension fork (like that found on the Cannondale offering).
---
8. Trek FX 1
High-end, versatile bike built for speed and admiring glances
Specifications
Frame:
Alpha Gold Aluminium
Brake type:
Tektro alloy linear-pull
Reasons to buy
+
High-end brand at affordable price
+
Shimano Tourney/Altus drivetrain
+
Easy to ride
Reasons to avoid
-
More complex than other budget models
-
Less comfortable seat for longer rides
Trek is one of the world's biggest cycling brands and its most expensive rides tip into five figures. Its entry-level hybrid, the FX 1, is more expensive than almost all the others here with an RRP of over £500 (although we've seen it for as little as £350, so it's worth shopping around). But are you actually getting more bike for your money? Well, no—but that's kind of the point. Its light, aluminum frame requires less effort to ride than steel alternatives and its 21-speed Shimano Tourney/Altus drivetrain is a higher-quality range than any of the cheaper alternatives. It's the finishing kit, though, where you'll notice a big difference: The smattering of Bontrager components boost the rider's comfort at each of the bike's key touchpoints (saddle and grips).
---
9. Specialized Sirrus 1.0
Hybrid model from an elite brand, but without the off-putting price
Reasons to buy
+
Design
+
High spec and construction
+
Shimano Tourney/Altus drivetrain
Reasons to avoid
-
Outdated V-brakes
-
At the top end of the budget bracket
Another £500-plus bike that we've seen for sub-£400, the Sirrus 1.0 is the most affordable model in Specialized's range and, like the Trek FX 1 Disc, it's a hybrid bike with a skeleton that combines an aluminum frame and steel fork. It too has a Shimano Tourney/Altus drivetrain, although the 14-speed set-up provides a similar range for slightly less weight. Where it falls down is its V-brakes, a slightly outdated form of braking even on budget bikes.
---
10. Cannondale Trail 5
Act quick to bag this discounted off-road offering from a big-name brand
Reasons to buy
+
Front suspension
+
Great introduction to mountain biking
Reasons to avoid
-
Limited top-end gearing
-
Quick-release wheels limit upgrade potential
As with Trek and Specialized, Cannondale is a big-name American brand that has heritage when it comes to pioneering road and off-road bikes. The Trail is its entry-level mountain bike range, with models starting with the £500 Trail 8 and going up to the £1,750 Trail SE 1. At the midway point is the Trail 5. While its RRP is above our £500 budget bike limit, it's currently available for £506, and we'd recommend snapping this deal up.
Its aluminum frame is paired with a SR Suntour XCM fork packing 100mm of travel, keeping you comfortable and in control when things get rough. The bike's 10-speed drivetrain is geared towards hilly off-road riding and its single chainring minimizes maintenance woes, but its ratios could send you spinning out if riding at speed on the flat. The frame and fork's use of quick-release mounts limits upgrading, with more expensive modern wheels using thru axles—something worth bearing in mind if you want a budget bike that can grow with you.
Sign up for workout ideas, training advice, reviews of the latest gear and more.
Charlie Allenby is a journalist with a passion for pedalling. He contributes features and buying advice about cycling, and is Coach's dedicated turbo trainer reviewer. He is also Coach's chief whey and casein protein powder tester, trying as many brands as possible.
Charlie's first book, Bike London, is out now. He has written for The Guardian, The Independent and BikeRadar, among others.