10 Questions To Ask Before You Get Into Cycling
Answers to the 10 essential questions that'll help get you on your bike, plus some key checkpoints to tick off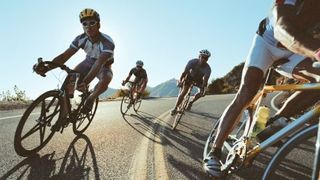 (Image credit: Unknown)
1. Why am I riding?
Your reasons are (probably) going to shift over time. Plenty of men start cycling as a way to save money on their commute and to get a bit more exercise, only to end up spending their weekends in far-flung coffee houses, debating the merits of Shimano gearsets over Campagnolo. But if all you're after for now is fitness, then the benefits are myriad. Norwegian cyclist Oskar Svendsen has posted the highest ever VO2 max score – the maximum volume of oxygen your body can use, the truest test of fitness – with a quite ridiculous 97.5 ml/kg/min. If muscle is what motivates you, Google Robert Forstermann (or his thighs) to find out what cycling can do for your quads.
2. Does my body type affect what I can do on a bike?
The way that you use your physical make-up will define your prowess as a cyclist. If you're an ectomorph and find it hard to put on weight – whether that's muscle or fat – then you're an ideal climber, where power-to-weight ratios are key and (thanks to gravity) less weight equals more speed.
Endomorphs might want to take advantage of the weight that they can find hard to shift by turning it into powerful turns of speed, either in sprinting or short-distance time trials. Because the bike gives total body support, these intense efforts rarely result in joint stresses and muscle pain.
3. How much should I spend on my bike?
Every cyclist has a different answer to this, depending on what sort of riding they're doing and how deep their pockets are, but there are three main options. There's the "bike to do the job" that's suitable for weekend rides and commuting, has an alloy frame and entry-level components, and costs around £400. For something a little more special, with a carbon frame and race-worthy components, expect to pay £1,000-£1,300. Then there's the Ferrari and McLaren club, which have top-of-the-range everything, are better than the bikes the pros ride and can cost up to £10,000. Perhaps that'll have to wait for the midlife crisis.
RECOMMENDED: What you Need to Know Before Buying a Road Bike
4. Will a helmet save my life?
Obviously if you wipe out hard and smash your head, you're going to be better off if you're wearing a helmet than not. However, Olympic gold medallist and cycling activist Chris Boardman thinks it's the cycling infrastructure at large – basically, the roads and cycle lanes – that makes the most difference to safety, noting that the Dutch have the lowest rates of cycling head injuries, despite only 0.8% of them wearing helmets. Crucially, all helmets have to pass the same safety standards, so forking out more will result in better-looking and more aerodynamic headgear, but not necessarily safer.
5. How can I hold my own in the bike shop?
Try to sound like a bike rider – here's your starter vocab.
Groupset: Collective noun for gears and brakes
Cassette: Rear gears
Chainrings / chainset: Front gears
Derailleur / mech: Mechanism that changes gear
Deep sections: Wheels that have a deep rim
Cadence: Pedalling speed (revs per minute). Pros average 90 rpm in a race
Functional threshold power (FTP): Number of watts you can produce for an hour. To win the Tour de France, you'll need to be able to produce six watts per kilo of bodyweight
Bunch: A group of riders (a"peloton" in a race scenario)
Through and off: When a group of riders take turns to ride in the wind
Bidon: Water bottle
Bonk / knock: Running out of energy due to not eating enough
Brew stop: A café stop on a long ride. Flat white? Yes. Grande quad non-fat no-whip mocha? On your bike
6. Is the exercise bike dead to me now?
Exercise bikes are OK for a warm-up. Wattbikes, which offer a wider variety of feedback on your performance, are better – but you can get a proper session in at home by simply attaching an indoor turbo trainer to your rear wheel. The Elite Magnetic is your best entry-level option, at £65, and here are some free turbo trainer goals to go along with it.
Endurance and fat loss: Warm up for ten minutes with a high cadence, to the point where you're breathing heavily, then shift up a few gears while maintaining the same cadence (and therefore increasing effort). After two minutes, drop back down the gears and rest for the same time, then do the same again for five-, ten-, five- and finally two-minute intervals.
Power and muscle: Follow the same pattern as above but drop the cadence and increase the resistance. The same formula can be used for the road.
Max anaerobic efforts: The most painful kind. You can't beat the tried and tested method of full-effort hill reps for effectiveness, but to mimic it on a turbo trainer max out the resistance and go full out for 30 seconds, then rest for 30 seconds. Repeat five or ten times.
7. Should I eat like Team Sky?
In essence, no. Being highly trained, the pros are able to do extensive hours in the saddle on minimal food while training – sometimes with no carbs. In 2012, when he won the Tour de France, Bradley Wiggins said he would have days of only eating fruit, with a bit of skimmed milk for protein, and could lose up to half a kilo a day doing so. According to Team Sky chef Henrik Orre, this isn't viable for most. "If you want to stay healthy you should have some carbs as well as protein – for example, porridge and an omelette for breakfast. For long rides, try porridge with nuts – these will add fats, too. You could have soft muesli, but it's better to have something that's cooked because your stomach will digest it much better."
For racing, even the pros need their carbs – usually around 70-75g of them every 30 minutes, which they get through rice tarts, sports bars and carb drinks. It's a good idea to follow that formula, as well as keeping on top of your post-ride nutrition. "Post-ride, you want to have a meal that's low in fat, with a moderate level of carbs and high in protein – like my spicy chicken casserole with celeriac and mango," says Orre.
Oh, to have a professional chef cook your post-workout dinner, eh? But the message is clear: carbs, protein and some healthy fats before riding, fast-digesting carbs for on-the-bike fuel, and a carb-protein mix for recovery. Orre's cookbook Velochef is available at rapha.cc for £35.
8. Should I shave my legs?
It depends quite how serious you are. For the pros, shaved legs are more hygienic for massage and when treating crash-inflicted abrasions. But it's still 90% a style thing.
9. Is there room in my lycra for muscle?
Just because Tour de France champ Chris Froome looks like he could do with an intravenous drip of protein shake doesn't mean you have to. Being that skinny while also retaining optimal muscle mass is a task that his Team Sky nutritionists spend a lot of time and money on, and to replicate it would be unadvisable for most of us.
But because cycling speed comes down to power-to-weight ratios, as long as you can increase both muscle and power output with positive correlation, bulk isn't bad. A lot of training for the pros is gym-based, with bench presses and deadlifts forming important sessions.
10. OK, I'm committed. Where's my next cycling trip?
While riding a bike to work can give you a pretty decent endorphin boost, it can't live up to the buzz of the open road. Routes like the US's Pacific Coast Highway or the Himalayan Karakoram Highway are what riding dreams are made of, but the Tour de France climbs in the Alps and the Spanish island of Majorca (a training mecca for pros) are more attainable, either alone or with the help of cycle holiday operators such as velusso.co.uk. If that's still a stretch, clear your weekend and discover a domestic gem: the Scottish Highlands.
10 Cycling Milestones
You started on stabilisers, wobbling around the local playing field screaming at the responsible adult not to let go. Life in the saddle can go many ways from that point, but if you are susceptible to the siren song of the road, there are certain checkpoints to go through, building up to incredible experiences, such as pedalling through some of the most beautiful landscapes in the country. Just you, your bike and the open road.
RECOMMENDED: 10 Questions Every Cyclist Must Answer
1. Get to Grips with Drop Handlebars
One thing that puts many novices off road bikes is those funny-shaped handlebars, but overcome your fear and you'll learn to love them for the variety of hand positions they offer. Watch the pros and you'll see they spend much of the time "on the hoods" (hands gripping the top part of the brake levers) – a relaxed position from which it is easy to operate the brakes. But when they're riding hard and fast, they'll be "in the drops" (the lower, curved part), bringing their body into a less comfortable but more aerodynamic position. The "tops" (the flat, straight central section) is the most relaxed position, but also the furthest from the brakes.
2. Go Full Lycra
It takes some guts to leave the house looking like an overstuffed sausage, but after a few hours on the road, you'll thank the cycling gods for your snug-fitting shorts that don't chafe your thighs and have a plush chamois pad to cushion your rear end on bumpy roads. Comfort aside, technical materials used in cycling kit wick sweat away from the body while fending off wind and rain, and the figure-hugging cut reduces wind resistance, which can account for as much as 85% of your effort. For the ultimate in cycling chic, look no further than Rapha, but Fat Lad At The Back offers cycling gear in a more forgiving cut.
3. Join a Club
Cycling clubs have been around as long as the bicycle itself – since the late 19th century – and they continue to thrive, with around 2,000 currently active in Britain. Joining a club is an essential rite of passage for a cyclist. Not only will you meet many like-minded enthusiasts, you will pick up invaluable advice from more experienced riders on everything from riding safely in bunch races to fixing a broken wheel at the roadside when miles from the nearest taxi rank. Find a local club at britishcycling.org.uk. Expect to pay around £20 for annual membership.
4. Get into Clipless Pedals
Attaching your feet to your pedals may seem rash, but as with most of the odd things cyclists do (except shaving their legs) there's good reasoning behind it. By keeping the foot in a fixed position, you improve your pedalling efficiency, enabling you to ride faster and further. When first using clipless pedals, find a quiet road to practise on – preferably one with a soft verge to land on… But don't fear, clipping in and out will soon become as much second nature as cycling itself. Shimano PD-R540 pedals (£39.99, madison.co.uk) are a good choice for beginners, with compatible shoes widely available from around £50.
RECOMMENDED: Olympic triathlete Tim Don's cycling efficiency tips
5. Ride a Sportive
For many amateur enthusiasts, non-competitive sportives are the perfect cycling challenge. While some events cover epic distances and others take in leg-busting hills, plenty are aimed at newcomers, with distances from 20 to 50 miles (32-80km), promising an enjoyable day out in a fun, sociable atmosphere and some cracking scenery to boot. Visit UK Cycling Events for a long list of sportives across Britain – all rated for difficulty, so you should be able to find the perfect one for you. Entry fees tend to start around £25.
6. Hit the Track
Many top pros started their career on the velodrome, honing their pedalling technique and bike-handling skills in fast, furious races on the steeply banked curves. It can look pretty daunting but it's also an incredible amount of fun. There are now 28 indoor and outdoor cycling tracks across Britain, including the London Olympic Park, the National Cycling Centre in Manchester and the Sir Chris Hoy Velodrome in Glasgow, all offering coach-led taster sessions (around £35 for adults), ideal for beginners.
7. Ride a Century
So you've done a few 50-mile sportives and it's time to step up to the next major challenge, "The Century" – 100 miles. It's a long way, and even at a respectable average speed of 14mph, you'll be spending over seven hours in the saddle. Better make sure you've got a good pair of shorts. Cycling's equivalent of the London Marathon is the Prudential RideLondon 100, held over the same course used in the 2012 London Olympics, taking in the infamous Box Hill. Like the London Marathon, it's difficult to get in, but worth trying – charity places are still available for 2016, or enter the ballot for 2017.
RECOMMENDED: The 30 Greatest Outdoor Challenges
8. Take on the Tour
For one day every year, for just €100 (around £76), 15,000 amateur cyclists get to live the dream of riding the "Queen Stage" of the Tour de France in the Étape du Tour, just a few days before the pros tackle the same route. Don't be fooled by the name, this race is no gentle monarch (think Elizabeth I, taking names and chopping heads) – the 2016 edition will cover 146km and four brutal Alpine passes. It's too late to enter for this year but registration for the 2017 event will open in October, with places likely to fill up by Christmas. Keep an eye on the Étape du Tour website for details.
9. Enter the "Race of Truth"
"Time-trialling is the simplest kind of bike racing and an ideal introduction to competitive cycling," says the CTT, the British governing body for cycling time trials. Just you against the clock, riding as if your life depended on it – usually for around 25-30 minutes over the standard distance of 10 miles (16.1km), by the end of which, the intense burning sensation in your legs and lungs will let you know if you've done well. Despite the pain, many cyclists find the pursuit of a PB (personal best) addictive. Find a local event at Cycling Time Trials. Most cost under £10 to enter.
10. Go End to End
When you're ready for the ultimate cycling challenge, the Deloitte Ride Across Britain offers the opportunity to ride the classic Land's End to John o' Groats in a fully supported event over nine days, covering a total of 1560km and over 15,000 metres of climbing – twice the height of Everest. It's the sightseeing trip of a lifetime, taking in all the most beautiful parts of Britain, from stunning coastal roads to barren moorlands and the majestic grandeur of the Scottish Highlands. Packages start at £1,600.
RECOMMENDED: 6 Long Distance Cycling Tips
Sign up for workout ideas, training advice, reviews of the latest gear and more.