Tips For Starting To Cycle In Manchester
Beat those rush hour traffic jams and enjoy the freedom of getting around on two wheels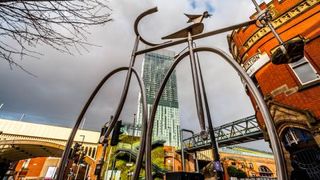 (Image credit: unknown)
Sick of sitting in traffic or relying on buses and trams? Andy Tucker of BikeRight!, which runs cycling training sessions, shares his advice for taking the plunge and saddling up in Manchester. As told to Charlie Allenby.
Manchester is a small but busy city. A lot of people live and work in the city centre and at certain times of day there's very heavy traffic. The rush hour isn't just an hour: it tends to last two to three hours, morning and evening. But a journey to the centre of town that might take up to an hour and a half by car could take you just 15 minutes on a bike, even at a modest pace. Interested? Here's how to get started.
Start with traffic-free routes
For a complete beginner, it's about starting with routes that are away from roads, using local parks, cycle paths and tracks instead. There's a great route around the south of Manchester called the Fallowfield Loop, which is a disused railway line. It's completely traffic-free – you just get walkers and cyclists on it. There are plenty of routes around the city that will keep you away from busy roads, particularly during rush hour.
There's a group called Walk Ride GM, which is working closely with the borough authorities and the mayor's office along with the cycling and walking Commissioner Chris Boardman to develop the Bee Network – a network of quiet routes around the city for walking and cycling. The hub is a good starting point for a beginner to get advice on where to cycle and find other people to ride with.
There are also loads of resources for route planning. Transport for Greater Manchester (TfGM) has a series of cycle maps for all the boroughs. They show all the segregated on-road paths and have highlighted quiet routes and so on. Nobody wants to cycle along Princess Parkway into town, for example, but there are lots of parallel alternatives on quieter roads, low traffic areas and 20mph zones. Not only will you find quiet roads and possibly shorter routes when exploring on a bike, but you'll also discover some really cool places as well.
Pick your time wisely
If you want to start riding around Manchester for commuting or leisure purposes, give it a try at quieter times of day. Mid-morning and early afternoon in the week tends to be a lot quieter, and early mornings at weekends are probably the quietest time on the road before people start travelling.
Ask for advice
People tend to commute by bicycle on a very different route than they would use when driving. If you know someone who's an experienced cycle commuter, pick their brains and ask for help and advice. That might lead to someone offering to show you the routes.
Take some training
At BikeRight! we offer cycle training courses across Greater Manchester – from complete beginners (teaching people how to ride a bike) through improver courses and all the way up to advanced courses for experienced riders. And if you've got a Greater Manchester postcode, there's every chance it will be free. They are all based on the National Cycle Training Standards curriculum, which is designed to give people the skills, knowledge and confidence to cycle more and to do so more safely. The courses are often taught in small groups, so you're with a bunch of people with the same challenges, which is nice. We also do one-to-one sessions for cycle commuters, offering a training course on a particular route – whether that's to work or a friend's house.
It's also useful to do some bike maintenance training, learning what to do at the side of the road if something goes wrong, such as a flat tyre or the chain comes off.
See related
Join a led ride, group or club
There's an organisation in Manchester called Love Your Bike. It's connected to Friends of the Earth, and it runs a free event called Bike Friday on the last Friday of every month. Led group rides start at 8am in eight different locations just outside the city, each group cycling into the city on a quiet route. It's a really good initiative designed to support people who want to commute into the city by bike. The organisation has got together with some of the local retailers, coffee shops and delis too and there's an event afterwards when all the riders get into town.
Also, a lot of beginners seem to dismiss cycle clubs, assuming that it's all about heads-down racing – but it isn't just that. A lot of cycle clubs have a social element or a social group, where the rides are about companionship, support and enjoyment. There are probably a dozen cycle clubs in and around Manchester that have that element.
Combine cycling with other forms of transport
You may not be aware that bikes can be taken on trains. Some might require pre-booking at busy times but most of the rail routes into the city allow bikes on the trains. It's not so easy on the trams, but you can take folding bikes on them as long as they're in a bag or a case.
Sign up for workout ideas, training advice, reviews of the latest gear and more.
Charlie Allenby is a journalist with a passion for pedalling. He contributes features and buying advice about cycling, and is Coach's dedicated turbo trainer reviewer. He is also Coach's chief whey and casein protein powder tester, trying as many brands as possible.
Charlie's first book, Bike London, is out now. He has written for The Guardian, The Independent and BikeRadar, among others.