The Best Cycling Jackets For Commuters
Ride to work and keep the rain at bay with these fashionable-yet-functional all-weather coats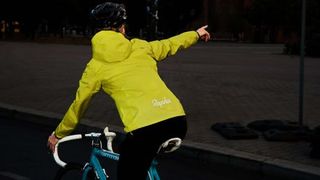 (Image credit: unknown)
Cycling to work is a great way to beat the traffic, make your commute greener and add some casual exercise to your routine. To ensure it's an enjoyable experience, however, you're going to want to look beyond your standard office wear when you saddle up. A cycling jacket is one of the first bits of kit you should consider adding to your wardrobe. Designed with the demands of cycling in mind, the best cyclists' jackets offer protection from the wind and rain yet remain breathable, ensuring you stay dry in all weather without feeling (or looking) like you're wearing a bin bag.
A good cycling jacket should be functional but not look too out of place when you're off the bike. Our top picks will keep you dry even on the wettest ride, while some can hold their own on the coldest winter days, too.
Specialized/Fjällräven Räven Anorak
The ideal jacket for the urban biker and countryside hiker
Specifications
Sizes:
XXS, XS, S, M, L, XL, XXL
Reasons to buy
+
Water- and wind-resistant
+
Fashionable enough to turn heads for the right reason
When two of the biggest brands in hiking and biking combine on a range of clothing and accessories, you'd better believe we sit up and take notice. The collaboration features this multi-functional anorak which has all the pockets and snap-button pouches you could need for a day in the hills and a slightly dropped hem at the back to keep you comfortable and dry when in the saddle. Sure, it's expensive, but can you put a price on a durable jacket that will look good and perform for years to come?
Buy men's from Fjällräven | Buy women's from Fjällräven | £265
---
Chrome Storm Salute Commute
Stylish jacket to keep you cool (figuratively and literally) and dry
Reasons to buy
+
Waterproof and breathable
+
Looks as good off the bike as on it
Reasons to avoid
-
Expensive
-
More reflective alternatives available
Olive green or black might not seem like the obvious choices for a jacket that's got to keep you safe when riding after dark, but Chrome's Storm Salute Commute has a few tricks up its sleeves (and on its back). Reflective details on the rear keep you visible from behind, while detailing on the arms and wrists ensure your hand signals are as clear as day. Its protection from the elements is second to none, and will guarantee you turn up looking on point – even if you get caught in a downpour.
Buy men's from Chrome | Buy women's from Chrome | £189
---
Proviz Reflect360 Plus
The most reflective jacket on the market
Specifications
Sizes:
XS, S, M, L, XL, XXL, XXXL, XXXXL, XXXXXL
Reasons to buy
+
All-round reflectivity to boost visibility after dark
+
Waterproof and breathable
Reasons to avoid
-
Not the most stylish jacket
Unless you work on a building site or are a lollipop man, full hi-viz is a bit overkill. Of course you want to be safe and be seen on the roads, but surely there's an alternative to dressing up like a human traffic cone? Enter Proviz's Reflect360 Plus jacket. This waterproof jacket is made from a unique material that is grey in the day but comes to life at night, reflecting the light from vehicles to turn you into the most visible thing on the road. It has to be seen to be believed, but if you cycle commute at night it's almost certain you'll see people wearing them – they're hard to miss. Its updated version is even more breathable and waterproof than the original.
Buy men's from Proviz | Buy women's from Proviz | £119.99
---
Triban Men's Cycling Rainproof Jacket RC500
Ideal for weekday commuting and weekend road riding
Reasons to buy
+
Good value for money
+
Waterproof membrane provides protection from showers
Reasons to avoid
-
Fit might not be relaxed enough for some
-
Style screams road cycling, which isn't everyone's cup of tea
Sports retailer Decathlon's in-house cycling brand does everything from bikes to boots, and offers great value. Its RC500 Rainproof Jacket's cut is certainly road bike-focused – with its slightly extended rear hem and wide zip pocket on the back – but is quite subtle in design. The waterproof membrane will keep you dry in a heavy shower, and its breathability keeps the sweat at bay on milder days. It gets extra points for its roll-up saddle flap, a great feature that protects your backside from puddle splashes.
Buy men's from Decathlon | £54.99
---
Endura Hummvee Lite Waterproof Jacket II
A packable off-road-focused waterproof great for stuffing in a pannier or commuting rucksack
Reasons to buy
+
Packable
+
Lightweight and waterproof
Endura is renowned for its mountain biking roots, so you can be sure that its jackets can stand up to more than a bit of drizzle on your way to work. The Hummvee Lite is fully seam-sealed and constructed from a breathable 2.5-layer waterproof fabric, which means your top half will be kept dry and comfortable in all conditions. It has rubber strips on the shoulders to prevent a rucksack's straps wearing through the durable water-repellent finish. It also folds down into a small pack, making it ideal for stuffing in your pannier or backpack even in the warmer months so you have some protection from those all-too-frequent summer deluges.
Buy men's from Endura | £94.99
---
Vulpine Portixol Waterproof Jacket
Superb waterproofing and breathability in a fashionable design
Reasons to buy
+
Withstands extreme conditions
+
Splash guard to protect your backside
Reasons to avoid
-
Not as reflective as alternatives
London-based Vulpine's modus operandi is to make clothing that is functional when cycling, but also looks the part when you arrive at your destination – after all, head-to-toe Lycra might prompt sniggers down the pub. The Portixol jacket is fully waterproof and extremely breathable, with a fleece collar that guarantees you'll stay warm once winter hits. The full-length zip has a handy puller that makes it easy to use even when wearing gloves. Like the Triban jacket, it has a reflective saddle flap – although this one is held in place by magnets when not in use. It also comes in a women's cut.
Buy men's from Vulpine | Buy women's from Vulpine | £100
---
Rapha Commuter Jacket
A waterproof jacket that won't look out of place in the pub
Specifications
Sizes:
XS, S, M, L, XL, XXL
Reasons to buy
+
Relaxed fit that will easily go over office clothes
+
Waterproof and breathable
Reasons to avoid
-
Might need something warmer for winter riding
There's no doubt Rapha knows how to make functional-yet-fashionable cycling kit, and its commuter jacket is a case in point. On first inspection, it could be a waterproof jacket from any outdoor-focused brand, but it's packed full of clever features. The waterproof zip is off-centre to stop it rubbing against your chin. Its hood will fit under a helmet, and can be stowed away using a reflective strap when not in use. Its reflective detailing on the rear is designed to sit below a backpack and in the eyeline of motorists. The jacket's relaxed fit – in both men's and women's cuts – is made to be worn over office clothes too, meaning you can say goodbye to riding to work in a different set of clothes.
Buy men's from Rapha | Buy women's from Rapha | £100
---
DHB Flashlight Waterproof Jacket
Cheap and cheerful waterproof shell
Specifications
Sizes:
XS, S, M, L, XL, XXL (men's); UK 6, 8, 10, 12, 14, 16 (women's)
Reasons to buy
+
Highly waterproof and breathable
+
Reflective detailing
Reasons to avoid
-
Not the most fashionable design
A good waterproof layer doesn't have to cost the earth, as this jacket from Wiggle's in-house brand proves. The waterproof and breathability rating rivals that of coats twice its price and its 360° reflective detailing keeps you safe while not lighting you up like a Christmas tree. While it's a great outer shell for year-round riding, its lightweight stature comes into its own from spring through to autumn, where it's handy to have an emergency layer stuffed away safely in your commuter rucksack or pannier.
Sign up for workout ideas, training advice, reviews of the latest gear and more.
Charlie Allenby is a journalist with a passion for pedalling. He contributes features and buying advice about cycling, and is Coach's dedicated turbo trainer reviewer. He is also Coach's chief whey and casein protein powder tester, trying as many brands as possible.
Charlie's first book, Bike London, is out now. He has written for The Guardian, The Independent and BikeRadar, among others.