The Best Cycling Backpacks For Commuters
Ride through the elements and carry your gear in comfort with one of the best cycling backpacks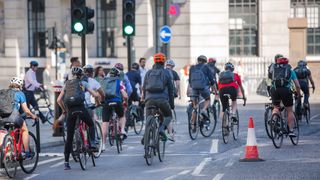 (Image credit: IR Stone / iStock Editorial / Getty Images Plus)
A cycling rucksack is often last on people's lists when they are getting equipped to start cycling to work. After investing in a commuter bike and all the safety and security equipment like lights, helmet and a lock, if there's anything left in your savings or cycle-to-work scheme budget, the priority tends to be gear like a waterproof jacket, padded shorts and a jersey. After all, you already own a backpack to get your daily essentials to and from work, so that'll probably do, right?
Wrong. Commute to work using a standard rucksack and you'll soon start to see the pitfalls of using a piece of kit not designed for the task at hand. Even if it does have a separate laptop compartment (enabling you to keep your work computer separate from a change of clothes), the straps are unlikely to be comfortable, the minimal ventilation will turn your back into a sweaty mess, and the lack of reflective detailing could make you hard to spot after dark. And that's before you encounter your first wet ride, when the dry clothing you were planning on wearing in the office gets drenched in a downpour.
Fortunately, there are plenty of cycling rucksacks that have been designed with commuting in mind. Spacious, full of clever compartments, and, most importantly, water-resistant as a minimum, a good cycling backpack will revolutionize your ride to work. Most are functional and stylish enough to be used off the bike too.
Here's my pick of the best backpacks for cycling to work.
The Best Cycling Backpacks For Commuters
1. Proviz REFLECT360 Cycling Backpack
The best reflective rucksack
Reasons to buy
+
Highly water-resistant
+
Completely reflective
Reasons to avoid
-
Not the most fashionable design
How visible you are on your bike is an important consideration for any type of rider, but too often people forget about their backpack, which can diminish visibility even if you have the most reflective jacket in the world. The easier you are for drivers to see, the safer you are, and the Proviz REFLECT360 is more visible than any other when light falls on it.
---
2. Chrome Industries Barrage Cargo
Rugged waterproof bag with a lifetime guarantee
Reasons to buy
+
Weatherproof
+
Additional compartment for helmet
The webbing on this bag encapsulates this brand: functional bike gear with understated style. Release the compression straps and the webbing can take a bike helmet or a pair of shoes, which is useful since this rucksack's 18-liter internal compartment is not the biggest (upgrade to the Pro for 88 liters). The tough nylon material is water-resistant, but the welded-seam liner is completely waterproof.
---
3. Osprey Metron
An array of compartments help keep everything at hand
Reasons to buy
+
Compartments galore
+
Compression straps vary the bag's volume
Reasons to avoid
-
Relies on a water-resistant rain cover
Osprey has many bags with well-thought-out technical details to suit any type of cycling, but we rate the Metron as one of the stand-outs for commuting. It covers all the basics, with laptop and organizer pockets and a sternum strap. Osprey's cycling features are also present: a deployable helmet carry net, light loop for added visibility and there's a rain cover in the base of the bag. The killer features on this backpack, however, are the shoe pocket in the main compartment, the side pocket that keeps your phone to hand and the smart, all-black design—aided by the compression straps so you can avoid the carrying-your-house-on-your-back look.
---
4. Specialized x Fjällräven Cave Pack
Cycling-focused version of well-known rucksack
Reasons to buy
+
Separate, fully padded laptop compartment
+
Can be carried as a rucksack or tote bag
+
Stylish
Reasons to avoid
-
Not waterproof
-
Expensive
In 2022, American bike behemoth Specialized teamed up with the chic Scandi clothing and bag brand Fjällräven to release a range of cycling-specific gear. The result was predictably one of the most stylish launches of the year, and the Cave Pack is the collaboration's take on the most famous rucksack from the brand with the Arctic Fox logo. It has a large main compartment perfect for stowing a change of clothes or a small shop on the commute home, and its padded laptop sleeve and easy-access top pocket help to keep essentials at hand. The padded shoulder straps are comfortable both on and off the bike, and the bag can also be transformed into a tote-style carrier. It's also designed to slot seamlessly into the Cool Cave pannier, so can be used as something of a hybrid rucksack/pannier bag.
---
5. Apidura City Backpack (20L)
Urban design from bikepacking expert
Reasons to buy
+
Fully waterproof
+
Durable
+
Lightweight
Bikepacking is essentially cycle touring minus the pannier rack. Instead of being attached to some additional hardware, bags are strapped to seat posts, frames and handlebars,
lightening the load and spreading the weight more evenly. Kit needs to be waterproof, durable and able to handle the rigors of a multi-day adventure. London-based brand Apidura made its name in the world of bikepacking, and produces luggage that is ideal for anything from a weekend away to round-the-world epics. So when it launched its City Backpack back in 2020, we knew it could be trusted to handle the worst of the commuting conditions you're likely to encounter. Fully waterproof, its contents will remain bone dry regardless of the weather, while reflective detailing helps to keep you safe and seen after dark. A suspended laptop sleeve secures your computer without impacting the bag's comfort, and zipped pockets help to keep essentials like keys and phones to hand.
---
6. Elops Cycling Backpack Speed 520
Wallet-friendly pack from Decathlon's in-house label
Reasons to buy
+
Waterproof
+
Reflective
+
Reasonably priced
+
Lots of compartments
Reasons to avoid
-
Fastening clips less durable than other designs
-
Not available in the US
Elops might not have the label or logo of Rapha or Ortlieb, but Decathlon's in-house cycling brand produces great gear at wallet-friendly prices—and as well as being affordable, it's stylish and most importantly waterproof. The Speed 520's 25L capacity is plenty for commuting, while its separate 17in laptop, lock and side pockets mean you don't have to go rummaging around inside every time you need to retrieve something.
---
7. Ortlieb Commuter Daypack City
Padded back panel adds comfort and ventilation
Reasons to buy
+
Waterproof
+
External loops for lights and locks
Clusters of Ortlieb's popular waterproof bags can be seen every morning and evening in cities far and wide, and there's little doubt they are all excellent bags, but this stylish daypack is our pick for commuters. It's still waterproof, but it's lighter and more comfortable to wear than the classic Ortlieb bag. It also has reflective strips on the back that will keep you visible at night.
---
8. Oxford Aqua V 20
Waterproof and highly visible
Reasons to buy
+
Relatively affordable
+
Waterproof
+
All-round reflectivity
Reasons to avoid
-
Not the most fashionable
This bag from the motorcycle and bike accessory brand Oxford ticks two vital boxes straight away—it's brightly colored and completely waterproof—but it also has a few useful extra features. There's a water-resistant pocket on the front, reflective detailing that will catch headlights from any angle, a loop on which to hang another bike light, and padded panels to improve airflow around your back.
---
9. dhb Waterproof Rucksack 25L
Versatile all-conditions bag ideal for on- and off-bike activities
Reasons to buy
+
Relatively cheap
+
Waterproof
Reasons to avoid
-
No interior compartments
This hardy roll-top sack offers impressive value, especially when—as it often is—it's reduced below its RRP of £60. The rucksack has a removable hip belt that makes carrying heavy loads more comfortable when attached, and a molded back panel allows air to flow. Along with the spacious main compartment, there's a smaller front pocket for easy access to essentials.
---
10. Stolt Alpha Commuter Set
Carry your clothes crease-free
Reasons to buy
+
Perfect for transporting smart shirts
+
Odour-combating treatment and separate sportswear laundry bag
Reasons to avoid
-
Cost
-
Not available in the US
How are you supposed to cycle to work if your office's dress code requires you to be fully suited up? You get the corner suite with a walk-in wardrobe or you buy this bag. It comes with a garment box and instructions on how to achieve a crease-free fold, and there's an expandable pocket for your dress shoes.
The whole shebang is sweat-repellent and has been given the antimicrobial treatment, so it smells as fresh as it looks. There are plenty of organizers for your business accoutrements and a 16in padded laptop pocket, plus pockets on the waist straps to keep your pass in so you can whisk through security and hit the showers before the big boss sees you in a sweaty state.
---
11. Arc'teryx Granville Backpack
All-round outdoor bag that's as good for hiking as cycling
Reasons to buy
+
Stylish
+
Padded sleeve for 15in laptops
Reasons to avoid
-
Expensive
-
No reflective detailing
If you've rejected the standard 13in laptop size as too small, then this might be the commuter bag for you thanks to its 16in laptop sleeve. The Granville backpack is also completely waterproof, so all that tech will stay safe in a rain shower, while its mesh back panel will help to keep your back dry from sweat too.
---
12. Deuter Bike 1 20
Comfortable with plenty of compartments
Reasons to buy
+
Selection of compartments, including one for wet clothes
+
Brilliant ventilation
Reasons to avoid
-
Relies on a water-resistant rain cover
There's a great range of sizes in Deuter's Bike range, but for our money the 20-liter version hits the sweet spot, offering enough room for your everyday cycling needs while still small enough not to annoy while riding. The fit and the Airstripes ventilation system make it comfortable to wear, while there's an integrated rain cover and even a special compartment for storing wet or sweaty clothes, so they don't come into contact with the rest of your stuff.
---
13. Henty Wingman Backpack
Your best bet if you're transporting suits
Reasons to buy
+
Can carry office wear (including a suit) crease-free
+
Weatherproof, and includes a dry bag
Reasons to avoid
-
Ridged construction makes it bulky when not completely full
-
Cost
Most commuter backpacks cater solely to cyclists who keep their smart work clothes at the office, since stuffing your finest threads into a 18-liter rucksack is not a great idea. For those who do need to carry smart togs with them on the bike and keep them crease-free, the Henty Wingman is your best bet. The roll-up design will keep your clothes clean and safe from wrinkling, and it has plenty of room for the other items you need to carry with you to the office each day.
---
14. Rapha Small Travel Bag Reflective
Fashionable and functional backpack
Reasons to buy
+
Reflective
+
Waterproof, with additional rain cover
+
Stylish
Rapha originally focused on road cycling but has moved into all aspects of two-wheeled travel, and this typically stylish travel bag is its answer to the commuter backpack question. The 15-liter capacity is smaller than most (opt for the £170 25-liter Travel Backpack if size does matter) but still allows you to squeeze in some shoes, a 13in laptop and other smaller essentials. Finished in a smart and subtle waterproof nylon fabric that has a reflective trick up its sleeve, it's a rucksack that looks as good off the bike as on it.
---
15. Altura Thunderstorm
Resists the heaviest downpours
Reasons to buy
+
Huge capacity
+
Great waterproofing
Reasons to avoid
-
No external pockets or storage
Don't be put off by the Thunderstorm's lightweight nature. Although just 600g, its IPX6 waterproof rating (imagine getting blasted with a jet wash and you get the idea) and reflective detailing means it punches like a heavyweight. What's more, it can hold 30 liters—enough room for all your work essentials and a quick grocery shop on the way home—and its roll-top closure can be compacted down if you're not carrying a full load.
---
16. Lomo 30L Hi Viz Cycling Dry Bag Rucksack
Superb value
Reasons to buy
+
Great capacity
+
Durable and reflective material
If you're looking for value, the 30L Waterproof rucksack by Lomo may just be the best cycling commuting bag on the market. Currently available for less than £40, the backpack is the perfect companion for cycling to work. It is made from a waterproof and hi-vis PVC material and includes additional reflective detailing to up your visibility even more. The inside is basic—there's a separate sleeve for a laptop and a large compartment for everything else—but if you need something affordable and reliable for year-round commuting, you'd be hard pressed to find anything better.
---
17. Freitag F14 Dexter
Expandable storage in a small, messenger-style package
Reasons to buy
+
One-off design
+
Stylish
+
Great durability
+
Water-resistant
+
Made from 86% recycled materials
Reasons to avoid
-
Expensive
-
Might be too small for some
Swiss brand Freitag is renowned for its unusual approach to bag design: It's all about repurposing and upcycling. The main body of each bag is a section of heavy-duty tarp that in its previous life was used on the side of lorries, while other repurposed parts include car seat belts and bicycle inner tubes. Although it might sound a bit Frankenstein's monster, it really works. Each bag is not only incredibly durable and water-resistant (I've had one in my collection for over a decade) but is totally unique and good for the planet too. The F14 Dexter is its smallest messenger-style bag, but don't judge it by its stature. An expandable flap closure can be secured with Velcro fasteners at multiple points on the bag, giving you buckets of room when required.
Sign up for workout ideas, training advice, reviews of the latest gear and more.