The Best Bike Locks
Deter dastardly bike thieves with this round-up of the finest locks available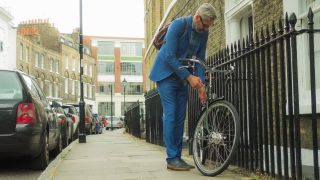 (Image credit: Getty Images / Westend61)
There is no such thing as an unstealable bike. Short of carrying your two-wheeled steed with you wherever you go, it's impossible to guarantee thieves will never get their mitts on it. Even the most impressive locks are just an interesting diversion to the seriously committed scoundrel.
That's the bad news, but there is good news, too. Bike locks are getting smarter and better all the time. Also, you don't need to make your bike unstealable – you just need to make it a less attractive option to would-be thieves. More unattractive than the bike locked up next to it, at any rate. It's like the old joke: you don't need to be able to outrun a bear, you just need to outrun your brother.
You'll find a range of locks to suit your budget and security requirements below, followed by a guide covering what to look for.
The Best Bike Locks
Hiplok DXC
A Gold-rated lock that you can wear
Specifications
Sold Secure Rating:
Diamond
Reasons to buy
+
Can be clipped to trousers or belt
+
Lightweight
+
Comes with cable
Reasons to avoid
-
Small D-shape
-
Cable is thin
This Sold Secure Diamond-rated D lock weighs just 1.3kg and has a clip design so it can slide onto your jeans waistband, belt or back pocket. It comes with a cable which is long enough to pass through both wheels – useful since the D isn't large enough to go through a bike stand, the frame and the back wheel. The icing on the cake is the clip which neatly holds the coiled cable when not in use.
---
Kryptonite Kryptolok D Lock With Kryptoflex Cable
The best bike lock under £50
Reasons to buy
+
Good value
+
Supplied with a cable and mount
Reasons to avoid
-
Cable is thin
-
Not as secure as other locks
This is a terrific-value lock, offering a Sold Secure Gold level of protection for under £50, with the added bonus of a cable thrown in. The cable doesn't offer a great deal of protection itself, but will suffice to wrap around a quick-release front wheel while the D secures the frame and back wheel if you're not leaving the bike alone for too long.
---
Kryptonite New York Fahgettaboudit
The most secure bike lock
Specifications
Sold Secure Rating:
Diamond
Reasons to buy
+
18mm shackle resists bolt cutters
+
Small size makes it harder to lever open
+
10/10 Kryptonite security rating
Reasons to avoid
-
Heavy
-
Small size can make it awkward to position
If you're really, really sick of people nicking your bike, this is the lock to get. It's small yet surprisingly bulky and heavy, so it's not the most convenient to carry around, but it's worth it given the quality of protection it offers. You're getting a 10/10 rating from Kryptonite, which means the company will pay up to £3,000 towards a new bike if you can show that the Fahgettaboudit was overcome by thieves stealing your bike (and if you register, free for the first year). That's unlikely, though, because the small size of the lock works in its favour: it's difficult to get a wedging device in to break it, and the 18mm hardened steel used is so tough there's every chance that a thief will quickly give up and leave it be.
Buy from Bikester | £133.99 (currently reduced to £114.99)
---
Hiplok Lite
A lightweight wearable lock
Specifications
Sold Secure Rating:
Bronze
Reasons to buy
+
Wearable design
+
Lightweight
+
Range of colours and reflective version
Reasons to avoid
-
Not as secure as alternatives
Hiplok has a range of chain locks that you can wear as a belt, including the Hiplok Gold, which provides Sold Secure Gold protection. This lighter version (1kg compared with the Gold's 2.2kg) offers only Bronze-level security, but the 6mm hardened steel chain is still pretty robust and it's comfortable to wear while cycling – all the chains can be tightened to ensure a snug fit. There's also a reflective version which is useful if you often ride in the dark.
---
Kryptonite Keeper Original Standard
The best budget bike lock
Specifications
Sold Secure Rating:
Bronze
Reasons to buy
+
Cheap and reasonably secure
+
Lightweight
+
Comes with a mount
Reasons to avoid
-
Only Bronze-rated by Sold Secure
If you ride a carbon-frame racing bike in a city you should probably steer clear of this cheap D-lock, which only has a Sold Secure Bronze rating. However, it is an appealingly priced option for those who tend to lock their bike up only for short periods outside in areas with relatively low bike theft, and you can attach the D-lock to the frame of the bike using the supplied bracket to make it easier to carry with you.
---
Abus Bordo 6500
The best folding bike lock
Specifications
Sold Secure Rating :
Gold
Reasons to buy
+
Foldable design makes it more portable
+
Gold rating is rare for folding lock
+
More versatile than D-lock
A foldable lock is convenient because it slips in a bag or rucksack more easily. You'll certainly notice the 1.76kg weight of the Bordo 6500/85 on your back, though, so you may wish to buy the bracket bundle that attaches it to the seat stay. This is one of the few folding locks with a Sold Secure Gold rating – Abus also sells less secure versions of the Bordo, along with one that has a built-in alarm, though the latter is more expensive and only has a Sold Secure Silver rating.
---
Kryptonite New York Long Shackle D Lock
A long, more practical D-lock
Reasons to buy
+
Long shape works in most situations
+
Gold Sold Secure rating
Reasons to avoid
-
Heavy
-
Not as secure as smaller D-locks
Another Gold standard D-lock, this one has an extra-long shackle to make it easier to secure your bike against railings and anywhere else where there isn't a standard bike rack to use.
---
Litelok One Wearable
The best wearable bike lock
Specifications
Sold Secure Rating:
Silver
Reasons to buy
+
Wearable design
+
Different sizes
Reasons to avoid
-
Heavier than it looks
-
Only Silver-rated by Sold Secure
This bike lock belt isn't as comfortable as it looks in photos, but that's because it's heavier and harder than you probably expect, which is a good thing in security terms. It's rated only Silver by Sold Secure, but that will be enough for most commuter bikes, and it's convenient to wear around your waist when cycling (make sure you get the right size to avoid it slipping down your legs while you ride). The loop shape makes it more convenient than a D-lock when locking your bike to railings, though a chain or cable would be more flexible.
---
Abus Centuro
Best budget cable lock
Specifications
Sold Secure Rating:
Bronze
RRP:
£29.99 for the 85cm version, £44.87 for the 110cm
Reasons to buy
+
Light and flexible
+
Cheap
Reasons to avoid
-
Only Bronze-rated by Sold Secure
This Bronze-rated cable is flexible enough to twist around the crossbar of your bike to transport it, as well as being a good option for people who rarely get the chance to use a standard bike rack and have to contort their lock to attach their bike to railings, trees, lampposts and whatever else is available.
Bike Lock Buyer's Guide

To make your bike look unappealing to a thief you ideally want a couple of bike locks, and both should have a Sold Secure rating. Sold Secure is an independent, non-profit group that rates locks Diamond, Gold, Silver or Bronze. Diamond offers the highest level of security, although you'll find most are rated Gold which is recommended for bikes worth more than £1,000.
Silver provides a balance between cost and security and is fit for bikes worth £250 to £1,000 – though it won't hurt to get a Gold lock – while Bronze locks are mainly to deter opportunistic thieves. Many bike insurance policies will require you to have a Sold Secure-rated lock, so it's worth checking the rating before buying one if you're paying a monthly premium to protect your investment.
Many lock brands also have their own security rating system, which can be useful in choosing between a couple of locks from the same brand, but is of little use when comparing them against other brands' locks.
The reason you want two locks is to provide a varied test to any thieves and to ensure you can lock all the removable parts of your bike. D-locks (also called U-locks) are robust, but chains and cables are easier to wrap around several parts of your bike including quick-release wheels. Having one of each is advisable, and there are also folding locks available that are easier to slip into a bag. Cable locks are the cheapest and least secure option, so they should be paired with something more robust if you're planning on leaving your bike on the street.
Another factor to consider is portability. Most D-locks come with a mount, but check the lock's size to ensure it will fit in a convenient place on your bike. Wearable locks are a convenient option, but they often don't have as high a security rating as D-locks. Weight is a big factor in portability too: heavier locks are more secure, so it's often a case of finding the right balance between security and portability for you.
---
Sign up for workout ideas, training advice, reviews of the latest gear and more.