This Single-Dumbbell Workout Blasts The Whole Body
One dumbbell, one tough-as-nails workout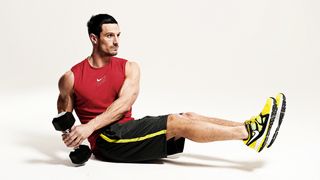 (Image credit: Glen Burrows)
Dumbbell workouts tend to involve using two dumbbells – our dumbbell workout plan certainly does – but that's not a necessity for an effective training session. This single-dumbbell workout is made up of five moves and targets muscles all over the body while getting your heart pumping.
As full-body dumbbell workouts go, it's a doozy, and an easy one to build into a training plan – doing it either three times a week as your only workout or once a week as a high-intensity session that's part of a wider gym workout or home workout plan.
How To Do This Workout
The workout involves five dumbbell exercises done in a circuit with no rest between moves. Once you've completed all five exercises, rest for two minutes and then go again. Aim for four circuits in total.
Obviously, one of the benefits of a single-dumbbell workout like this is that you only need one weight for it, but if you do have a few options available then having a lighter dumbbell ready to switch in for the overhead pass is a wise move. You should be able to use the same dumbbell weight for all the other exercises comfortably.
1 Squat to upright row
Reps 12 each side Rest 0sec
How Hold the weight in one hand and squat down until your thighs are at least parallel to the floor. Stand up and row the dumbbell up, leading with your elbow. Lower back into the squat.
Why This compound lift works your legs, lower back, abs, shoulders and traps.
Reps 12 each side Rest 0sec
How Hold the dumbbell in both hands, then squat down and take the weight out to one side. Stand up and raise the weight across your body until it's above your head.
Why Another multi-muscle move that targets your legs, core and shoulders.
Reps 12 each side Rest 0sec
How Hold the weight in one hand. Bend at the hips and lower it down your standing leg. Stand up and row the weight up to shoulder height, then press it directly overhead.
Why This lift hits your hamstrings and glutes, as well as your core and shoulders.
4 Overhead pass
Reps 12 each side Rest 0sec
How Hold the weight up in one hand. Lower it to one side until your arm is parallel to the floor. Raise it to the top, then pass it to your other hand and lower it to the other side.
Why This move is harder than it looks because your shoulders work overtime to manage the weight.
Reps 12 each side Rest 2min
How Sit holding the weight in both hands with your torso upright and feet off the floor. Rotate the weight to one side then rotate back into the middle then out to the other side. Keep your heels off the floor for the duration of the set to keep your lower abs engaged, making them work far harder.
Why This will work your deep-lying core muscles as well as your upper, lower and side abs.
Sign up for workout ideas, training advice, reviews of the latest gear and more.
Former editor of Men's Fitness UK
Joe Warner is a highly experienced journalist and editor who began working in fitness media in 2008. He has featured on the cover of Men's Fitness UK twice and has co-authored Amazon best-sellers including 12-Week Body Plan. He was the editor of Men's Fitness UK magazine between 2016 and 2019, when that title shared a website with Coach.