Gemma Atkinson interview
She's left Hollyoaks behind for theatre and primetime – but her passion is fitness, and her training regime puts yours to shame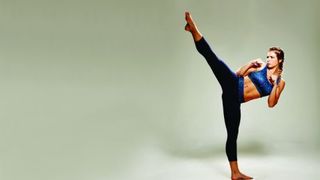 (Image credit: Unknown)
When did you start taking fitness seriously?
Fitness has always been part of my life. I used to run for Manchester girls' athletics team doing the 100m and the 4x400m. My dream was to be an athlete, but then I got cast in Hollyoaks and training took a back seat. When I left the show I had more time to exercise and I've been getting in better shape ever since.
Do you find it difficult to fit training around filming schedules?
I do at least an hour of training six days a week, no matter what. It's great to feel body confident, but the health benefits are most important: I have more energy and focus in the day, I learn scripts easier, and I sleep better. I recently started lifting weights and after four or five months I can't imagine training without them.
Some women don't like the idea of strength training. What made you get into it?
My boyfriend's a personal trainer. When he first suggested lifting weights I said, 'That's not going to happen. I don't want to look like a dude!' He laughed and explained it wasn't anything to worry about because women don't have the testosterone levels men do. That means there's no way we can physically get that big unless we take crazy supplements. Some women don't seem to realise how good weight training is for burning fat and just how satisfying it is feeling strong. I love walking into the gym, heading straight to the weights section and having all the guys look over as if to say, 'Oh, here we go, she's going to make a prat of herself' and surprising them.
You also train Muay Thai. What attracted you to that?
As a kid I was obsessed with the films Kickboxer and Bloodsport and I wanted to do kickboxing but my mum wouldn't let me because she'd heard horror stories. She was going to let me do straight boxing but I said, 'No, I want to be Jean-Claude van Damme. It has to be kickboxing.' She was adamant I couldn't and enrolled me at the local hockey club. So Muay Thai had to wait until I was too old for my mum to have a say! For five years now I've been doing two sessions a week at Bolton Thai Boxing near my home in Bury. It's not only great for self-defence – it also gives me a good engine. I know all athletes train hard but I think there's something special about the Thai boxing mentality. It's painful and gruelling but that's what makes it so rewarding.
Have you had a Muay Thai bout?
I've sparred but never had a proper fight. I was talking about doing one for a charity thing, but I was under contract with the BBC for Casualty at the time and there's no way they would have let me. I went to Thailand to watch fights and train over there, and it's on a completely different level. The guy gave me a weighted skipping rope and said, '30 minutes, go warm up.' A 30-bloody-minute warm-up! It ended up being a two-hour session and the day after I was ill because I'd completely burnt myself out.
Have you ever thought about doing an action film?
I'm filming something in LA [the upcoming movie Fembot] that requires kickboxing, which is amazing. It's great to do a role where training is part of the preparation. I loved watching Ronda Rousey in The Expendables 3 and I've just heard they're doing an all-female version – teaming up with her to kick some bad-guy butt would be incredible.
Train like a girl
Atkinson combines bodyweight and free weight exercises with her Muay Thai training to keep in fighting shape
Dumbbell military press
'Doing this with dumbbells rather than a barbell ensures that both arms do the same amount of work,' says Atkinson. 'Because you do it standing up with your feet together, it's tough on your core too.'
Dumbbell Press-up
'It's much harder for women to do proper press-ups, but I was determined to learn and now I can smash them out,' says Atkinson. 'The best thing is you can do them absolutely anywhere. And doing them on dumbbells creates instability – great for your abs.'
Weighted lunge
'Strong legs and good balance are key for Muay Thai and lunges are perfect for working on both,' says Atkinson. 'Using weights makes it harder – just remember to keep your back straight to avoid stressing your spine.'
Sign up for workout ideas, training advice, reviews of the latest gear and more.
Sam Razvi wrote for Men's Fitness UK (which predated and then shared a website with Coach) between 2011 and 2016.