Robert Downey Jr workout
Downey Jr needed to be lean and ripped to play an all-action Holmes in Guy Ritchie's new movie. Here's how he did it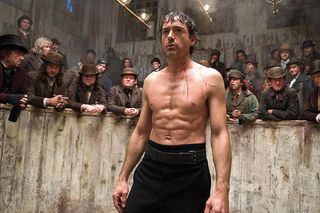 (Image credit: Warner Bros. Pictures)
"To get Robert Downey Jr in shape to play Sherlock Holmes we did high-volume, low-intensity workouts to build his cardio levels and muscle endurance," says Robert Downey Jr's legendary American trainer Brad Bose. "I didn't want him to get huge, but he needed to be fit enough to do his own stunts. To achieve this we used a machine called the Vortex Perfect Storm, a free-standing multi-gym that has loads of attachments for cables and resistance.
"We'd do intervals on the Perfect Storm, hitting his major muscle groups from loads of different angles, then finish up with a climb on a Jacob's Ladder – an inclined climbing treadmill – to improve his cardio," says Bose.
It clearly worked - you can see in the picture above just how fit Robert Downey Jr looked after doing this routine. Not everyone has access to a Vortex Perfect Storm or a Jacob's Ladder, of course, but you can still train like Robert Downey Jr by doing the workout below. The key to it is keeping the volume high and going through each set at a steady pace. Do five minutes on a rowing machine as a warm-up and take as little rest between sets as you can handle.
Target: lower abdominals
Sets 3 Reps 6,8,6
Hang from a bar or elbow straps. Try not to swing. Hold your feet together. Use your abs to draw your knees towards your chest. Hold for a second at the top of the move. Lower slowly without swinging.
Target: triceps
Sets 3 Reps 6,8,6
Set the cable at head height. Stand upright with your back straight and elbows tucked in. Keep your feet apart. Press down but don't lean forward to aid the movement. Squeeze your triceps at the bottom of the move.
Press 25% of your one-rep max.
Target: biceps, lats
Sets 3 Reps 3,4,3
Use an underhand drip with hands shoulder-width apart. Cross your legs behind you. Pull up until your chin is over the bar. Then lower slowly back down until your arms are fully extended.
One-arm cable cross crunch
Target: abs, obliques
Sets 3 Reps 6,8,6
Hold a high cable in one hand. Use your abs to pull the handle down, not your arm. Draw your elbow to your opposite knee to create the twist effect.
Crunch 25% of your one-rep max. Once you've done three sets on one side, have a ten-second break then repeat on the other side.
Cable split squat to overhead press
Target: whole body (particularly shoulders)
Sets 3 Reps 6,8,6
Face away from a low cable. Keep your front knee over your front foot and your back knee close to the floor. Twist your torso towards the cable. As you stand up, press the handle upwards at 45˚. Rotate your torso as you press.
Press 25% of your one-rep max. Once you've completed the reps on one side, take a ten-second break, then repeat them on the other.
Target: pecs
Sets 3 Reps 6,8,6
Stand between dual cables set above shoulder height. Use a split stance. Bring your hands together in front of your chest. Maintain the same torso position throughout.
Pull 25% of your one-rep max.
Elliptical training
Do 10 minutes: five minutes at 25% of your max effort, two and a half minutes at 50%, one and a half minutes at 75% and one minute at 90-100%. Keep your back straight and look ahead throughout.
Sign up for workout ideas, training advice, reviews of the latest gear and more.