MF speaks to the CrossFit Games champion
Rich Froning explains how he trains to overcome any obstacle the Reebok CrossFit Games can throw at him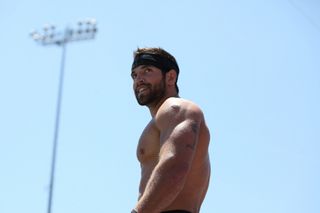 (Image credit: unknown)
The annual Reebok CrossFit Games have been running since 2007, based on the brand of hardcore fitness training designed to develop broad fitness. This year a worldwide open competition began in February for the 120 male and female places on offer. At the event, hosted at the Home Depot Centre in Los Angeles, athletes competed in multiple workouts over four days, beginning with a surprise triathlon and ending with a punishing combination of Olympic lifts mixed with ring dips and pull-ups. Every aspect of fitness from speed and power to stamina and determination is tested to find the person who can rightfully claim to be the fittest man on Earth. Rich Froning has now earned that title for two years running. Men's Fitness spoke to the 25-year-old from Tennessee after his victory to find out how he does it.
What was your best event at the Games this year?
My favourite events were the ones that I won, and one of those was the Chipper [a circuit of overhead squats, box jumps, thrusters, power cleans, toes-to-bars and muscle-ups]. Matt Chan [who finished second overall] got off to an incredible start and powered ahead but I managed to maintain a steady pace and overtake him on the toes-to-bar. From then until the finish I just kept my concentration and it paid off.
How did you cope with the surprise triathlon?
The triathlon was pretty tough. I'd actually done a triathlon in training but it had a lot more biking and a lot less running and the surfaces were very different, yet I felt like I was in a pretty good position going into the competition. It's important not to let your head drop if you have a bad day or event because there are so many more opportunities to get points.
How do you train for an event as diverse as the CrossFit Games?
I try to keep things varied and be prepared for whatever they might throw at us. As I say, I trained for a triathlon this year but the conditions weren't quite the same as what we faced in Pendleton [the US military base where the triathlon was staged]. The double banger ['bangers' are sledgehammer strikes] was something completely new – I might want to play with that a little bit more in the next year. But I think the key is just to do a lot of CrossFit because it really gets you fit all around – it boosts strength, cardiovascular endurance, agility and flexibility. I try to work out five times a week or more and I don't narrow it down to one workout a day. I like to mix up strength sessions and then do WODs [CrossFit Workouts of the Day] afterwards, which means my training sessions are pretty long. This allows me to keep going when other people start to fade.
Is it important to build a base level of strength before focusing on the CrossFit style of high-intensity workouts?
The good thing about CrossFit is that it's scalable. It doesn't matter how fit you are or how strong you are before you start; everyone will be able to get through a CrossFit workout. The fact that it's high-intensity shouldn't stop people from trying it out because the workout can be done in your own time with weights and resistance that you're comfortable with.
Before you were introduced to CrossFit at university what was your fitness like? How did it help you improve?
I have always been into sports and played baseball and football at high school so my fitness has always been at a good level. Unfortunately, I dislocated my shoulder, which meant I had to give up football and concentrate on baseball. I got offered a few baseball scholarships but I wanted to study exercise science so instead I joined the Cookeville Fire Department in order to pay my tuition fees. You have to be in pretty good shape to work at a fire department so I feel like my level of fitness was above average when I started CrossFit but it definitely got me fitter and helped me become a better athlete.
How do you personally define the fitness ideology of CrossFit?
CrossFit is about being prepared for anything and, because you never know what workout is next, it makes you train for things you never thought you would do in your life.
How do you think your level of fitness compares with the world's best decathletes and fittest sportsmen?
When you're training for the decathlon or other specific sports you know what areas of fitness you will be judged on and you have particular events you can train for. Because CrossFit is so much about the unknown you have to make sure you're the fittest for anything that may come your way. I think it would be really interesting to see a decathlete compete at the Games – who knows, maybe decathlon will be one of the events next year!
How do you see the sport of CrossFit expanding across the world?
I think it's expanding every year. After the Games last year I went to Europe, South Korea and Mexico with Reebok and it was amazing to see the number of people in these countries who are into CrossFit. At the Games level, we're starting to see a lot of great athletes come from outside the US – Annie Thorisdottir [two-time women's champion from Iceland] is one, Chad Mackay from Australia did really well this year and Orlando Trejo from Peru finished fifth in the Open [the five-part qualifying process that anyone can enter].
Finally, how does it feel to be crowned the fittest man on Earth for two consecutive years?
It feels amazing! No one in the history of the Games has managed to do this before so to be the first is incredible. I am even more pumped to come back next year and go for three.
Pick up our October 2012 issue to read our coverage of the 2012 Reebok CrossFit Games. A digital version can be downloaded from the iTunes store. (opens in new tab)
Subscribe to the magazine and we'll give you five issues for £5. (opens in new tab)
Sign up for workout ideas, training advice, reviews of the latest gear and more.
Sam Rider is an experienced freelance journalist, specialising in health, fitness and wellness. For over a decade he's reported on Olympic Games, CrossFit Games and World Cups, and quizzed luminaries of elite sport, nutrition and strength and conditioning. Sam is also a REPS level 3 qualified personal trainer, online coach and founder of Your Daily Fix (opens in new tab). Sam is also Coach's designated reviewer of massage guns and fitness mirrors.