How to master a triathlon
MF's comprehensive guide on how to smash your personal best in all three triathlon events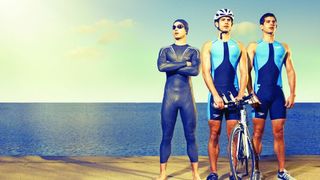 (Image credit: unknown)
In This Series
How to master a triathlon
For anyone who's ever run, swum or cycled, triathlon is the natural next challenge to take on. MF's guide to the Olympic distance will help you post a PB this season
The swim
Be prepared
Your triathlon doesn't start when the gun goes off. With a 1.5km swim, a 40km bike ride and a 10km run stacked on top of each other, preparation is key. Aim to get to the transition zone (where you switch between each leg of the race) at least 90 minutes before the start to set up your gear – including your bike, running shoes, helmet, sunglasses and nutritional supplements – so the crossovers are as painless as possible.
'Make sure you have a checklist of what you need and a timetable that details every action you'll take between leaving your house and starting the race,' says elite triathlon coach Simon Ward (thetriathloncoach.com). 'Take into account eating, packing your kit and any traffic or congestion you might hit on the way. Not only will it mean you arrive in plenty of time but it will also help take your mind off any race-day nerves.'
Find your position
For triathlon newbies, one of the most daunting elements is the swim start – unaffectionately known as the 'washing machine' – which sees athletes jostling for position in the water. The solution? Remove yourself from the scrum to avoid a kick to the head or a race-endangering panic attack.
'If you're a less confident swimmer, go to the side or the back of the starting line-up,' says former British elite triathlete and performance coach Rhian Martin (rhianmartinfitness.com). 'Don't get carried away by everyone sprinting off in the first 50m – it's a long race and the pace will slow down, and by positioning yourself at the side or the back you'll avoid all the white water.'
Get into your stroke
Once the klaxon sounds, it's time to get into your swimming rhythm. 'Front crawl is the fastest stroke and it works well for breathing,' says Martin. 'It's best to breathe every three strokes so that you alternate the side you breathe on – this is the most efficient way to swim and will stop you veering off to one side. But ultimately you have to do what makes you comfortable so don't breathe or stroke differently from how you have in training – you'll come unstuck.'
Don't panic
It's easy to be overwhelmed during the swimming leg of the race, especially since open water is markedly different to the pool. 'You'll be wearing a wetsuit so you'll be more buoyant, and you might feel restricted around the shoulders,' says Ward. 'The water's dark, there are no lines to follow on the bottom and you'll be swimming close to others, so it's a challenging experience.'
If you start to feel stressed during the swim, try changing strokes. 'Do some breaststroke to slow you down, lower your heart rate and make sure you're going in the right direction,' says Martin. 'Then, when you're comfortable, go back to front crawl.'
Stay on track
Following the course during the swim can be difficult, so practise the art of 'spotting' or 'sighting' during your open-water training. 'There'll be large orange buoys marking the race route,' says Martin. 'Every ten to 20 strokes, raise your head and look for them to check you're going in the right direction.'
Focus on your form
As you near the end of the swim and fatigue sets in, your form can start to slip. 'One of the most common injuries to affect triathletes is shoulder impingement, which is related to poor swimming technique,' says Beth Borthwick, a former international triathlete and physiotherapist at Six Physio.
To improve your shoulder stability, try incorporating some YTWs into your training. 'This exercise is named after the shapes your arms make during it, and you can do it standing and bent from the hip or lying face down on a bench,' says trainer Jean-Claude Vacassin, founder of W10 Performance (w10performancegym.com). 'Bring your arms up and out to about 45˚ to make a Y shape, then out to the sides for the T. For the W, row your elbows back wide, splay your forearms and then press up.' Start with bodyweight and keep the reps low (five each) to perfect the form before progressing with light weights.
Pace yourself
As you hit your stride in the swim you might feel ready to pick up the pace – but don't push yourself too hard too soon. After all, you've still got two more disciplines to go before you hit the finish line.
'Your first race is all about pace judgment,' says Ward. 'Stay relaxed, stay focused and concentrate on swimming comfortably. You might be 30 seconds slower, but if you try to swim too hard you'll lose those 30 seconds and more later in the race when you hit the wall sooner. Start slow – your first goal is to finish the race.'
Sign up for workout ideas, training advice, reviews of the latest gear and more.
Coach is a health and fitness title. This byline is used for posting sponsored content, book extracts and the like. It is also used as a placeholder for articles published a long time ago when the original author is unclear. You can find out more about this publication and find the contact details of the editorial team on the About Us page.