Triathlon Swimming Training With An Olympic Coach
Lucy Miller has mastered two triathlon disciplines - it's the watery first leg that lets her down. Could an Olympic coach help her in the swim?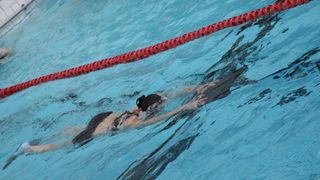 (Image credit: unknown)
With the triathlon session well underway and just over five months to the Rough Track triathlon, I decided it was time to push myself out of the comfort zone. I've done enough running and gym workouts - I'm ready to enter a race.

Except... I'm not quite ready. When people ask me why I don't do triathlons, my immediate response is that I am a crap swimmer. I don't like being cold and I vividly remember being rescued from a pool at four years old, when I thought I was a good enough swimmer to tackle the deep end without armbands. I haven't liked the water since.

To overcome this, I went for a swimming correction lesson with Olympic coach Sean Kelly. This in itself was pretty daunting - Kelly coaches the Olympic medal-winning open-water swimmers Cassie Patten and Keri-Anne Payne, among other members of Team GB. His patience was certainly going to be put to the test with me. Fortunately he turned out to have a calm, reassuring nature.

Kelly asked me to swim a length. I decided against doing my usual breaststroke and instead did my best front crawl, which involves a fair bit of splashing around and avoiding putting my head into the water at all costs. Kelly's response: "You're scared of water, aren't you?" Was it really that obvious?

For the next 30 minutes he had me swimming with a float with my face under the water, learning to breathe correctly, until it was time for Kelly's verdict. The good news was that, as it turns out, my technique is actually pretty good. The bad news was that I would have zero hope swimming in open water until I became confident with the breathing.

I now have the perfect excuse not to enter a triathlon - a top Olympic coach said it was a bad idea! But now I know where I'm going wrong, I'll try hard to improve. When I can fit it in between my long-distance runs, that is. Sometimes you just have to stick to what you're good at.
Sign up for workout ideas, training advice, reviews of the latest gear and more.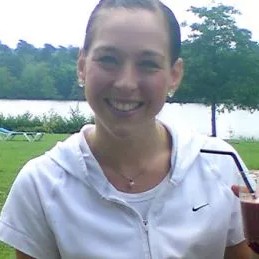 Lucy Miller is an experienced journalist who has worked across a range of health and fitness titles. She was the fitness and nutrition editor at Men's Fitness UK, and has also been fitness editor of both Health & Fitness UK and Women's Fitness UK. Lucy qualified as a NASM-certified personal trainer and nutritionist in 2008.