5-a-Side Football Tips, Tactics and Workouts
How to be a good five-a-side football player - with one simple workout and some expert tips and tactics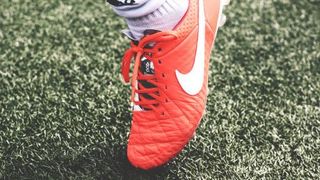 (Image credit: unknown)
Five-a-side football is rapidly overtaking the 11-a-side game as the most popular amateur sport in the UK. The best teams are technically skilful, tactically astute and have players that combine impressive stamina with explosive acceleration.
To help you develop these attributes in the gym, we enlisted the help of Andrew Wiseman, a strength and conditioning coach at Six3Nine (opens in new tab). Having coached at clubs including Chelsea and West Ham United, he's worked with a range of players from academy level to full internationals.
"Five-a-side is a high-intensity, intermittent sport with a need for physical qualities like strength, power, agility and speed, alongside core stability," says Wiseman. "Footballers work in all planes of motion, using every part of their bodies in harmony, and I look to strengthen players all over to make them stronger and more robust to resist injury."
The Five-a-Side Football Workout
These exercises will help you to build a foundation of strength, increase leg power in order to jump higher and sprint faster, and build core stability to hold off opponents and reduce injury through impact. Do three sets of each exercise, resting for 60 seconds between sets. As you progress, look to reduce the number of reps (apart from for the box jump) and increase the weights you lift (or the height you jump for the box jump). After eight weeks, you should be lifting between three and five reps. Use a weight that takes you almost to failure in the final rep so you force your muscles to work hard and grow back stronger. Record what you're lifting for each exercise throughout each session to track your progress.
1. Box Jump
Beginner: 5 reps
Intermediate: 5 reps (landing on one leg)
Advanced: 5 reps (single-leg box jump)
2. Squat
Beginner: 10 reps (unweighted)
Intermediate: 10 reps (dumbbells)
Advanced: 10 reps (barbell)
3. Alternating step-up
Beginner: 10 reps (unweighted)
Intermediate: 10 reps (light dumbbells)
Advanced: 10 reps (heavy dumbbells)
4. Bench Press
Beginner: 10 reps (low weight)
Intermediate: 10 reps (medium weight)
Advanced: 10 reps (high weight)
5. Wide-Grip Pull-Up
Beginner: 8 reps (band assisted)
Intermediate: 8 reps (unweighted)
Advanced: 8 reps (weighted)
6. Lunge and Twist
Beginner: 8 reps (bodyweight)
Intermediate: 8 reps (light ball)
Advanced: 8 reps (heavy ball)
Five-a-Side Football Tactics
The mental side of the game is just as important as the physical. We spoke to Adam Butterworth, regional manager of Goals Soccer Centres and a former pro footballer who holds a UEFA B coaching badge. He highlights the key areas of tactics, technique and fitness you can work on to raise your game.
"I find the best formation is two defenders, one midfielder holding the central ground and one forward," says Butterworth. "But most teams never keep to this at all times. Everyone will find themselves in every position at some point. The fastest and strongest player should be at the back. There are so many breakaways that a defender often becomes an attacker to support the team, but if you lose possession they need to be capable of covering in defence again. The game can be relentless."
Movement
"The one-two is a simple move but it's one of the most effective to drag the opposition out of shape. A defender can play the ball up to an attacker and sprint 15m to receive the return pass. It's hard to defend against. If you're playing on a caged pitch, you can use the sides like the cushions of a snooker table to get past opponents as well."
"Playing the ball to feet, a good first touch, close control - these are all crucial for five-a-side. Long balls will get picked off. The best players look for the man, then move – your movement after you release the ball is key and will tire your opponents. There is no room for wannabe Berbatovs in this game. As for shooting, you can't beat a placed finish into the corners because the goals aren't tall but they're still wide. Powerful shots will often be too high."
"Your attacker should become the first line of defence. Without this person hunting down the ball you're instantly at a disadvantage from any through runs. I tell defenders to stick to an attacker the moment they cross the halfway line – zonal marking doesn't work because, given space, someone will have a pop from the halfway line. Man-marking is essential to stifle the opposition. Sliding tackles are usually banned and going to ground will take you out of the game if you miss the ball so stay on your feet."
"Five-a-side is very dynamic. An attack can begin and end in seconds so sprints are essential. Do running drills at 80-100% of your top speed, incorporating quick changes of direction and acceleration that mimic a match situation. Also work on your one-touch passing, first touch and shooting with accuracy to the corners for an unbeatable combination."
"The hamstrings are the most important muscles in a footballer's body, both for speed and power when striking the ball. Players commonly pull up with injuries to the backs of their legs, which is often due to an ineffective warm-up. Prepare your body properly with dynamic stretches of your calves, thighs and back and do short sprints, building up to your maximum, before playing. Five-a-side is mostly played at night so this is especially important on cold winter evenings."
Want to play five-a-side football? Go to goalsfootball.co.uk (opens in new tab) to find your nearest centre.
Sign up for workout ideas, training advice, reviews of the latest gear and more.
Sam Rider is an experienced freelance journalist, specialising in health, fitness and wellness. For over a decade he's reported on Olympic Games, CrossFit Games and World Cups, and quizzed luminaries of elite sport, nutrition and strength and conditioning. Sam is also a REPS level 3 qualified personal trainer, online coach and founder of Your Daily Fix (opens in new tab). Sam is also Coach's designated reviewer of massage guns and fitness mirrors.