MF meets Olympic champion Bradley Wiggins
The newly crowned Olympic time trial champion talks about Mark Cavendish, living on fruit and lifting weedy weights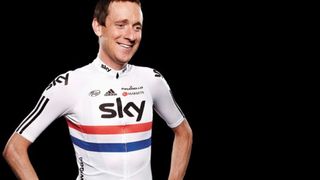 (Image credit: unknown)
Bradley Wiggins was having a record-breaking year before the London 2012 Olympics even began. The 32-year-old cyclist won Paris-Nice in March followed by the Tour of Romandy in April and the Critérium du Dauphiné in June, a Triple Crown never before achieved in the history of professional road cycling. Then in July he became the first Briton to win road cycling's biggest event – the Tour de France.
And now Wiggins has made history again by taking his seventh Olympic medal – beating reigning world champ Tony Martin in the time trial – to become the most decorated British Olympian in history. We spoke with Wiggins at the start of his amazing year. Read on for an insight into the man who has established himself as a British cycling legend.
In 2011 you helped Great Britain achieve their first road race title since 1965 but what was your personal highlight of the year?
It's been a massive breakthrough year for me. The [UCI Road] world championship was a highlight. Apart from the silver medal in the time trial, being part of the GB team when Cav [Mark Cavendish] won the road race gold – that was pretty special. To finish the season like that was a really nice way to end the year.
How do you fancy your chances for the 2012 Tour de France?
I haven't actually seen the route yet. I tend not to look at it at this stage. In January in the training camps is when we start looking at the route and what it will demand from our training.
With Cavendish on board can Team Sky do well in both the sprints and general classification?
If anybody can do it it's Cav and me, because we get on so well. It's like a mate joining the team. We have so much respect for each other. Cav's the fastest in the world at what he does and he's got a 99% guarantee to win every time it comes to a sprint. I'll just give him a push and he'll win – it's that simple for him.
Does road racing present different challenges to track racing?
The road's been massive in terms of seeing how thin your body can get before it shuts down. When I won [the team and individual pursuit] at the Olympics in Beijing I was 82kg. I started the Tour de France in 2011 at 69kg. That 13kg makes the difference in terms of climbing mountains. Every kilo of bodyweight over a one-hour climb equates to about two minutes extra. If you're doing five climbs in a Tour de France stage that's ten minutes. Ten minutes faster for each stage over three weeks – that equates to hours.
How do you keep your weight down?
My nutritionist Nigel Mitchell helps me. We're big into fruit days where you just eat fruit for the day and drink skimmed milk for your protein – you can lose half a kilo by doing that in one day. You've got to be really careful with training on these days. It's not easy but after ten years of working together we've developed how to do it properly. At times, though, not being able to eat the things you want – or that your wife and kids might be eating for dinner – is bloody hard. But if you don't drive a car, you don't put fuel in it. So if I'm not training I only put enough fuel in for that. I try to live by that analogy every day.
As you prepare for the Tour in the summer, what does your training involve?
We're doing simple endurance rather than power work and building up slowly. I do a lot of core work and single-leg presses for the glutes but hardly any upper-body work. Because of that I look quite funny in the gym. I was there this morning doing my little 10kg weight for 50 reps while these huge panel-beaters were thinking, 'Who's this fucking wanker here?' [Laughs] I couldn't give a fuck to be honest, it's quite funny.
Finally, how can an amateur cyclist get faster?
Consistency. Even if you haven't got time to do two hours a day, half an hour a day for seven days would be better than a four-hour ride on a Sunday. Consistency is everything.
Bradley Wiggins was speaking at the launch of Gatorade G Series Pro range. Find out more at gatorade.co.uk (opens in new tab)

For more exclusive interviews and expert tips, get the magazine, subscribe now and we'll give you five issues for £5, or download the digital version here (opens in new tab).
Sign up for workout ideas, training advice, reviews of the latest gear and more.
Sam Rider is an experienced freelance journalist, specialising in health, fitness and wellness. For over a decade he's reported on Olympic Games, CrossFit Games and World Cups, and quizzed luminaries of elite sport, nutrition and strength and conditioning. Sam is also a REPS level 3 qualified personal trainer, online coach and founder of Your Daily Fix (opens in new tab). Sam is also Coach's designated reviewer of massage guns and fitness mirrors.