MF meets Olympic champion Greg Rutherford
Team GB's Olympic long jump gold medallist Greg Rutherford reveals a few things on his mind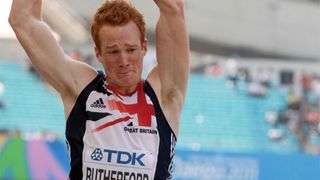 (Image credit: Unknown)
I enjoy the weight of expectation
Pressure is good. It means people expect you to do well. No-one puts as much pressure on me as I do. I've always aimed as high as I possibly can, whether it's a Diamond League competition or the Olympic Games. To be Olympic champion you have to set your sights very high and pile the pressure on.
My body has let me down
Pressure and nerves haven't been detrimental to my performances but injuries have. There's always a lingering doubt because I know if that happens, if my body breaks down, there's nothing I can do. Yet mentally I've been able to make sure that doesn't get in the way.
I knew I'd break the record
In 2009 I jumped 8.30m. It was a new British record at the time although it was still a weak record internationally. It was fantastic to be the first Brit to jump over 8.30m but I expected to jump much further within a year, and injuries got in the way so sadly it didn't happen. When you know you've got a lot more to give but can't, it's frustrating.
Last year I was in the form of my life
The 2011 world championships were my chance to win gold but I tore my hamstring virtually in half. In the 2006 Commonwealth Games final I did the same. I even tore my hamstring four weeks before breaking the British record. You have to take it in your stride and learn from these setbacks.
I've not fulfilled my potential
As long as I don't get injured, I know the sky's the limit. I've always felt capable of massive distances. It's not arrogance or disrespect to other athletes – it's purely that I believe I can go much farther than I have so far. Everybody is beatable.
For more workouts with British Athletics stars, subscribe to the magazine, we'll give you five issues for £5 (opens in new tab).

Download a digital version of the magazine here. (opens in new tab)
Rutherford's long-jump tips
Speed is key 'If you want to jump far you've got to be able to run quickly. I do a lot of sprint training, running against other fast people. Run with your friends to push yourself.'
Get springy 'I do a lot of plyometric training – you don't need world-class facilities for that. I've gone down to my woods and jumped out of a dirty great hole. It all improves your ability to jump explosively.'
Brace yourself 'Basic things such as press-ups are great general conditioning exercises. I fit in around 200 a day. If you're strong all over every muscle will help every other muscle.'
Sign up for workout ideas, training advice, the latest gear and more.
Sam Rider is an experienced freelance journalist, specialising in health, fitness and wellness. For over a decade he's reported on Olympic Games, CrossFit Games and World Cups, and quizzed luminaries of elite sport, nutrition and strength and conditioning. Sam is also a REPS level 3 qualified personal trainer, online coach and founder of Your Daily Fix (opens in new tab). Sam is also Coach's designated reviewer of massage guns and fitness mirrors.