These Tennis Games For Kids Will Help Pass The Time
The LTA has designed these for everyone to try – some don't even a require a racket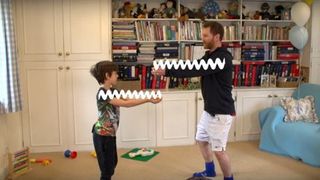 (Image credit: Unknown)
School's out, extracurricular sports are suspended, and playgrounds are shut for the time being, so the onus to keep kids active falls squarely on parents and carers. Thankfully, there are plenty of options, and not just Joe Wicks's 30-minute morning workouts, which is a good thing too because the NHS advice is for children between the ages of five and 18 is to aim for an hour of moderate to intense activity every day.
One great idea for slipping in some more sport is this set of 12 Tennis At Home (opens in new tab) games from the LTA, the sport's governing body in Britain. The activities are split into two age groups, four to seven and eight to 11, often with the same game tweaked for different age groups.
The LTA has designed these games to be accessible to as many people as possible. "The activities are easy to complete in small spaces with siblings, parents or carers," says Chris Pollard, the LTA's head of strategy and innovation. Five of the 12 games also don't require rackets so all you need is a ball, and not even a proper tennis ball. Bigger, soft balls are used in the demonstration videos – pretty wisely in our opinion, otherwise the LTA would be hit with bills to replace damaged TV screens up and down the nation.
If you want to get your hands on new rackets you can buy them from the LTA shop (opens in new tab), with junior rackets (opens in new tab) going for as little as £12.34, or try your luck in a competition the LTA is running. Sign up to its newsletter (opens in new tab) by 11.59pm on 3rd April for a chance to win a racket. If you're after some new balls, sports superstore Decathlon has softer baby tennis balls (opens in new tab) for £2.99 a pop, which should save your flatscreen if you're playing indoors.
See related
And even if you have no intention of taking your little ones to a proper tennis court for a match once the lockdown lifts, the games will help their physical development. "As well as being a fun way to stay active during this difficult period, the activities in these videos will also develop balance, co-ordination and other essential motor skills that children develop through playing tennis," says Pollard.
We'll be trying them with our kids, although won't be making the mistake we made with the PE lessons shared with us by our eldest's preschool. Never ask your (well, our) kids if they want to do a PE or tennis lesson. Just familiarise yourself with the game and dive straight in. In the case of the LTA's videos, we'll start by getting a game of catch going, then weave in the tennis games as extra challenges.
Sign up for workout ideas, training advice, reviews of the latest gear and more.
Jonathan Shannon has been the editor of the Coach website since 2016, developing a wide-ranging experience of health and fitness. Jonathan took up running while editing Coach and has run a sub-40min 10K and 1hr 28min half marathon. His next ambition is to complete a marathon. He's an advocate of cycling to work and is Coach's e-bike reviewer, and not just because he lives up a bit of a hill. He also reviews fitness trackers and other workout gear.