10 Clues You're Addicted to Your Fitness Tracker
Keep some perspective, people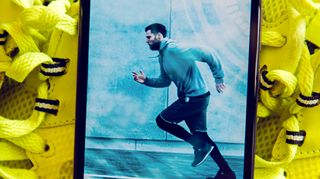 (Image credit: Unknown)
There's no doubt fitness trackers have had a positive effect on our health, in part because they tap into the competitive spirit – with ourselves and others. It's funny, though, how some people can get a little obsessed with these goals. We've even heard tall tales of people attaching their tracker to a dog's collar to rack up the steps and beat their friends' totals. Let's face it, that's taking it too far – and not just because we suspect Geoff in accounts is using that trick on us.
Don't fall prey to such obsessive behaviour – watch out for these warning signs that fitness tech is taking over your life:
You cycle in circles around your block at the end of a six-hour bike ride to hit the magic 100km mark on your Garmin GPS computer.
You leave your niece in tears at her birthday party because your Snack app says you must reject a slice of her Frozen birthday cake.
You walk out of a critical business meeting because your Polar heart-rate watch says the stress has pushed you into Zone 4 on a rest day.
You wreck the mood of a stag party by using the My Macros+ app to analyse the protein content of every cocktail on the menu.
You carefully plot your MapMyRun routes to draw the shape of a giant horse on the app's digital map of your neighbourhood.
You perform a pre-bed jogging on the spot ritual in order to clock Fitbit's 10,000-step daily target.
You draft a Porsche 911 to set a new Strava record on the 1km segment to your favourite rural café.
Deliberately, you leave your house late so you have to beat your 5km PB on your Nike+ Running app or miss your 9am appraisal with your boss.
You create a 40-deep queue in your local deli by using your Calorie Counter app to calculate the vitamin content of every ingredient in your focaccia.
You cut short a date because your Apple Watch says you've been sitting down too long.
RECOMMENDED: Do you really need to take 10,000 steps a day to be fit?
Sign up for workout ideas, training advice, reviews of the latest gear and more.
Mark Bailey is a features writer and interviewer who contributed to Coach magazine in 2015 and Men's Fitness UK, which predated, and then shared a website with, Coach, until 2019. Mark has also written for national newspapers including The Telegraph and The Financial Times Magazine, as well as magazines and websites such as Cyclist and Bike Radar.