From Bars To Barbells
Virgin Radio presenter Christian Williams found his lifestyle wasn't doing much for his health – so we're going to help him get fit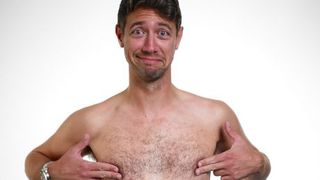 (Image credit: unknown)
Getting fit. For me, it's one of those things that isn't as straightforward as just popping to the gym and lifting a few weights. If I'm honest, I'm lazy… really lazy. I've had a gym membership for around a year. How many times have I gone? Twice.
The first time it was because I felt I had to because I had paid for it. The second time was because the first time I went there was a really attractive girl in my fitness class. Turns out she didn't go to the same class the following week. See… I'm lazy.
But I went through a bit of a change in my life in February. I broke up with my girlfriend, moved jobs and sold my car. You may think the last part of that is trivial but my car meant a lot to me – I'm a huge petrol head and go for drives just to put the windows down, play some music and find some great roads. I was trying to be sensible, and having a car that got around 11 miles to the gallon in London wasn't sensible – that thing drank more than me! Every car I have owned seems to have a personality so getting rid of a car is sometimes as bad as, if not worse than, a break-up…
Speaking of which, as much as I didn't want it to affect me, I started going out a lot and drinking a lot after my break-up. I was eating out around five times a week and drinking with friends most nights.
The effect of all that really hit home when I was asked to present a series of videos for a fantastic website called Thryve.world. I had to cycle a few laps of the velodrome in London, then a bit of mountain biking and BMX. Let's just say that ordeal nearly killed me. I felt so so unfit.
Christian agreed to be photographed with his shirt off before he started to work at getting fitter, because he is a braver man than Coach
While I'd love a six-pack and a nice pair of guns, what I really want is to feel like I can run up the stairs without being out of breath at the top. I also love skiing, and that requires you to be in pretty good shape – which I'm not at the moment.
I read Coach a lot and when they found out about my predicament they said they could help me out so I jumped at the opportunity.
Coach gave me a couple of six-week options to start with. One would be to attend a series of HIIT classes, the other was working with a personal trainer called Ruben Tabares.
The HIIT classes were relatively new and I read up a fair bit about it. You work with a PT in a group and move around the machines like in a circuit class, but each machine responds to how much effort you put in. I loved the idea that I could get really fit really fast with this but I felt something was missing. Namely, that personal touch you get working direct with a PT rather than with a group of people. I could also see that it could be quite easy for me to not bother going to a class as I wouldn't really feel I'd let anyone down, whereas if I had arranged a time with one person, I couldn't cancel!
I'd still love to try the classes at some point as I think I'd really enjoy it, and I love how it gets the whole group of people involved – but for smashing out these six weeks, Ruben is the guy.
Ruben has worked with some amazing people – singer Tinie Tempah, rugby star Danny Cipriani and boxer David Haye. The main reason for picking Ruben, though, was because I need someone to give me the motivation and the direction to get the most out of this. He's also very good at nutrition which I need help with the most! Eating and drinking bad stuff all week is never what I aim to do but somehow it happens all the time. I need Ruben to get me off my bad habits as much as getting me on the dumbbells!
As I write this I'm about to go for my introduction session with Ruben. If I'm honest, I have no idea what to expect but if he gets me to do anything more than run on the spot for 30 seconds he may need to dial 999.
I would be lying if I said I wasn't nervous, but I need and want to do this really badly so I'm also excited.
If, like me, you want to get into shape, but just are not really sure where to start or what to do, let's do this together. I'm going to be blogging the whole thing here on Coach and want you to get involved with me.
What workout are you doing? What foods are you eating? Let's make this a team effort! It's only six weeks… what's the worst that could happen?!
So here we go – from bar to… bar (with weights on the end!). Now I'm off to the gym – if you don't hear from me next week, send help!
RECOMMENDED: Read more from Christian
Christian Williams presents the weekend breakfast show on Virgin Radio, 6-10am.
Follow Christian's fitness journey at coachmag.co.uk/christian, on his show on digital radio, online at VirginRadio.co.uk or via the Virgin Radio app, and on Christian's Twitter and Instagram with the hashtag #coacheffec
Sign up for workout ideas, training advice, reviews of the latest gear and more.
Christian Williams is a presenter on Virgin Radio and in 2016 Coach helped Christian get fit, and you can follow and learn from his progress here.