Classpass: What You Need To Know About The Fitness Class Subscription
Looking for fitness class options in London, Bristol, Brighton, Edinburgh or Manchester? Classpass might be for you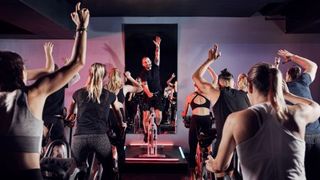 (Image credit: Unknown)
There's no doubt gyms and fitness studios are big on commitment, often offering a free session or one-day trial before expecting you to put a proverbial ring on it. In the case of some gyms and annual contracts, that's a pretty serious commitment, and yet it's almost impossible to know if you'll get enough out of it to make it worthwhile.
Some boutique studios offer pay-as-you-go classes, but there's a new type of business which offers a smorgasbord of options and handles all the payments and bookings through its website or – natch – app. One of these businesses is Classpass. It began in New York in 2013 and came to the UK in 2015, and now operates in London (offering the chance to book classes at 869 studios), Bristol (142), Brighton (91), Edinburgh (86) and Manchester (75).
As with most of these types of services, Classpass likes you to sign up with your payment details before letting you see if it's right for you (you can easily avoid paying for anything as long as you are on top of your life admin, but it's a bit of a faff if you ask us), so here's our run-down of what's worth knowing before you hand over your vitals.
How much does it cost?
Classpass offers various monthly plans that cost between £35 and £180. This buys you credits, which you then spend on classes.
There's a seven-day trial available which affords you 15 credits. Obviously, you can cancel membership or "take a break" during your trial to avoid paying anything, but if you do nothing you are automatically put on a plan that charges £65 for 50 credits a month.
There are five plans available:
£35 a month for 25 credits
£65 a month for 50 credits
£125 a month for 100 credits
£149 a month for 125 credits
£180 a month for 150 credits
In case you don't have a calculator handy, credits are cheaper if you buy in bulk, but don't go overboard – you can only carry over 10 credits to the next month.
OK, so how many credits buy a class?
Aye, there's the rub. It depends. Fancy the hottest class at a trendy studio? It'll cost you more. Want to do it at a peak time, like the same lunch break as everyone else? That'll cost you more. Of course, that means that if you work to a different schedule from the majority you can benefit from the dynamic pricing.
In London, some sessions are close to 30 credits, although they're outliers – a peak class in a trendy central studio seems to average 19 credits. At the other end of things, we've booked a Les Mills group barbell class on a Thursday at 10am in Camden for five credits. Classpass says 25 credits can get you between three and seven classes.
So is it cheaper than going direct to the studio?
That's going to depend on the studio, the time of the class and how much you paid for credits, but there's a good chance it'll be cheaper. You should be able to work it to your advantage, but the benefits probably come more from the convenience and ability to discover classes and studios near you.
See related
What type of classes are available?
The full gamut: as you might expect, yoga, bootcamp and HIIT classes are well represented, but – in London at least – you can also find running sessions, open-water swimming classes in the summer, parkour, tennis, and one pick-up football game courtesy of FC Urban. There's also the chance to get access to a gym floor if you prefer to work out alone, because DW Fitness First in London is part of the network.
Download the app from the App Store or Google Play and you'll get free audio classes produced by Classpass and a more limited range of video classes to follow from the comfort of your own home.
What isn't available?
Obviously Classpass doesn't have all the options and in London some of the more popular brands and studios aren't on there. F45, for instance, is on rival service MindBody.
Rivals, you say?
Yep, every Uber needs a Lyft, every Deliveroo a Just Eat – although we couldn't say what's the Uber of the fitness class booking website world just yet. Your other options include the aforementioned MindBody, which uses British currency rather than credits; MoveGB, which charges a weekly fee for a certain number of fitness classes in its network; and ClassFinder, which isn't a subscription service but a way to find classes and studios where you live, and whose coverage isn't limited to big cities.
Sign up for workout ideas, training advice, reviews of the latest gear and more.
Jonathan Shannon has been the editor of the Coach website since 2016, developing a wide-ranging experience of health and fitness. Jonathan took up running while editing Coach and has run a sub-40min 10K and 1hr 28min half marathon. His next ambition is to complete a marathon. He's an advocate of cycling to work and is Coach's e-bike reviewer, and not just because he lives up a bit of a hill. He also reviews fitness trackers and other workout gear.