CrossFit Athlete Dani Speegle Introduces Us To Girls Who Eat
The latest signing to TYR Sport tells us that all you need to do to join her body positive movement is to take care of yourself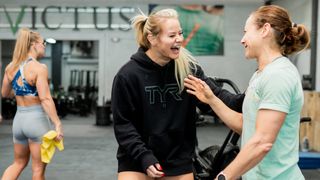 (Image credit: Renato Macassi / TYR)
When it comes to strong women, Dani Speegle is up there with the best of them. A four-times Crossfit Games athlete, and winner of both NBC's Titan Games and the latest CrossFit Open workout 23.3, her physical strength is nothing short of amazing. Her mental health is equally impressive, particularly when you hear about how far it's come.
"I struggled with body image, body dysmorphia, self-hatred – I had a really tough time in college," says Speegle. She tells Coach that she felt constantly exposed to the message that only small female physiques were beautiful and watched on as women around her skipped meals in order to meet that criteria.
Desperate to change the narrative, Speegle set up an Instagram page to highlight how women are so much more than their dress size. And it wasn't long before hundreds of thousands of people followed her in support.
And so began Girls Who Eat.
"Needing to fuel your body formed the surface level of Girls Who Eat, but underneath it's more about trying to change the narrative – that women are more than just what they look like. Women can do anything, no matter what the shape and size of their body."
Girls Who Eat highlights the importance of properly fuelling your body, and encourages women to have a positive relationship with food.
"So many women self-sabotage – I know, I've been there," Speegle says. "You eat a cookie, then feel bad about eating a cookie, and then the whole day spirals out of control. Girls Who Eat is about supporting women to not feel scared of food, or say no to it. If you want to lose weight, and can hold yourself accountable, those goals will come. But we have one life, and you should be able to enjoy a Christmas dinner with your family without feeling like you have to deny yourself – just eat the cookie!"
Girls Who Eat offers a refreshingly relaxed approach to food and, with its focus on what women can achieve, it's not hard to see why it's gained popularity on social media.
"To be a part of this, all you have to do is take care of yourself. Take care of your body – and help spread that message," Speegle says. "This movement is so much bigger than me. It's about women all over the world coming together to support each other, and promote a healthy lifestyle and positive body image. I want it to get to a point where loving your body is so commonplace that it's no longer a thought."
Since the Girls Who Eat movement began four years ago, it's become a mission for Speegle to support as many women as possible in their quest to be confident, strong and healthy.
"My role models are the women who have reached out to me because of the motivation they feel because of this movement," she says. "It makes me want to do better to help them and more women around the world. Women who have decided to take charge, or changed their life due to the inspiration I've provided – those are the girls that I look to, who keep me going."
Sign up for workout ideas, training advice, reviews of the latest gear and more.