The Free, Expert-Approved Pregnancy Workout Plan Every Expectant Mother Should Know About
Each workout session in the six-week programme lasts just 30 minutes and requires zero equipment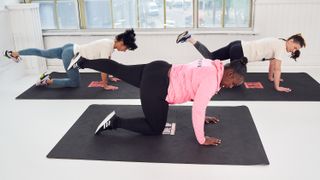 (Image credit: Couch to Fitness)
It's difficult to navigate workouts during pregnancy, thanks to your ever-growing bump and waning energy levels. But evidence suggests that physically active mothers experience fewer problems in later pregnancy and have a shorter labour, too – so it's well worth rolling out your exercise mat a few times a week.
This new six-week programme from Couch to Fitness is a good place to start. The gentle workouts have been designed by qualified prenatal fitness instructors and consist of three 30-minute sessions a week. It's completely free to access and features a mix of low-impact cardio, mobility and strengthening exercises.
Endorsed by the Active Pregnancy Foundation, a charity based in the UK, the programme was created in partnership with Sport England and is based on insights from the This Girl Can campaign. Specifically, it was prompted by a national survey, conducted by Sport England, which showed that 78% of pregnant and postnatal women struggle to find exercise classes or activities that meet their needs.
You can access the workout plan via the Couch to Fitness website, the free fitness platform launched by Our Parks in 2020. While anyone can sign up to the programme, you'll have to answer a series of questions about your general health before you're allowed to view the workouts (we'd recommend checking in with your doctor or midwife too).
The weekly routines are fairly consistent but have enough variety to keep things interesting. You'll tackle a cardio, Pilates and yoga session every seven days, with special adaptations demonstrated onscreen for anyone who wants an easier (or tougher) workout session.
While the cardio routine is designed to simply get your heart rate up, the Pilates and yoga workouts will engage your core muscles, improve your balance, test your mobility and encourage you to practise those all-important breathing exercises.
Once you're on the other side of pregnancy, there's also a free postpartum course to try – but get the all-clear from your doctor before you dive into this one.
For more information you can trust, read this expert advice on running when pregnant, returning to exercise after giving birth and suspension training exercises for postnatal women.
Sign up for workout ideas, training advice, reviews of the latest gear and more.
Ruth Gaukrodger is the fitness editor for Coach and its sister site Fit&Well, responsible for editing articles on everything from fitness trackers to walking shoes. When she's not wrestling with equipment in our dedicated testing centre, you can find her pursuing running PBs around the streets of London or improving her yoga skills from the comfort of her living room. She's a keen believer in working out for enjoyment first and is always open to hearing about fun new ways to exercise.