Suspension Training Exercises For Postnatal Women
Build stability and strengthen your core (and pelvic floor) with these five suspension trainer exercises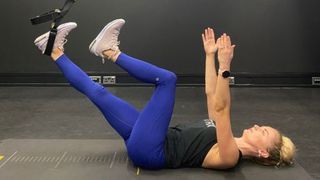 (Image credit: Unknown)
Suspension training has many benefits for women undertaking a postnatal fitness journey. The wide range of exercises available can help strengthen your core, work your pelvic floor and postural muscles, and even help in treating diastasis recti – the separation of your abdominal muscles that can occur during pregnancy.
Charlotte Tooth is a trainer for TRX Training Club (opens in new tab) and a specialist in injury rehabilitation and training pre- and postnatal women using TRX, the best-known brand of suspension trainer. Here she explains what suspension training is and how it can be used safely and efficiently as part of a postnatal training programme, as well as sharing five suspension training exercises that can benefit postnatal women.
What is suspension training?
A suspension trainer is an accessory that uses a pair of long straps anchored from the ceiling. At the end of these adjustable straps are handles or foot cradles. With the additional support of the straps you can manage the stability of movements, while the level of stability is controlled by where you place your hands or feet. The versatility of a suspension trainer means that you can easily modify exercises to make them easier or more challenging.
Is suspension training suitable for postnatal women?
Suspension training is a great exercise method for both pre- and postnatal women owing to its emphasis on stability. During and after pregnancy your body produces relaxin, a hormone that loosens the joints and can have a noticeable effect on flexibility. Relaxin will also continue to be produced by your body as long as you're breastfeeding. This means the postnatal body can often be unstable and you may feel off-balance or find your proprioception – your sense of where your body parts are positioned – is slightly off. Because suspension training requires you to stabilise your body it can offer feedback that helps you to understand where your body's at, as well as offer much needed support for your joints.
Another benefit is the ability to load and unload safely. If you go to the gym and pick up a set of 7kg dumbbells and realise they're too heavy, you're going to have to put them back and pick up the 6kg dumbbells. With a suspension trainer, everything is done via a vector resistance principle – how far or how close you are to the anchor point. For a rowing exercise, for example, if you step backwards, away from the straps, you will lower the resistance. If you step closer to the straps, you increase it. This is a good way to support the pre- and postnatal body, ensuring that you're in control of every movement.
Suspension training also places a large emphasis on pulling movements. This helps to strengthen the postural muscles that play a big part in postnatal movements like bending over and picking up your child at awkward angles.
How can you use suspension training to help strengthen the pelvic floor?
The pelvic floor muscles are significantly affected by the way you breathe due to something called the mind-muscle connection. Stability exercises, particularly around the core and the pelvis, can be used alongside concentrated breath work and intentional movement to help support conditioning of the pelvic floor.
What I like particularly about the suspension trainer is that you can use it for movements that you perform in everyday life. Exercises like squatting or lunging follow the same pattern as picking up the dummy off the floor, or leaning over a cot.
You can use a suspension trainer to load and unload, creating a safe environment that allows you to focus on the movement of the pelvic floor without being overwhelmed by the effort of the exercise. Often people come back to training and perform exercises that are too intense, too heavy, or there's just too much going on for them to focus on all the different variables. The suspension trainer acts as the support you need, giving you a helping hand in the exercise and allowing you the headspace to process what's going on in the pelvic floor.
Lots of women experience postpartum postural and back issues. How can suspension training help with this?
Back and postural issues are common postnatally because your posture changes significantly with the additional loading at the front of your body. Every exercise performed using suspension trainers can help to alleviate this by activating your core muscles and the stabilising muscles that run either side of your spine. In any exercise, depending on how you stabilise your body, you'll be working these muscles to ensure that you're not flexing, extending or side bending. When strengthened, they help to develop a wrap of support around your torso.
By strengthening the pelvic floor, core and back muscles, you build support that can help reduce lower back problems. Because of the single anchor point, these muscles are worked in a wide range of exercises like squats and lunges. The emphasis on pulling muscles also helps to strengthen your back, your lats, your shoulders – all the muscles that tend to get a little more rounded during pregnancy and softened because of the change in posture.
Pulling exercises strengthen the muscles in the back and the shoulders, balancing your posture, which, along with core strength, help you feel more upright and open. This means that there's less stress and tension going through the spine, the neck and the hips.
Many women experience diastasis recti as a result of pregnancy. How do you ensure you're helping it heal rather than making it worse with suspension training?
Diastasis recti is a separation of the abdominal muscles that causes a weakening of the connective tissue that runs down the centre. Although for some people it returns to normal after about eight weeks into the post-pregnancy period, for many, the separation stays. This can be accompanied by things like urinary incontinence, constipation, back pain, and general discomfort.
I always recommend that anybody that suffers from diastasis recti should work with a pre- and postnatal specialist. Women's health physiotherapists are specifically trained in treating and assisting with postnatal diastasis work. Following that, make sure that you're working with someone who is trained, pre- and postnatal, and someone that you feel you're comfortable with.
If you're not working with a PT, find classes that are appropriate for you, and ones that don't encourage you to overexert, particularly with diastasis recti. Think about working a little bit slower than usual and not overloading the body too quickly. Give your body the space and the time it needs.
Do you advocate babywearing with suspension training? What should you watch out for when training with a baby in a carrier?
I absolutely recommend babywearing [wearing your baby strapped to you in a baby carrier] with certain suspension training exercises. It's a great way to add load to a bodyweight exercise and it allows that load to be slowly increased as the baby grows. It allows you to match the pace of your recovery and is a good way to build strength over the months. As well as being easy to incorporate into a workout, it's also fun for the baby and an opportunity to spend time together.
When using a baby carrier it's important to ensure that the fit is safe and comfortable for you both and that you're doing exercises that are suitable for babywearing – the ones suggested below are not suitable for babywearing.
Make sure that you're not rushing into babywearing as it's the equivalent of wearing a heavy rucksack on your back or front. If you are struggling with things like pelvic floor issues or diastasis recti, talk to your specialist to understand if it's appropriate at the time.
What advice do you have for postnatal women who want to try suspension training?
It's important to take your time coming back. There's no set period that's right for everybody. Just go on your own journey and enjoy it. If you are going to use a suspension trainer, ensure that you feel comfortable with all the exercises, that you're not overexerting yourself, and that you're listening to what your body's telling you.
See related
The Exercises
These five suspension training exercises can all be incorporated into a postnatal fitness programme. It is, however, important to note that every woman's journey will be different. Wait until you've had the all-clear from the doctor and have an assessment with a qualified fitness professional to ensure the exercises are appropriate for you. Remember that these exercises are not suitable for babywearing.
(opens in new tab)
Strap length: Mid-calf
Position: On the floor facing the anchor
Start on your hands and knees and place your right arm in both foot cradles. Keeping the hips square and the shoulders lifted, raise your left leg in the air. Work on keeping your breath controlled and your pelvis stable. Hold for five to 10 seconds and then return the leg to the floor. Swap to the other side, using the left arm and right leg. Repeat four to six times on each side. This exercise is great for working the core and back muscles.
Pro tip: If you are struggling with balance, perform the exercise with just your arm, leaving your leg on the ground for support.
Chest stretch
(opens in new tab)
Strap length: Mid-length
Position: Stand facing away from the anchor
Begin by facing away from the anchor with your hands in both cradles. Walk forwards with your arms in a U-shape until you feel a stretch in your chest. Try to keep your elbows at 90°, in line with your shoulders. Keep your breathing steady and hold the position for 40-60 seconds. This helps to open up the chest and upper back.
Pro tip: Stagger your feet for better balance
(opens in new tab)
Strap length: Mid-calf
Position: On the floor facing away from the anchor
Lying on your back and facing away from the anchor, place your heels in the foot cradles. Bend your knees at 90° and ensure you have your hands down by your sides for support. Exhale to bridge your hips upwards and feel your pelvic floor, glutes and core muscles engage to lift you up. Inhale to lower all the way down to the mat, keeping the knees at 90°. Repeat for eight to 12 reps on each leg. Bridges are great for engaging the glutes, which in turn will help support your lower back.
Pro tip: Try to keep your hips square to the ceiling to help with stabilising the pelvis.
Pelvic stability core work
(opens in new tab)
Strap length: Mid-calf
Position: On the floor facing away from the anchor
Lying on your back facing away from the anchor, hook your right leg into both foot cradles and extend the leg. Your left knee should be bent and your foot on the floor. Exhale and lift your left leg up to 90° in a table-top position. Inhale as you lower the leg again. Work to keep your bellybutton gently drawing into the spine and your hips square. Repeat for eight to 10 reps on each side. This helps strengthen the core and the pelvic floor.
Pro tip: Gently imprint your spine to keep the core engaged.
Low row
(opens in new tab)
Strap length: Shortened
Position: Standing facing the anchor
Stand facing the anchor, holding the handles, and move into an active plank with your legs staggered. Bend your elbows with your hands close to your ribs, palms facing inwards. Walk your feet forwards until you are on an incline. Draw your shoulders back and down. Begin to extend your arms straight and then bend your elbows, pulling so your hands return to their starting point. Repeat for 12 to 15 reps. This is great for strengthening the upper back muscles.
Pro tip: Walk forwards to make it harder, backwards to make it easier.
Sign up for workout ideas, training advice, reviews of the latest gear and more.
Camilla Artault is a writer and keen runner. She has covered women's running gear – testing leggings, jackets, running bras, tops and shorts – for Coach since 2018, as well as interviewing experts and writing about a range of health and lifestyle topics.