The Best Suspension Trainers: TRX, Decathlon And More
With the right set of ropes you can hit all manner of fitness goals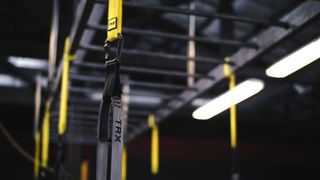 (Image credit: unknown)
If you've visited a gym in the past couple of years you will almost certainly have come across a set of ropes with handles dangling from the ceiling. Most of us will have walked straight on by, unsure of what exactly to do with those ropes and fearful of making a fool of ourselves by attempting to use them.
However, once you do give suspension training a try you quickly realise that not only is it fairly simple to understand, it's a very good option for improving your fitness in a variety of ways. It's primarily a type of strength training, with the constant instability created by the ropes constantly challenging muscles all over the body, but you can also use a suspension trainer for yoga or Pilates, and even HIIT sessions.
Assuming you have a sturdy ceiling, door or bar to hang it from, a suspension trainer makes for a great home workout option too. If you're looking to purchase your own you might immediately think of a TRX training system because TRX has become synonymous with suspension training. However, TRX is not the only option available and it's certainly not the cheapest, though you do have to be wary of quality when putting your entire bodyweight in the hands of ropes suspended from your ceiling.
Here are some of the best suspension trainers to consider.
Best Suspension Trainers
TRX is the biggest name in suspension training and if you've used a set of ropes in the gym, the chances are it was one of TRX's distinctive yellow-and-black sets. If you want to bring that experience home with you then this entry-level set is a great option. The Move System will cover pretty much all bases with a set of ropes, a door anchor, a general anchor and a mesh bag.
Buy from TRX | £79.95
---
Domyos Training 100 Cross Training Strap
This suspension trainer is such a bargain it immediately draws our suspicions, but Domyos tested it with a 234g load on every part of the system to ensure its durability for home use, which gives you more than 100kg of leeway above the suggested max user weight of 130kg. The simple kit consists of two straps, one with handles for you to exercise with and another to anchor it in a variety of ways. There is also a guide included with 15 exercises to try.
Buy from Decathlon | £14.99
---
The KO8 trainer has a few more tricks up its sleeve than other suspension systems, namely the resistance bands it comes with, which can be attached to the handles. These can be adjusted to add between 12kg and 72kg of resistance, and enable you to use the KO8 for more exercises than a standard suspension trainer allows. You can also use it as a standard trainer, of course, and the KO8 comes with extensive guidance on exercises and workouts, so you're never short of training ideas.
Buy from BLX BOX | £162
---
See related
Auster allows you to customise your suspension training set, with parts like rings, straps, mounts and parallettes all sold separately. You can also buy pre-assembled kits like the Auster Everyday, which contains two anchors for indoor and outdoor use, and two heavy-duty straps, along with a carry bag. Auster's suspension trainer comes in a variety of colours so you can match it up with your decor, just in case that's the only thing stopping you from investing in a suspension trainer. And if you're stuck for ideas on what to do with your kit, there are video exercise guides on the Auster website, along with videos showing you how to set up the straps.
Buy from Auster | £170
---
If you fancy yourself a pro on the ropes then you want the best kit possible for your home training, and that means shelling out the big bucks for this set from TRX. The componentry gets an upgrade – textured rubber handles with an anti-microbrial treatment over foam ones, for instance – and there are three anchors so that you can set up more or less anywhere. There's also a seven-day trial of the TRX Training Club, which includes live classes where the trainer can check your form.
Buy from TRX | £199.95
Sign up for workout ideas, training advice, reviews of the latest gear and more.