Parkrun Celebrates International Women's Day This Weekend – Here's How To Get Involved
This Girl Can and parkrun want as many women as possible to join in the fun on Saturday 5th March, so we asked four recent converts about their experiences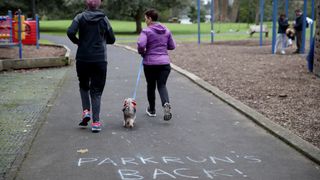 (Image credit: Phil Walter/Getty Images)
If you've ever attended a parkrun you will know that every Saturday morning event is special, with all sorts of people coming together to walk, jog or run 5K.
This weekend's event is set to be extra special, as it will be a celebration of International Women's Day, which falls a few days later on Tuesday 8th March.
Parkrun has partnered with This Girl Can to encourage as many women and girls as possible to join in the fun, and hopefully put in place a new Saturday tradition where they attend parkrun as a matter of course. There really are few better ways to start the weekend.
If the idea of travelling 5K by foot seems daunting, we're here to tell you that parkruns are fun, sociable affairs and no-one has to push themselves harder than they'd like. You can walk, jog or run, or even volunteer to help organise if you want to get the lie of the land first.
To help ease any nerves – whether that's you or someone you plan to ask along – we asked four women who all recently joined parkrun about their experiences and their advice for first-timers. Our parkrun explainer will also help you understand how it all works.
Your Speed Doesn't Matter
Jess Harcourt has just joined parkrun in Preston. She says that despite being a "slow runner", everyone is encouraging.
"I wondered if the faster people would look down on someone like me, but that's not the case. They were cheering us slower ones on.
"When faster people lapped me or had finished and were walking back to their cars, they were still encouraging everyone to keep going and applauding them. It was such a feelgood, positive community.
"Even if you walk the whole thing, it's still only an hour and it felt so good to start my weekend with something so positive – it filled me with energy without taking too much out of the weekend."
You Won't Feel Out Of Place
Shivani Vara has recently started attending the Richmond parkrun to prepare herself for marathon training. She says that completing a run at 9am makes you feel ready to conquer the rest of your day.
"There are so many people from all backgrounds, from friends to solo runners, runners with dogs and even a pram!"
You're Never Alone
Even if you head to a parkrun solo, you'll be surrounded by friendly like-minded people, says Fiona Brennan, who runs the Worcester parkrun with her seven-year-old daughter.
"Everyone I've met has been incredibly friendly. There are marshals around every course so you'll always have someone cheering you on. And most parkruns have a Facebook group so if you are going alone, leave a message on the group and someone will say hello on the day."
It's All About Community
Jess Green runs the Highbury Fields parkrun in north London. She had to be dragged there by a friend the first time because nerves got the better of her. However, these nerves quickly dissipated.
"The best thing for new runners is that every single week, the hosts at parkrun describe the course and how it works, so you never have to identify yourself as a newbie to understand the plan.
"There are loads of people walk-running and the people who walk the route will always be behind you.
"The volunteers are giving up their time to facilitate something – it immediately adds a sense of community because they're clearly community-minded people. If you're hot and carrying your jacket, they'll come grab it from you, for example."
Sign up for workout ideas, training advice, reviews of the latest gear and more.
Lucy is an experienced health and fitness journalist, and was formerly health editor for TI Media's portfolio of women's titles. Lucy qualified as a level 3 personal trainer with Train Fitness in 2016, and also holds qualifications in pre- and post-natal fitness, as well as in nutrition for exercise.