DJs' Festival Essentials
Mud, sun, rain, more mud… what does a world-class DJ always pack for a summer of long nights and loud music?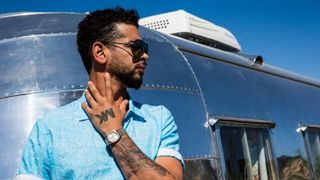 (Image credit: unknown)
DJ and Producer MK's 10 Essential Festival Gadgets
You know Marc Kinchen. You may not know the name, but you'll know the super-producer's work. How can we be so sure? Because the vinyl-flipping mastermind and crowd-commanding DJ, better known by the initials MK (they're inked onto his left hand if you ever need to verify his identity) has created some of the biggest workout anthems of the last decade. In fact, if you've never smashed the treadmill while his chart-topping remix of Storm Queen's "Look Right Through" blared over the gym's speakers, you must be working out in a cave. A cave from the Ice Age.
With a back-to-back summer schedule of UK festivals, singles releases and Ibiza sets, the big man tells us what ten essential tech items he takes with him on his globe-trotting, party-starting adventures.
Bose Earbud Noise-Cancelling Earphones
"If anyone from Bose sees this, I need to say thank you. A lot. With all the travelling I have to do, these headphones have saved my life. I never leave home without them. I call them my plane savers." Bose QuietComfort 20, £229.95, buy on bose.co.uk
O2 4G WiFi Hotspot
"I always bring my hotspot with me on the road and especially to festivals – the backstage area is notorious for spotty service thanks to the amount of people trying to get online at the same time. With my own WiFi hotspot I can stay connected for everything – downloading a new mix, live streaming, even sharing things during the show." Huawei 4G pocket hotspot, £77 upfront, buy on o2.co.uk
Digital Audio Recorder
"Everyone always asks me to record my sets, so I use this. Then I can bang them up onto SoundCloud." Tascam DR-40, £300, buy on amazon.co.uk
iPad Pro
"This is an essential travel tool for me as I like to watch movies and take pictures and this is so lightweight I can bring it on the road. It's small, but at the same time almost like a giant iPhone, with incredible hi-res quality. You have to get on that new retina resolution. Amazing." iPad Pro, from £499, buy on apple.com
Mophie Powerstation 8X
"How else am I gonna keep all these gadgets charged up?" Mophie Powerstation 8X, £119.95, buy on apple.com
HTC Vive VR
"When I heard that this VR headset was coming out, I couldn't wait to get it. It makes playing games so realistic. If you can't find me, I am definitely tucked away somewhere, losing myself in 3D." HTC Vive, £689, buy on htcvive.com
Oculus Rift VR
"Man, this is going to make me sound like a total geek – two VR headsets! But I gotta tell the truth – after I am done with the HTC, you might find me with the Oculus Rift VR. Sorry, I can't help it." Oculus Rift, $599 [around £453], www3.oculus.com
GoPro
"I love this thing, it's such an awesome toy to have in my bag. Sometimes, after a show, I like to walk around the crowd and film them having a great time. Pure good vibes." GoPro Hero 4 Black, £410, buy on shop.gopro.com
RECOMMENDED: Best Action Cameras
USB sticks (loaded with songs)
"Along with power strips, I carry a bunch of these just in case something goes wrong – power surge, drink falling on my laptop, any of the other 10,000 things that could happen. It's become my safety net of sorts. As long as I have these, I can still play, keep the party going and make people dance." SanDisk iXpand 64 Flash Drive, £59.99, buy on amazon.co.uk
Roland TR-8
"OK, so this hasn't found its way to a festival just yet… This is a toy that brings me back to the sound of the 808. It's in my studio waiting to break free. I have been thinking of bringing it on the road for a while now, so who knows when that may actually happen." Roland TR-8, £389 (approx), roland.co.uk
MK's remix of Aurora's "I Went Too Far" is out now on Decca (buy on iTunes). Catch him at SW4, Creamfields and V festivals this summer.
Words by Chris Sayer
Sign up for workout ideas, training advice, reviews of the latest gear and more.
Craft beer drinker, Devonian, fisherman and former content director of Coach online, Chris contributed style coverage and features between 2016 and 2019.