The Best Action Cameras
Relive your epic experiences and once-in-a-lifetime moments with one of these top-drawer action cams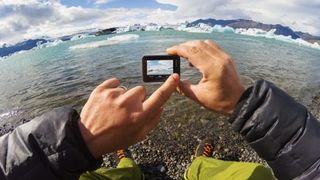 (Image credit: Unknown)
Whether mounted to a helmet, fitted to a surfboard or strapped to a wrist, an action camera is the best way to capture your adrenaline-fuelled antics. Built to withstand the kind of thrills and spills you might encounter on vertiginous ski slopes and rugged off-road trails, a robust action cam is an essential piece of kit if you're looking to relive and share your most thrilling adventures.
When choosing the best action camera, there are several factors to weigh up including video quality (as a rule, the higher the frames-per-second (fps) rate, the smoother the shot), size and weight, how easy it is to use, battery life, mounting options and, of course, price. Your priorities will depend on what you'll be using it for and how often you'll be putting it through its paces. We've looked into each element in detail to put together a round-up of the best cameras for different activities, including our favourite budget buy and the best all-rounder.
So here are the best action cameras to accompany you on scenic runs, underwater excursions, epic cycle rides, or thrilling trips down white-water rapids.
---
GoPro HERO 9
Best All-Round Action Camera
The latest from the biggest name in action cameras offers 5K video, 20-megapixel photos and best-in-class image stabilisation. The HERO 9 is also waterproof to 10m and has a front-facing screen to help you line up your shots correctly. The battery life has also been improved since the HERO 8, with better performance in cold conditions in particular, so snowsports fans can shoot for longer.
Buy from GoPro | £429.99 (currently reduced to £379.99), bundle £329.98
---
Akaso EK7000 Pro
Best Budget Action Camera
If you're looking to spend under £100 on an action camera you can't do better than the Akaso EK7000 Pro, which shoots in 4K at 25fps, 2.7K at 30fps, 1080p and 60fps. It can also take 16-megapixel pictures and has a large bright touchscreen to make it easy to set up your videos. It also comes with an accessories kit including a variety of mounts.
Buy from Akaso | $69.99, plus $15 international shipping (around £65)
---
DJI Pocket 2
Best For Runners
This lightweight camera is a fine option for runners, with the gimbal and handle making it surprisingly easy to shoot stable video on the go. That's whether you're talking to the camera – when the screen below the lens allows you to make sure you're in shot – or using an extendable handle to film yourself running when the ActiveTrack feature will automatically follow and film the main target in frame. While we found it occasionally fluffed its line in terms of choosing what to track, for the most part it was spot on.
The camera films in 4K at up to 60fps and can take 64-megapixel photos. There are slow-motion and time-lapse modes, and its small size means you can easily stow it in a running belt or pocket when not filming. It can also connect directly to a phone using the included adaptor that allows you to plug it in to your phone's charging socket, or you can link it up wirelessly if you also purchase the do-it-all handle, which attaches to the camera and costs another £95.
Buy from DJI | £339
---
The Osmo Action is the best alternative in general to the GoPro HERO 9 if the latter's price puts you off. The Osmo Action also has a front-facing camera and shoots in 4K with excellent image stabilisation. The camera is also waterproof to 11m, making it ideal for watersports, and shoots 8x slow-motion vids in 1080p at 240fps so you can capture your most exciting moments in extreme detail.
Buy from DJI | £329
---
Cycliq Fly12 CE
Best For Cyclists
While the quality of Cycliq Fly12 CE's video isn't as high as that of a dedicated action camera, the fact it doubles as a bright, 600-lumen front light makes it very handy for cyclists, and it still offers 1080p videos at 60fps to capture your rides. The camera can also detect if you're involved in an incident and locks the footage so it can't be deleted or overwritten. It can shoot for eight hours with just the camera on, or four to five with the light on as well – far longer than an action camera like the GoPro HERO 9 will last. The Cycliq 12 CE is currently only available on pre-order, to ship March 2021.
Pre-order from Cycliq | £269
---
Garmin VIRB Ultra 30
Best For Snowsports
It's a couple of years old now but the VIRB Ultra 30 is still a top-notch action camera, shooting 4K video while also recording GPS, elevation, G-force and speed data so you can show how high, far and fast you went on your adventures. The camera can also be controlled with voice commands, making it easier to use when you're gloved up on the slopes.
Buy from Garmin | £389.99
---
Akaso Keychain 4K
Best Mini Action Camera
This tiny camera is exceptionally lightweight and has a magnetic back so you can attach it to appropriate metals without a mount, though it also comes with a clip so you can pop it on your shirt or a backpack strap. The camera shoots 4K video with a narrow field of view, which makes it particularly good for use on TikTok or YouTube. It's currently only available via Indiegogo but will be on the Akaso website soon.
Buy on Indiegogo | £77
Sign up for workout ideas, training advice, reviews of the latest gear and more.